Tony Obour is a master with a screwdriver. He's working on an old television set in his workshop in Accra, the capital of Ghana, where he repairs unwanted electronic devices from Europe.
Not far away, Lubman Idris is bent over a pile of scrap metal. He makes a living selling old parts from broken electrical devices.
But more than 5,000 kilometres away, in the northern German port of Hamburg, police superintendent Wolfgang Heidorn is tasked with tracking down electronic waste that is leaving the country illegally.
Computers, printers, vacuum cleaners, lamps: The global pile of so-called e-waste is growing rapidly. According to a United Nations study, there will be an estimated 44.8 million tons of it by 2021.
In the world's richest countries, consumers want the latest technology. When a new washing machine is delivered, the old one is taken away. Either that, or the owner will sell it online or take it to a flea market. But what happens to the machine after that?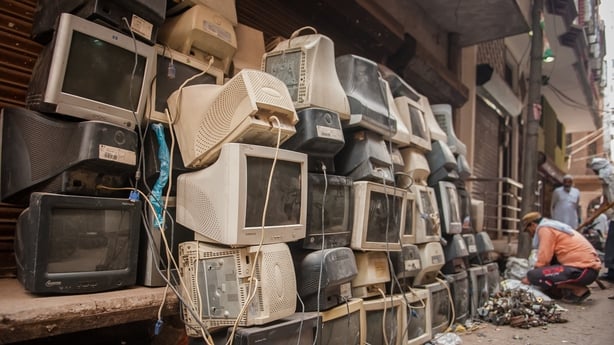 Tafsir Rahimi, from Afghanistan, works as a dealer in Hamburg. He buys old televisions and other devices that have been returned to companies by consumers, repairs them and then ships them to Africa.
Police regularly inspect people like Rahimi to make sure the devices they trade are in good working order. But nevertheless, broken devices often slip through the net.
One of the most important importers of old electronic devices is Ghana. As the goods arrive in Accra, a crane lifts the containers from ships onto trucks that take them to warehouses for inspection.
Up to 100 containers pass through here daily, says Peter Bopam, who's in charge of Jubilee Terminal. The humid tropical heat is oppressive.
"We try to check as many containers as possible," says Fred Yankey of the tax office. But there is too little capacity. And what happens when broken appliances are discovered? Yankey shrugs his shoulders.
They don't have time to check whether everything works, he explains.
Obour has been making a living from old electronic equipment from Europe for almost 30 years. In his workshop in the Abeka district, about 50 kilometres from the port of Tema, the 51-year-old repairs used televisions. The shelves are stacked with dusty spare parts.
He buys the equipment from importers who sell their goods next to the port, Obour says. He doesn't know whether the devices work or not until he brings them back to his workshop. "We don't test them beforehand. They're cheaper that way," he explains. He tries to repair as many as possible, then he sells them through a dealer.