Manchester City picked up were they left off last season has they have already won their first two games this season scoring eight goals in the process.
The Cityzens are hoping to continue their record setting under Pep Guardiola this season as they are looking at another come this weekend.
Especially when Kevin De Bruyne was ruled out for the first couple of months of the season, but so far any early doubts have been banished.
An opening day demolition of Arsenal at the Emirates Stadium has been followed by a brutal dismantling of Huddersfield, meaning a win against Wolves at Molineux this Saturday lunchtime could see City produce their best ever start to a Premier League season.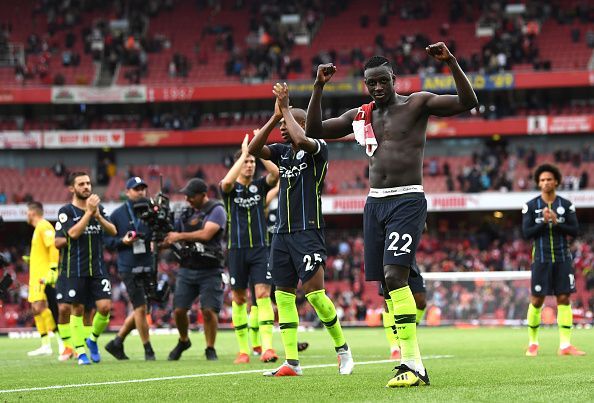 There are those that believe the newly promoted team in gold can challenge the champions but so far they have struggled to translate good performances into points in the top flight.
One point from two games is not the return Nuno would have hoped for and the arrival of City to The Black Country is a daunting task for the winners of the Championship.
Man City will be looking to improve on their Premier League start from 2011 which saw them win their opening three matches with a +9 goal difference and few would be surprised if they didn't surpass that this weekend.
That season ended with the club lifting their first PL trophy and a 3-0 win against wolves would see that goal difference bettered and prove that statistically at least, the Citizens appear to be better than ever.
Sergio Aguero has hit the ground running in stunning style having picked up a hat-trick against the Terriers last time out as he continues his relentless march towards becoming the greatest foreign goal-scorer in the history of the Premier League.
Guardiola did appear at one stage last term to be considering dispensing with the Argentinians services in favour of Gabriel Jesus, but the former Atletico man has looked better than ever since returning from the World Cup and looks set to keep the Brazilian out of the team for the foreseeable future at least.
Bernardo Silva appears to be the man to benefit from the De Bruyne injury with the Portuguese star relishing a greater role this season which means that this Manchester City Squad is continuing to evolve and improve.
Wolves, to their credit, did hold City to a goalless draw in the Carabao Cup last season which will give them a boost ahead of this game at Molineux but this will be a totally different ask in a League environment.
The Premier League was nothing more than a procession last year as Man City cruised towards the title and although their are hopes that Liverpool in particular can put up a stronger fight this time, the early signs are suggesting that the Champions might just be better than ever.