Alvaro Morata insisted that leaving Chelsea was "never a thought" for him this summer despite a disappointing first season in English football.
Juventus and AC Milan were both linked with moves to bring Morata back to Serie A after a Premier League campaign that yielded just 11 goals in 30 appearances, as well as suggestions that he had failed to settle into life in London away from the pitch.
Morata fuelled the speculation by spending much of his summer in Italy, being pictured with his agent and Juventus sporting director Fabio Paratici in Milan, but none of his suitors were willing or able to meet Chelsea's valuation of the striker they paid £58 million to sign from Real Madrid in the summer of 2017.
After scoring his first goal of the new season in Chelsea's 3-2 win over Arsenal on Saturday, Morata revealed that he is in the process of buying a house near the club's Cobham training ground and is committed to proving his doubters wrong as he raises his young family in the English capital.
"There was never a thought for me to leave," Morata said. "For me, it's easy. I could have gone back to Spain or Italy, all the people believe in me there but I want to change all the things here. I want to, not for all the haters, but for me and for Chelsea.
"I am looking forward to buying a house and I can't wait for the babies to grow up to put them into school. I am very happy and it's just the beginning of the new season. Why would I not be happy? I want to change all the thinking from the people who say I'm not.
"It's the only reason I stay here, otherwise if Chelsea said you are not in our plans, I move."
Chelsea's new coach Maurizio Sarri has offered mixed assessments of Morata's performances since taking charge in July, admitting in preseason that he was still waiting to see the best version of his first-choice striker.
But after opening his account in impressive style against Arsenal, Morata added that he expects Sarri's more proactive, expansive style of football to suit him better than the more orthodox target man role that predecessor Antonio Conte asked him to fulfil.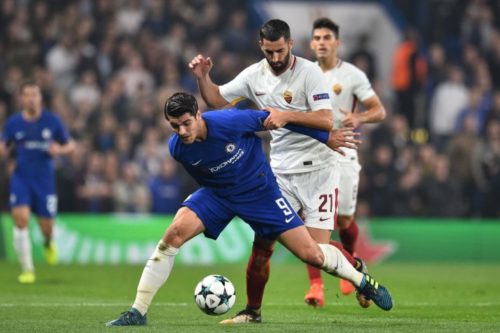 "He works with the ball always and when you always have the ball you have more chances and the strikers have more chances," Morata said of Sarri.
"Last season it was direct balls and for me to protect the ball in the air and it's not my best quality. Now I can attack the space, I can play one touch and go in the area for the crosses. I think it's better for me and we play better."