The first time Manchester City's supporters spotted Jorginho on the ball, they could not resist booing the man who turned down Pep Guardiola. Yet they were pantomime jeers, lacking any discernible edge, and anyway it would not be long before the player who could benefit most from Jorginho's decision to follow Maurizio Sarri to Chelsea had helped set City on their way to an ominously one-sided victory.
Naturally these are the moments when it is important to keep praise for Phil Foden in proportion, even after seeing him operate in tandem with the outstanding Bernardo Silva to establish mastery of midfield as the Premier League champions claimed the Community Shield with an easy 2-0 win. Before the hype machine goes into overdrive, it must be acknowledged that gliding through Chelsea's midfield to create a goal for Sergio Agüero is a significantly less demanding task when N'Golo Kanté is unavailable. Ultimately this was a low-stakes friendly and while Foden's performance underlined why he has been described as Stockport's very own Andrés Iniesta, there is nothing to gain from anointing the former City ballboy as the saviour of English football three months after his 18th birthday.
All the same, it was difficult not to feel a surge of excitement as Foden set about demonstrating why Guardiola has called him a "gift". More than anything it was his poise that stood out. Foden exuded belief that he belonged in such illustrious company, displaying the kind of calmness on the ball and ability to break through the lines that will make Gareth Southgate go weak at the knees. If there was one quality that England missed in Russia this summer, it was a creator, a player who could have challenged Luka Modric when Croatia were dominating the manager's midfield in Moscow.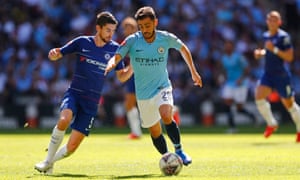 Admittedly it felt gluttonous to be watching football three weeks after the World Cup final, especially on a day when the lack of a breeze inside Wembley made the heat even more oppressive. The bright sparks in charge of pre-match entertainment tried to add some pomp to proceedings by placing flamethrowers next to the pitch, which was not only a curious decision because of the scorching conditions but also a hilariously incongruous one for a knockabout involving the comedy of Claudio Bravo, who spent much of the contest making a strong case for Guardiola to consider upgrading Joe Hart to City's No 2 goalkeeper.
Despite the hungover air, however, City were in the mood. Last week Sarri was asked for his view on the best way to counter Guardiola tactically. Was it through blanket defence or by being brave enough to play an open game? Sarri smiled and explained that he prefers to defend high when possible, but then shuddered as he recalled how his expansive Napoli side were ripped apart when they visited City in the Champions League last October. "The first 20 minutes were a nightmare," Sarri said. "It was horrible."
Twenty minutes into this game, a sense of deja vu must have fallen over Sarri as it became clear how tough it will be for the former Napoli manager to revive Chelsea. The gulf in class was vast and City sliced through Chelsea's undercooked midfield at will, with Cesc Fàbregas, Ross Barkley and Jorginho too ponderous to deal with Bernardo Silva, Foden and Riyad Mahrez, the latter having an encouraging if slightly frustrating debut after his £60m move from Leicester.
This was a glimpse of the future for City. With Kevin De Bruyne and David Silva resting after the World Cup, Guardiola took the opportunity to start Bernardo Silva and Foden in the middle, with Fernandinho screening the back four, and the two youngsters did not disappoint.
Bernardo Silva looks set for a strong second season in England. The 23-year-old Portuguese midfielder is seen as David Silva's heir and Chelsea strained to knock him off the ball as Guardiola's side tuned up before starting their title defence with a trip to Arsenal next Sunday, although it was Foden who provided the first piece of incision. After 13 minutes he surged through the middle and found Agüero, who drilled a low shot past Willy Caballero from 18 yards.
The irony is that another foreign talent would have blocked Foden's path into the first team if Guardiola had completed a £50m deal for Jorginho, a fine player who will need time to reproduce his Napoli form. But with his weaving, jinking and lovely left foot, Foden was able to showcase the strength of City's academy. He was named the player of the tournament when England won the Under-17 World Cup last year and gained experience in his 10 appearances for City last season.
While Foden will have to develop physically given that he is 5ft 7in, he already has the assurance of a Guardiola player. He treats the ball like a friend and shortly after half-time he used his right foot to release Agüero, who contrived to miss an open goal.
Yet Agüero quickly made amends after excellent work from Bernardo Silva and by the time Foden walked off to a standing ovation in the 76th minute, City's supporters had forgotten all about Jorginho.