Chelsea's defeat by Manchester City in the Community Shield showed just how big a job Maurizio Sarri faces to turn his side into title contenders. Sarri already knew that he could be about to lose some of his best players – Eden Hazard, Willian and Thibaut Courtois – who have all been linked with moves away from Stamford Bridge this summer.
That in itself is a lot to contend with, especially in your first few weeks as manager of a club such as Chelsea. But what Sarri saw at Wembley will also have told him a lot about what his other players are capable of, in terms of fitting into his system or reaching the required standards.
He has issues to tackle right through his team and, with Thursday being the transfer deadline for incoming players, there is not much time to decide whether to address them in the transfer market.
Real Madrid have been linked with Hazard, who does not start pre-season training until Monday, while Barcelona are supposedly interested in Willian, a second-half substitute against City.
If they are both going to stay then they are the ideal wide men to play in Sarri's 4-3-3 system. If not, Sarri has some huge holes to fill this week. Callum Hudson-Odoi showed he has great potential with his display on the left wing against City, and he should take a lot of positives out of the game.
But he is only 17 and clearly is some way behind Hazard in terms of what he can offer the side and the influence he has on his team-mates. Like Willian, Hazard is world class now and, if Chelsea are to have a successful season, then Sarri cannot afford to lose either of them.
What complicates matters is that clubs in Spain, Germany, Italy and France can sign players until 31 August, meaning Hazard and Willian could leave after Chelsea's chance to replace them has gone. So that situation is going to hang over Chelsea's head beyond the start of the season, and it will be draining for everyone.
Up front, Alvaro Morata struggled to make an impact at Wembley and he just does not look happy to me. The obvious alternative is Olivier Giroud, who had a very strong World Cup and played a big part in France's triumph.
Giroud will be full of confidence so it would not surprise me to see him go straight into the team for the opening Premier League match at Huddersfield on Saturday, even though he is also returning late for pre-season.
But, as we saw in Russia, where he failed to find the net in any of France's matches, Giroud is not exactly a prolific goalscorer. Yes, you can see what he brings to a team in terms of a giving them a presence up front and with his link-up play, but scoring is not going to be his main contribution. The goals have to come from somewhere, though.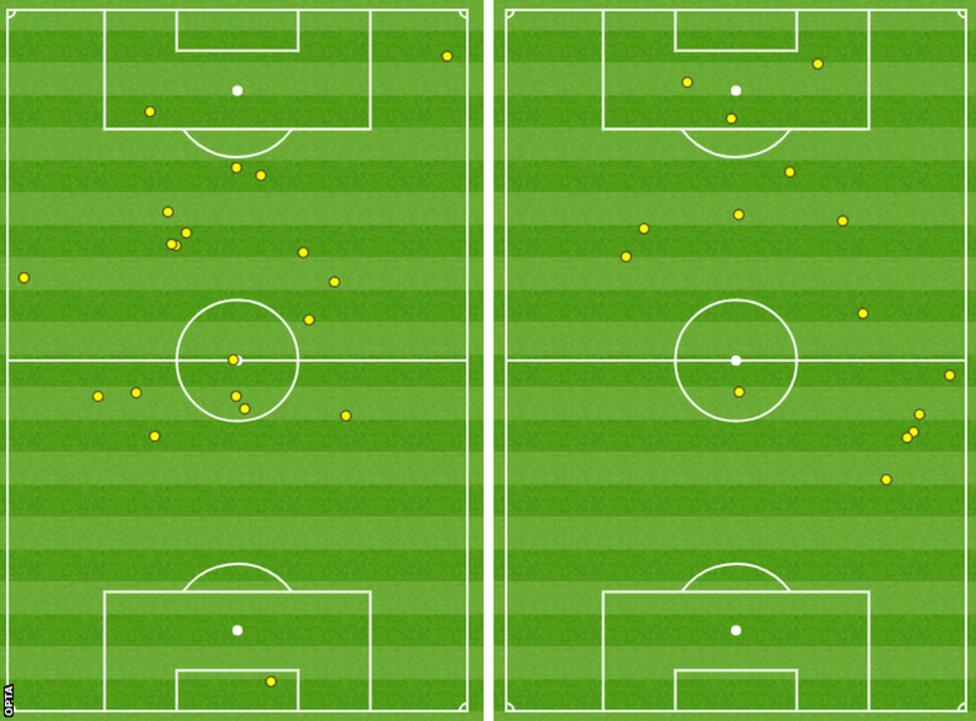 Again, if Hazard and Willian stay then I don't think it is a problem because Giroud will bring them into the game, and they will both score as well as create.
Without them, Sarri will probably be wondering whether his current centre-forwards offer enough. Again, he only has until Thursday to decide.
There is also an issue for Sarri to sort out at the back, because if he wants to play with a four-man defence then he has to get his centre-half pairing right. Against City, he used Antonio Rudiger and David Luiz and, as good a player he is in a three-man defence, I think Luiz struggles when he is playing in a four.
When Chelsea signed him for a second time and won the Premier League under Antonio Conte in 2016-17, Luiz had an outstanding season. But that was in Conte's 3-4-3 system, when he was able to bring the ball out of defence and showcase the things he is good at.
Running back towards his own goal is not something he enjoys as much – it just does not suit him, or his skill-set. But the way Chelsea play under Sarri, he is going to have to do plenty of that, and he is going to find it tough.
Sarri has other options of course, with Gary Cahill and Andreas Christensen, and he might feel that, between them, there is the potential to find a partnership that works. Again, he does not have long to make his mind up.
The other problem Sarri has is with his goalkeeper – with Courtois's agent quoted this week as saying that he wants to go to Real. Sarri said after Sunday's game that he would be speaking to Courtois about those comments on Monday, adding he only wants to keep players who are motivated to play for him.
I agree with him – and the same applies to Hazard and Willian too – but losing Courtois at this stage would be a big blow. Chelsea have bought in Robert Green but he is 38 and clearly seen as a back-up keeper, which is the role Willy Caballero was brought in to do last summer too.
I am not sure Caballero is at the level where they will want to go with him as a number one this season, so that is another huge thing for Sarri to sort out in the next few days.
He will get a substantial fee for Courtois if he does leave, but not much time to spend any money on a replacement. So Sarri has a lot to sort out and the contrast between his circumstances and those of Pep Guardiola at City, where everyone looks very settled, could not be greater.
City are about to start their third season under Guardiola and it is clear they are a well-oiled machine. They know his philosophy and the way he wants to play; the personnel does not really matter. That is City's great strength at the moment, and it is where Sarri will want to be with Chelsea in two years' time – with a settled squad, who know his system.
It took Pep two years to get to this point, and Sarri needs time too – but his biggest worry must be whether he will get it at Chelsea.