Nineteen teams tried to prevent Manchester City winning a Premier League game last season. Only six managed it.
In 2017-18, City earned more English top-flight points than any other team in history and registered more wins and scored more goals than any other Premier League side before them.
They also recorded the most consecutive wins, attempted and completed the most passes in a game and spent the least amount of time behind in matches – a remarkably brief 153 minutes over the whole campaign. That is just 4.5% of their season.
In preparation for the 2018-19 season, the champions have splashed out a club record £60m to sign 2015-16 Premier League player of the year Riyad Mahrez and have been linked with a host of other high-priced global superstars.
The rest of the league may as well pack up and go home now, right? Well, maybe not.
Analysing information from the times City failed to win last season identifies some potential chinks in an otherwise formidable armour, ones this season's 19 opponents may be able to exploit.
Play them at their own game
City's possession-based, high-tempo, high-pressing style is easy to admire but less so to replicate. But with the right players, employed in the right way, it can bring success, as Liverpool demonstrated by inflicting a first league defeat on Pep Guardiola's side in January.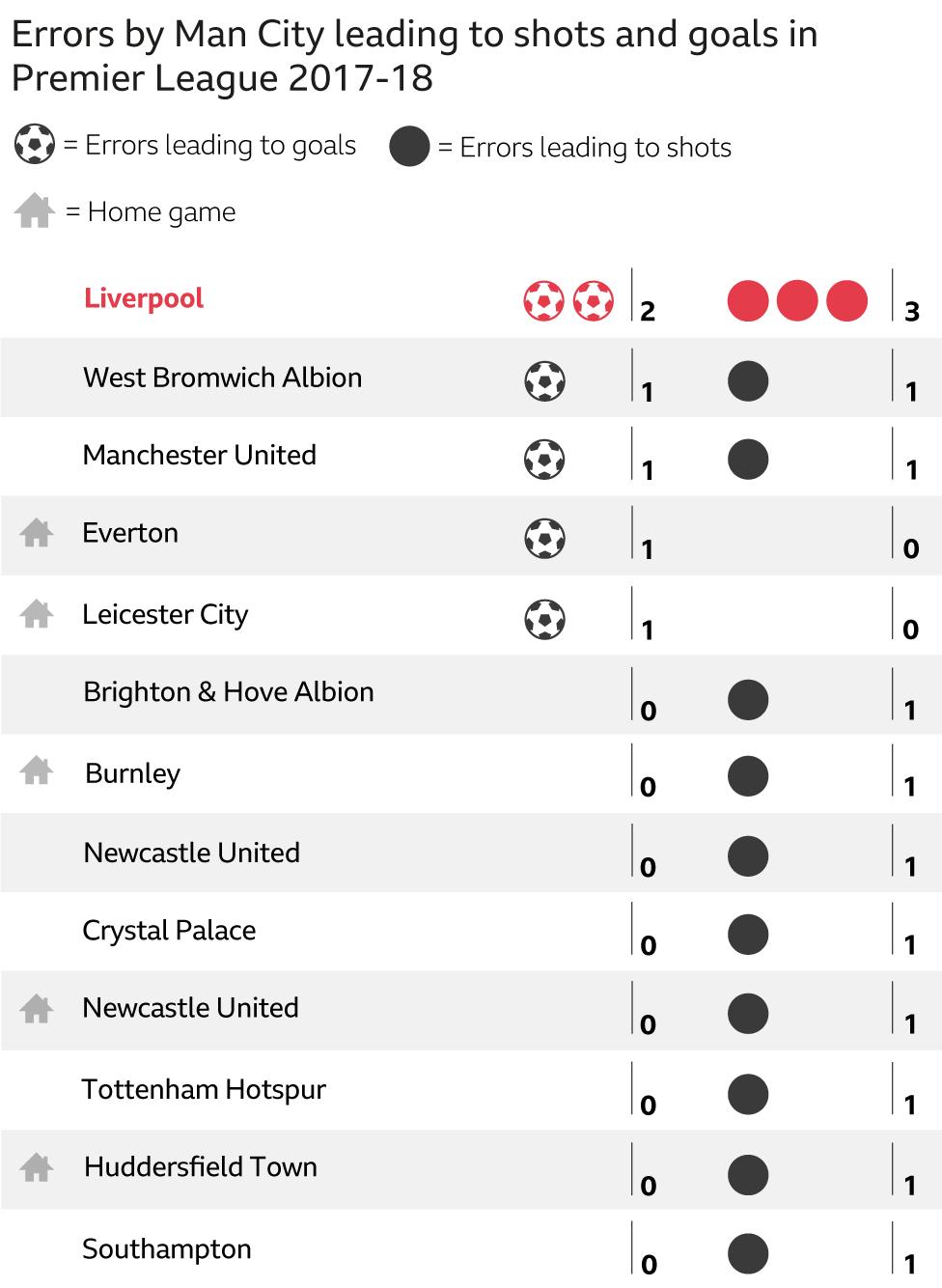 Liverpool forced more errors from Manchester City than any other side in the Premier League last season
Liverpool were able to play this way because of the energy and drive they possess in midfield and the work-rate and clinical finishing of a forward line of a calibre few possess in Europe.
What Liverpool exposed – as they would do again in the first leg of their Champions League quarter-final with City, and Manchester United would do during the 16 second-half minutes of the champions' only other defeat of the league season – is a fragility that leaves them open to further blows once the first has been landed.
This is especially the case when Vincent Kompany is absent, as he has often been in recent seasons through injury.
Guardiola will hope the signing of Aymeric Laporte, continued maturation of John Stones and improved fitness of Kompany will eradicate this tendency but their rivals will all be keen to test what could still be a glass City jaw in 2018-19.
Park the bus
This was the road most travelled by sides last season, aware of their inferiority to City and seeking a lower risk and reward.
As a result of how good City are and other teams' willingness to let them be (up to a certain point on the pitch), Guardiola's side dominated possession against the majority of opponents, averaging 71.94% over the league season.
Against most sides this possession and territorial advantage was the platform for a City victory. But a small number of teams were able to defy them, principally because they provided a threat at the other end to provide respite from City's attacks: Burnley and Crystal Palace being the clearest examples.
Stop the supply line
A large amount of City's goal come from areas of the pitch called "half-spaces" (illustrated below).
Denying the likes of Kevin de Bruyne and David Silva space in these areas outside the box and tracking the runs of Raheem Sterling and Leroy Sane in it are key to trying to stop City carving open the defence.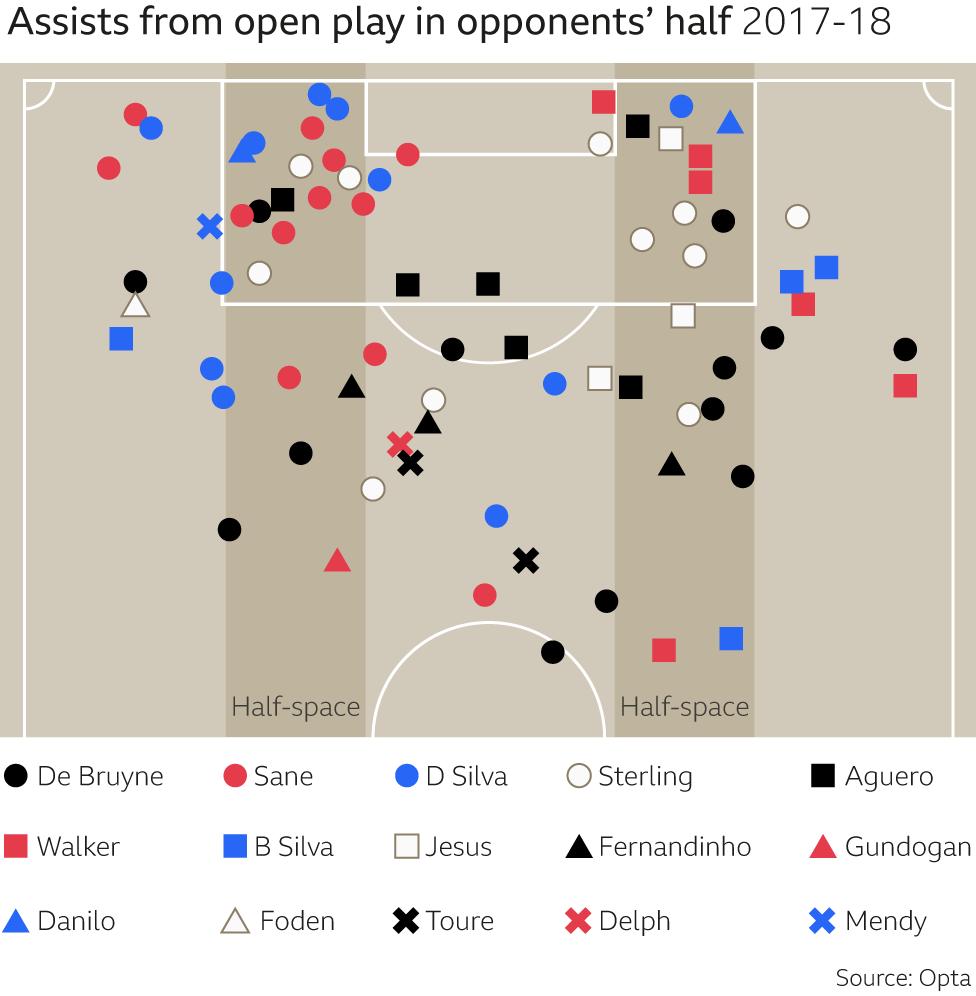 Liverpool managed this superbly on 14 January, benefitting from the absence of Silva but also denying De Bruyne his usual level of involvement in the game.
Sane and Sterling were also denied the opportunity to get into areas in the box that had proved so fruitful against other teams.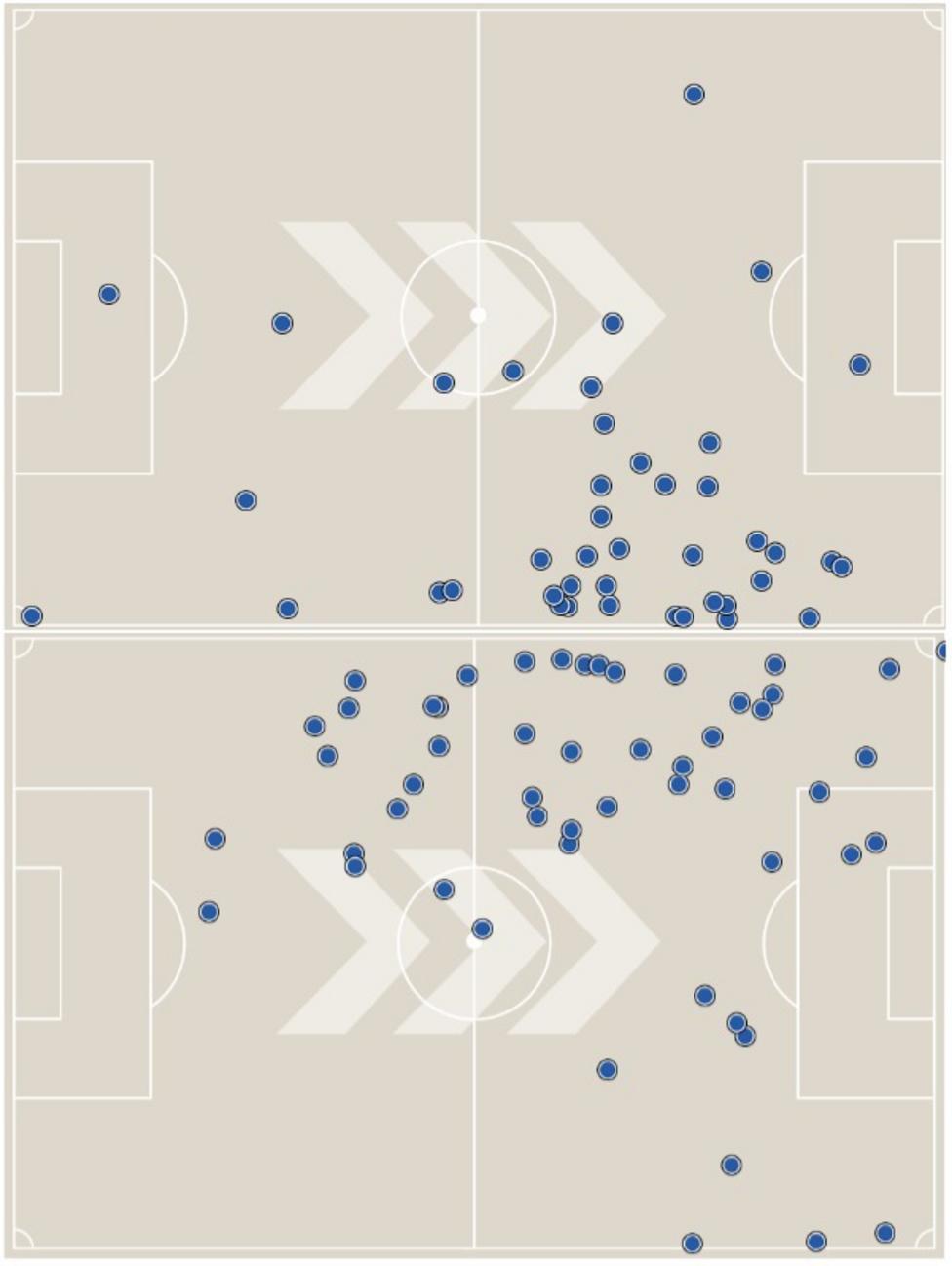 Go aerial or hit on the break
City conceded just 27 goals in the league last season – hardly a huge sample size on which to draw. But of those, 10 came from chipped balls or crosses into the box, suggesting either an aerial weakness, occasional lapses in concentration or both.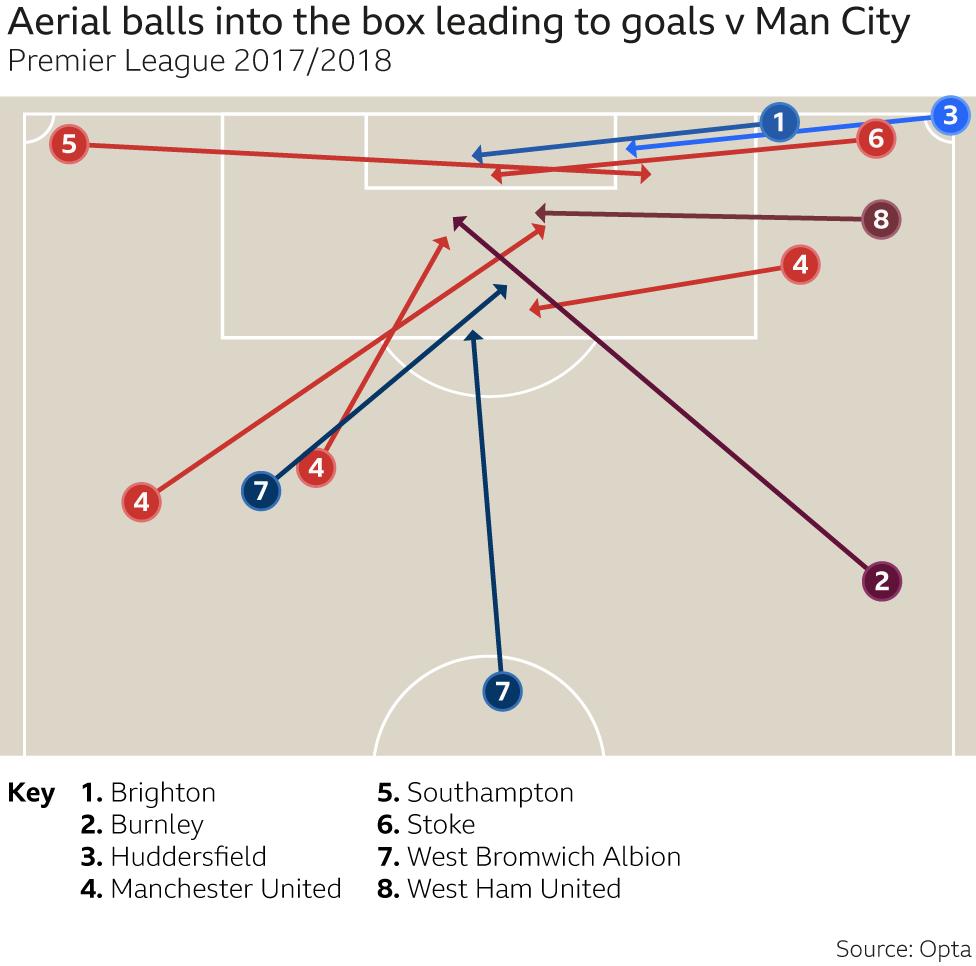 Equally, City's eagerness to press and get men forward can leave them vulnerable to counter-attacks, which teams may look to exploit.
Newcastle scored through this method in their 3-1 defeat at the Etihad last season, winning the ball back in their own half and playing a quick, incisive ball forward with City exposed, allowing Jacob Murphy to get in behind Oleksandr Zinchenko and score.
League One Wigan did a similar thing to dump City out of the FA Cup, with Will Grigg seizing on a mistake from advanced full-back Kyle Walker before charging forward to score.
Get lucky
City's stellar line-up and managerial brilliance means that realistically most teams will need some element of fortune to achieve a result against them.
Manchester United's superb comeback at the Etihad would not have been on had Raheem Sterling, Bernardo Silva or Ilkay Gundogan taken one of the four big chances that came their way in the game, while Huddersfield benefitted from City's lowest shooting accuracy of the season to earn their 0-0 draw in the campaign's penultimate match.
There is an element of desperation about it, but some teams may have to lean into their luck against a side who are odds on to repeat last season's title triumph.