Mourinho has built his reputation as one of football's most controversial characters over the yearsThis universe is a wonderfully balanced one. The way the solar system moves around is a genuine example in itself about the balance of its structure. Where is good, there is bad. Where there is love, there is hate. Where there is Morgan Freeman, there is Jose Mourinho. Where there is… I guess you get it. Or maybe not.What I am trying to imply is that not everybody is loved by everybody. Some are loathed so much that they lose sleep at night wondering whose bunny they killed to incur such hate. And Jose Mourinho is one such character. He is loved by many but hated by many more. If one only believes in the Portuguese's side of the story, then the world hates him because the world is evil and he is the savior.This might have been true had he not done these things to infuriate rivals fans into hating him.
1 "I am the Special One"
We begin with some textbook narcissism. According to Greek mythology, Narcissus, a hunter, was so self-obsessed that when he saw his own reflection in a pool of water, his eyes became transfixed to his own image as he fell in love with it. Ultimately, he drowned in the pool as he couldnt bring himself to get away from the pool and away from his image.
2 Shushing Liverpool fans
This was the first notable time when Jose Mourinho showed the world how much he loved using the index finger of his right hand. As Chelsea were playing Liverpool in the final of the Carling Cup, the former Real Madrid manager was seeking his first trophy with the Blues. And Steven Gerrard helped him to it as an own goal from the Liverpool legend allowed Chelsea to take home the title. But that wasn't it. Mourinho thought it was absolutely necessary that the Liverpool fans observed some moments of silence as a sign of respect for the champions.
He went in front of the Kop army and put that graceful finger on his lips, hushing the Reds fans to keep quiet and maintain a library environment so that the Chelsea players feel like they are in their home ground Stamford Bridge.
3 Labelling Wenger a \'voyeur\'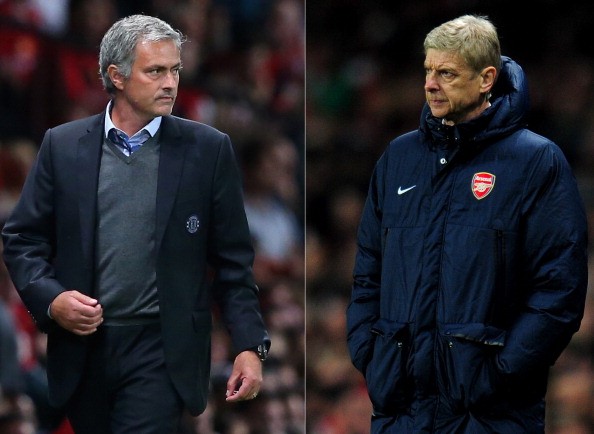 There are some people in this world who see other people's success dwarfing their own – or lack, thereof – and they, finding no other way, point fingers at the successful people of buying their way out. And so when Arsene Wenger couldn't cope up with his inability to produce titles with Arsenal, while once-in-shadows Chelsea were dominating in England, the trumpets were blared – and it startled Mourinho.
4 The handcuff gesture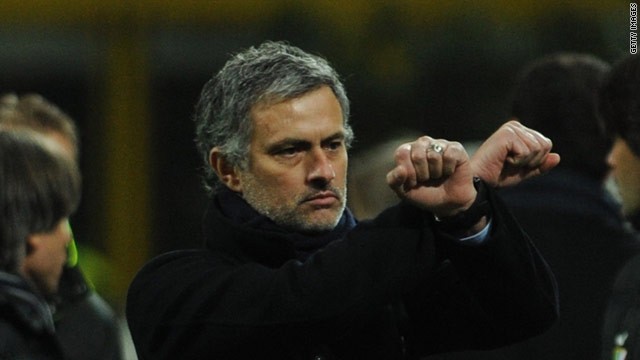 We live in a world where most people claim to possess the right of freedom of speech and when we aren't allowed to opine ourselves, we feel victimised. Every Human has felt wronged in her or his lifetime. Jose Mourinho might be more than just a mere mortal, but even he couldn't help but feel caged by the cruelty of the world when defenders Walter Samuel and Ivan Cordoba were sent off in a game against Sampdoria.
Mourinho, like always, didn't hold back his feelings as he raised his hands and made a handcuffed gesture multiple times. He was banned for three games for this act of defiance and also got to the nerves many people, including Adriano Galliani.
5 Eye-pokes Late Tito
Till date, this must be the vilest Mourinho-related incident and hopefully, for the better image of football, will remain the highest bar set by the Portuguese. As Real Madrid faced the bitterness of an away defeat at the hands of archrivals Barcelona in the Spanish Super Cup first leg, Cesc Fabregas was hacked by Marcelo. The Brazilian's intention was only to break Cesc Fabregas' leg into two pieces, something that didn't go down too well with the Catalans.
6 "A player from a Mickey Mouse club"
The term Mickey Mouse is a highly used term in football. For trophies whose importance is lesser than the opinions of Joey Barton, this term has a high association with. The Carling Cup, for instance, is labelled as a Mickey Mouse trophy, especially when Jose Mourinho's team is the one that doesn't win it. The Portuguese, however, took that term to describe a team's mediocre stature.
After Eden Hazard converted a 94th-minute penalty to equalise for Chelsea and grab a point, the Baggies were devastated as they squandered their closest chance to beat Chelsea at the Bridge since 1978. Tempers flared as Jose Mourinho labelled Jonas Olsson a "player from a Mickey Mouse club."