Bandits Shoot 22 Dead At Zamfara Gold Mine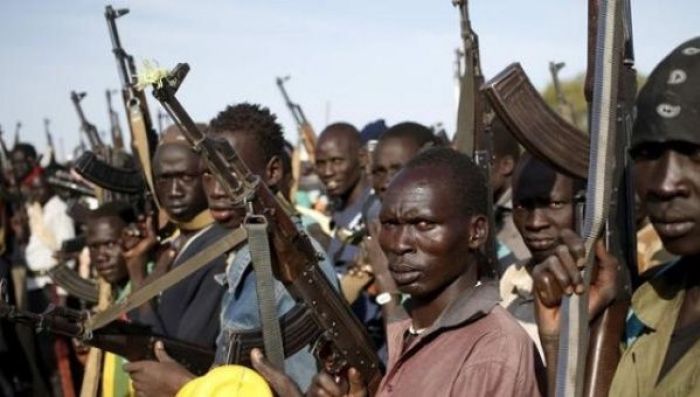 Gunmen have killed at least 22 people in a deadly raid on a gold mine near Sabuwar Tunga village in Dankurmi district of Maru local government area of Zamfara state, Daily Trust gathered.
Residents told our correspondent that the armed men had earlier invaded a nearby village called Koda with the intent of rustling cattle but met fierce resistance from the highly organized residents of the community.
The residents killed the leader of the bandits in shoot out and were able to recover all their rustled cattle.
The armed men organized themselves again and went to the gold mine near Sabuwar Tunga village.
They laid siege when most of the residents were attending a weekly market trading in Dankurmi community.
"They asked the traders who mostly sell soft drinks to come for a meeting and when about eight of them gathered for the purported meeting, they shot them in the head at close range," a resident identified as Lawali told Daily Trust.
"They then proceeded to the mining pits and blocked all escape routes before they began shooting dead the artisanal miners at close range."
The resident further explained that the armed men then quickly marched to Sabuwar Tunga community and abducted more than 100 people including nursing mothers and children.
However, a nursing mother who gave birth not more than two weeks ago was asked to give her baby over.
The baby was returned to the community but the mother was not spared in the abduction.
"The baby is being breastfed by another nursing woman. One sad and pitiful story about this nursing mother is that her husband was among those killed at the goldmine.
"It took more than 300 local vigilantes otherwise known as Yan Sakai hours to retrieve the remains of those killed because of the fear that the armed criminals might return," said the source.
"As I'm talking to you know I'm just coming back from the funeral rite of the deceased. A headcount was conducted by the village head and other residents and it was found out that 105 residents are missing," Lawali said.
The spokesman of the state police command SP Muhammad Shehu could not be reached at the time of filing this report.
Source: Dailytrust
Afenifere slams security agents over attempt to arrest Sunday Igboho
The pan-Yoruba socio-political organisation, Afenifere, on Friday, berated the foiled attempt to arrest Yoruba freedom fighter, Mr Sunday Adeyemo also known as Sunday Igboho. Afenifere's National Publicity Secretary, Yinka Odumakin, described the move as overzealousness.
Odumakin said: "The Police and security agents waylaid Sunday Igboho on his way to Lagos for a meeting. It was more of a skirmish and it was out of it." "It was the overzealousness of security agencies who cannot go after Sheikh Gumi or bandits but harassing somebody who has not broken the law that we know."
Source: Vanguard
Stop terrorising Sunday Igboho, arrest bandits – Dele Momodu reacts to attacks on Yoruba activist

Dele Momodu, a veteran journalist on Friday faulted the reported harassment of Yoruba activist, Sunday Adeyemo popularly known as Sunday Igboho.
Momodu, who is the Publisher of Ovation Magazine said the government should stop terrorising Igboho.
Describing the attempt on Igboho as shameless, he wondered why the government would attempt to arrest Igboho while looking away from bandits.
Igboho was reportedly harassed by a combined team of the police, Army and the Department of State Services, DSS.
Recall that Femi Fani-Kayode, a former Aviation Minister had accused the DSS of attempting to arrest the Yoruba freedom fighter.
The PDP Chieftain had said DSS operatives and policemen numbering about 40 made the attempt at the Ibadan/Lagos Expressway.
Some Nigerians had called for Igboho's arrest over attacks on herders in Oyo and Ogun State.
Igboho had some weeks ago stormed Ogun State to chase away Fulani herdsmen in Yewa North, saying "this is Yoruba land."
Reacting to the development, Momodu in a tweet wrote: "Why this harassment of CHIEF SUNDAY IGBOHO by agents of a government that knows the whereabouts of bandits who live inside remote forests and won't go near them but have the temerity and shamelessness to terrorize a man who lives in his own beautiful home in Ibadan city!!!"
Source: Dailypost
8 soldiers killed, 5 others injured in Mali – Army

Eight soldiers were killed and five others injured in an attack on an army base in Bandiagara, in Mali's central region of Mopti, the military confirmed on its website on Friday. Unidentified armed individuals attacked the base of Malian army and the gendarmerie squadron in Bandiagara at about 9:30 p.m. local time on Thursday, the Malian Armed Forces said.
Malian security forces have come under repeated attacks recently in the central region, the last one on Tuesday, when two soldiers were killed and seven others injured in an ambush, also in the Mopti region. Following a military coup in 2012, insurgents have been roaming northern Mali. Armed attacks have recently extended to central Mali, in spite of the presence of the French military and UN peacekeepers in this west African country
Source: Vanguard
VP Osinbajo Disagrees With CBN's Ban On Bitcoin And Other Cryptocurrencies
The Vice President of Nigeria, Prof. Yemi Osinbajo has disagreed with the Central Bank of Nigeria's decision to ban Bitcoin and other cryptocurrencies.
Osinbajo called for a regulation of the industry instead of an outright ban.
Osinbajo also advised the SEC, and Central Bank of Nigeria to create a regulatory road map, while fully appreciating the stance of the CBN, Nigerian SEC, and law enforcement agencies on the possible abuses of crypto assets.
He also called for scaling up of governmentt-private sector interventions because, "the task of national development requires that we fire on all cylinders, after all at one stage China was building 1.9m housing units per year."
Source: Tori.ng
NUJ calls for arrest of Sheik Gumi

The Nigeria Union of Journalists (NUJ), has called for the arrest of Sheikh Ahmad Abubakar Mahmud Gumi, for labelling Journalists criminals for calling bandits criminals.
Share
The union expressed reservation on the remarks made on Arise TV last Wednesday by Sheikh Ahmad Abubakar Mahmud Gumi, labelling Journalists as criminals for calling bandits criminals.
The Sheik during his interview with Arise TV said
"You are emphasising on criminality, I don't know. Even the Press (journalists) are criminals too because they are putting oil into fire [sic]. These people are listening to you, don't address them as criminals". It is instructive to note that one of the gangs that was recently interviewed by Nigerian journalist, Abdulaziz Abdulaziz and published in Daily Trust of today where the bandit leader insisted on being introduced properly as "Kachalla Halilu Sububu Seno, Leader of all Terrorists. He is the Leader." Yet Malam Gumi insists they are not criminals."
Reacting to the statement, the NUJ National President, Chris Isiguzo, said, "We do not see any correlation between journalism and criminality."
The statement in part reads;
"This unnecessary and unprovoked attack on members of the media by a hitherto respected cleric who decided to embark on strange errands, is unacceptable and it is becoming clearer now that he is pursuing a different agenda. We equally recall a recent statement credited to Sheik Gumi where he was inciting bandits, by encouraging religious biases among soldiers on the battlefield.
We are more shocked that the same Sheik Gumi who has used the media to speak to leaders and to advance the course of his mission to the bandits across the Northwest, is at the same time attacking the Journalists for simply describing bandits as criminals.
Sheik Gumi's attempts to seek amnesty for killers and abductors of innocent citizens, especially school children is most unfortunate.
We invite Sheik Gumi to explain to Nigerians why despite his recent negotiations with bandits in Zamfara State, the criminals have continued maiming, killing, raping and kidnapping innocent citizens, including the 300 female Students just abducted in the same State.
In saner climes, Sheikh Gumi, a non-state actor involved in negotiations with criminal elements, should have been behind bars, but alas, thanks to the weaknesses of our Leaders, he continues with his reckless comments and forays into bandit territory unabated.
By insulting the Press as "Criminals" Sheikh Gumi has exposed himself the more as an intolerant person who will not want his activities closely scrutinised by the media. It is instructive to remind Sheik Gumi that by embarking on such an errand and choosing to speak for the bandits, the Press will continue to scrutinise his activities and also hold him accountable for his actions as enshrined in the Constitution.
His reaction was totally unacceptable, dishonourable and reprehensible and we demand a retraction of his untoward, irritating and awkward utterances which negate simple decorum and civility. We therefore caution him to remember that "riding the tiger might be an exhilarating experience but the consequence are bound to be unpleasant." He should thus be guided.
We equally invite the global community to document the utterances and actions of Sheik Gumi and to hold him to account for any bandit related mishap that may happen to Journalists around the country."
Source: Lailas News
UEFA Europa League last-16 draw revealed: Manchester United vs AC Milan, Arsenal vs Olympiacos (See full draw)

The Europa League last-16 draw for 2020/21 has been revealed.
Premiership club, Manchester United will face Italian giants, AC Milan in the tie of the Europa League last-16, while Arsenal will take on Olympiacos.
The Europa League last 16 will take place between March 11 and March 18, with the draw for the quarter-finals and semi-finals the following day after the second leg.
The quarter-finals will then be played between April 8 and April 15, while the semi-finals will be played on both April 29 and May 6.
The final, which will be in Gdansk, Poland this year, will take place on May 26.
See full draw below.
Source: UEFA.COM
Bill Gates shuns bitcoin investment

Despite the buzz about cryptocurrency and talks about its gains, Bill Gates says he has not invested.
The Microsoft founder disclosed this in a live chat on Clubhouse.
The billionaire listed other areas he put money on, adding that he had no problem with those who make their money via digital currency.
On claims that bitcoin production could be damaging for the environment, Gates said he was not totally convinced that was the case.
"I don't see the topics as deeply related even though you might label me a bitcoin skeptic. That is, I haven't chosen to invest money.
"I buy malaria vaccines. I buy measles vaccines. I invest in companies that make products.
"It's not a, 'Hey, somebody's going to buy this for more money than I'd pay for it.' If other people find their fortune that way, I applaud them", he said.
In a previous interview with Bloomberg, Gates commented on Elon Musk's interest in crypto.
The business magnate advised those who have less money than the Tesla founder to "probably watch out".
"Elon has tonnes of money and he's very sophisticated, so I don't worry that his Bitcoin will sort of randomly go up or down."
Source: Dailypost
Erica Nlewedim celebrates as she hits 500K followers on Twitter

Popular reality star, Erica Nlewedim has celebrated as she crosses the milestone of half a million followers on the micro-blogging platform, Twitter.
The disqualified housemate of the 2020 Big Brother Naija reality show took to the platform to applaud her fans and wishers for their support up to this moment.
Taking to her yet- to -be verified Twitter page, the beautiful and single entrepreneur wrote;
"500k twitter supporters is no mean feat! I appreciate each and every one of you 😘."
Source: Gistreel