Army Allegedly Moves 20 Lekki Massacre Victims To Mortuary
According to an exclusive report by SaharaReporters, "at least 20 bodies of EndSARS protesters massacred at Lekki Toll Gate, Lagos by operatives of the Nigerian Army on October 20, 2020, were on Friday secretly moved to the Infectious Disease Hospital (IDH) mortuary in Yaba.
"SaharaReporters gathered that the Lekki massacre victims were moved to the IDH mortuary after  postmortem examinations was conducted on their bodies at the Department of Pathology and Forensic Medicine, Lagos State University Teaching Hospital, Ikeja."
The IDH mortuary is beside the 68 Nigerian Army Reference Hospital (68 NARHY), a military health facility in Yaba.
Source – SaharaReporters
Soldiers Block Lagos Judicial Panel From Entering Military Mortuary
Members of the Lagos Judicial Panel on End SARS were stopped from entering the Military Hospital in Ikoyi by soldiers on Friday. The panel paid an unplanned visit to the morgue for some assessment.
The judicial team is investigating the shooting at Lekki tollgate where 15 protesters were reportedly killed. Witnesses of the Lekki shooting accused military officers of taking away the bodies.
The panel, however, met resistance as it got to the gate of the hospital.
Suspected Ritualists Behead Security Guard, Remove Vital Organs
A 43-year-old security guard has been beheaded by a yet-to-be identified persons suspected to be ritualists in Oka-Akoko community, the headquarters of Akoko South West Local Government Area of Ondo State.
It was learnt that the victim identified as Rotimi Olukoju, who worked with a microfinance bank in the town, was found dead on Thursday evening, October 29, by some residents in a bush path.
Residents said that Olokoju was killed on his way to the farm in the Iwaro area of Oka Akoko while vital organs of his body were also removed and taken away.
Source – Linda Ikeji 
Nigerian Arrested Alongside Police Officers In US' DEA Sting Operation Against The Sinaloa Cartel
A Nigerian living in Florida, Durojaiye Monsuru Obafemi Lawal has been arrested alongside some police officers in a sting operation carried out by agents of US Drug Enforcement Agency against the Sinaloa cartel.
The two Miami-Dade police officers who were arrested by the DEA have been identified as Roderick Flowers and Keith Edwards.
Miami Herald reported that the two friends who took a liking to "Bad Boys" (the police action-movie franchise set in Miami), preened with their badges, donned thick gold jewelry and smoked cigars on social media.
Source – Linda Ikeji 
Lagos Government Relaxes Curfew From 10pm To 6am
Governor Babajide Sanwo-Olu has again relaxed the curfew he imposed in Lagos state in the wake of the #EndSARS crisis which led to the destruction of properties.
The curfew which was formerly between 8pm to 6am, will now take effect from 10pm till 6am. The announcement was made in a statement released on Friday October 30, by the Commissioner for Information and Strategy, Mr. Gbenga Omotoso.
Goverbor Sanwo-Olu urged all residents to go about their businesses in peace, even as they shun "actions that can threaten our unity."…READ MORE>>>
People Now Lay Curses On Me In Mosques – Aisha Yesufu
Activist, Aisha Yesufu, says it has come to her knowledge that people now finish their prayers in their mosques and then proceed to lay curses on her.
Aisha revealed this on her Twitter handle on Friday morning, October 30.
"Heard I am being cursed in mosques! People finish praying and take time out to curse me in their prayers I have asked they should please let me know how many of these curses they rained on me when I was making same demands during GEJ! We are all already cursed in Nigeria"she tweeted.
Source – Linda Ikeji
What Gowon, Obasanjo, IBB, Shonekan, Abdulsalami, Jonathan Told Buhari on #EndSARS Protests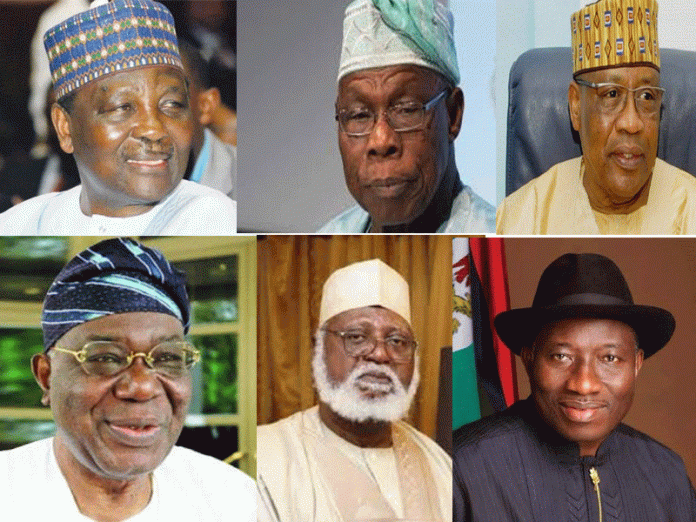 Former Presidents of the country have expressed concern on the quality of intelligence available to the security agencies in a recent virtual meeting with President Muhammadu Buhari.
They were of the opinion that with adequate intelligence, some of the recent happenings in the country, especially the recent #EndSARS protests would have been nipped in the bud.
For about two weeks, the country witnessed violent unrest, ignited by what began as legitimate protests against police brutality, code-named #EndSARS.
Source – This Day