Good evening!
Here are the latest stories for today, 9th Augut 2020.
Nigerian Government Begins Regulation Of Social Media Usage Of Civil Servants
The Nigerian Government has begun the regulation of social media usage by civil servants, saying their posts should be in support of the government.
According to the statement issued by Lawal Ado Dutsin-ma, Permanent Secretary (Administration), for Head of Civil Service, the FG noted with concern the improper participation of public Servants in various media platforms, most especially Facebook, Whatsapp and Twitter applications among others to the extent of disclosing sensitive official government information and correspondences.
All permanent secretaries and chief executive officers of government ministries, departments, agencies and parastatals were directed to "inform all staff under them to remain vigilant on movement of sensitive government documents".
KASHAMU: Stop Forming Saint, Your End Will Come Too, Fayose Tells Obasanjo
Former Ekiti State Governorok, Ayodele Fayose has condemned the comment credited to ex-President Olusegun Obasanjo over the death of Senator Buruji Kashamu.
Fayose said that Obasanjo should stop claiming to be a saint, reminding him that one day he would also die like Kashamu and that "nobody knows how the end will be."
He also added "Nigerians will watch out for Obasanjo's own end. He should stop forming saint because he is not. He should also remember that his own end will come too and nobody knows how the end will be.
20-Year-Old Fashion Designer Dies After Brutal Attack By Police Over Alleged N50 Bribe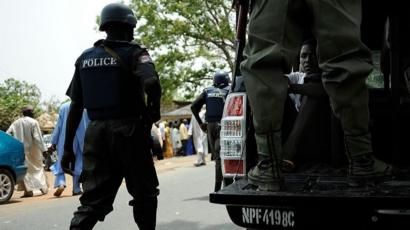 A 20-year-old, fashion designer, Ayomide who has been battling for his life following a brutal gun attack on him by an alleged police officer, identified as Inspr Ago Egharevba attached to Ibokun Divisional Police Headquarters over N50 bribe, has reportedly died.
The deceased, after six days in coma, gave up the ghost 08:30 am on Sunday at the Ladoke Akintola Teaching Hospital (LAUTECH), Osogbo, where he was receiving treatment.
The Police Public Relations Officer, Yemisi Opalola, said the accused Policeman pulled down Ayomide while trying to ride past their checkpoint and consequently, his motorcycle fell and he sustained serious injuries which led to his death.
Pastor Arrested For Allegedly Impregnating Two Teenage Sisters
A cleric, Prophet Ebenezer Ajigbotoluwa, the founder and General Overseer of The Church of Lord, Olomore Abeokuta, is currently cooling his heels in police net for allegedly defiling and impregnating two teenage sisters.
the mother of the victims, told the police that she fell sick sometimes in 2018 and was taken to the church for spiritual healing and the pastor seized the opportunity to ask her entire family of six to relocate to the church premises to avoid being afflicted with the same sickness.
There and then, the prophet started having sex with her daughters of 16 and 13 years of age, and also defrauded the family of N2million naira cash, which he reportedly collected for what he called 'spiritual cleansing'.
Senator Buruji Kashamu's Body Laid To Rest In Ogun (Photos)
The remains of Senator Buruji Kashamu has been laid to rest. His body was committed to mother earth at his Ijebu-Igbo home in Ogun state on Sunday August 9.
The Senator who represented Ogun East in the 8th Assembly died of COVID-19 at the First Cardiologist hospital, Lagos state on Saturday,  August 8.
See more photos from his funeral below.
Pro-Biafra Group Dares Miyetti Allah To Set Up Security Group In S'East, S'South
A pro-Biafra group, the Biafra Nations Youth League (BNYL), has dared Miyetti Allah Kautal Haure to make the Fulani security group visible in South-East, South-South.
BNYL stated this in a statement on Saturday by its chief press secretary, Dianabasi Odung, in Uyo, Akwa Ibom State, insisting that the Fulani security group should not be seen in the zones.
BNYL statement followed the recent claim by Miyetti Allah Kautal Hore, National President and Secretary, Bello Bodejo and Saleh Alhassan, respectively, that the group had set up a vigilante group across the country to check the security challenge in the country.
Catholic Priest Urges Nigerians To Occupy Aso Rock, National Assembly To Remove Bad Leaders
A priest of the Catholic Archdiocese of Abuja, Rev. Fr John Chinenye Oluoma, has called on Nigerians to come together to organise a mass protest to occupy Aso Rock and National Assembly over corruption, poverty, insecurity and bad governance in the country.
The priest called on Nigerians to remove the present crop of political office holders, who have constituted themselves into a stumbling block for good governance.
He added that the Christian Association of Nigeria and the body in charge of all Muslims, pastors, priests, bishops and religious leaders in Nigeria should organise a crusade at the Eagle Square, National Assembly and Aso Rock, stay there and go nowhere until the FG do certain things or else remove them.