Nigerians have reacted to trending pictures of President Muhammadu Buhari and his travel delegation welcoming him as his visits South Africa.
President Buhari on Wednesday left Abuja for South Africa to honour an invitation by his South African counterpart – Cyril Ramaphosa. The pair were billed to hold series of bilateral talks in the wake of renewed xenophobic attacks in the Rainbow Nation.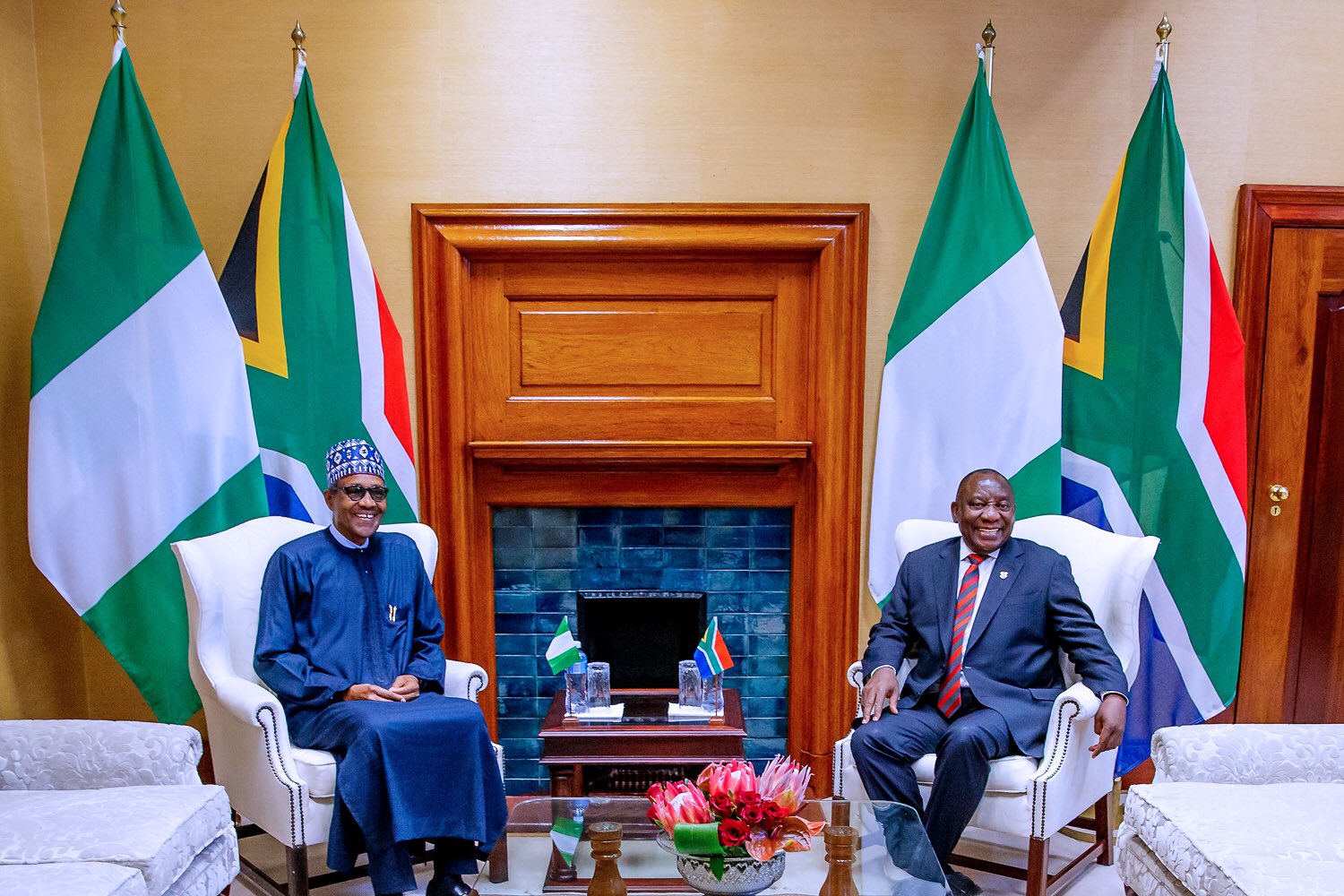 But rather than the essence of his visit dominating conversations back home in Nigeria, pictures of the President and his entourage remain a national talking point.
This is because President Buhari was seen being welcomed by the same entourage that traveled with him – which include but not limited to the Governors of Ebonyi State, Dave Umahi and Kano State Governor, Abdullahi Ganduje.
Incidentally the same delegation were seen with the President at the time of take off and inside the Presidential jet.
here how Nigerians are reacted.
1: Govs line up like refugees to shake hands with the President as he enters NAF 1.

2: Govs now enter the same NAF 1 with the President & laugh at their combine silliness in picture 1.

3: After they arrived SA, they came out before President, lined up & welcomed him to SA. pic.twitter.com/Yhb8IETUxG

— Aziz Bakare (@Backarray) October 3, 2019
This is one of the stupidest things ever. That with the protocol guy always in front of the president acting weird in the name of guiding him to only God knows what????. It's an embarrassment Wallahi.

— Fareedah Ibrahim (@fareedahibrahim) October 3, 2019
Since they don't have any meaningful thing to do in their state, they are bunch of clueless state house occupier.
Alainikan se ni dede won, oni jabajaba ni won wa

— Alhaji Dansagam (@OTOgunnowo) October 4, 2019
then they repeat the whole protocol again before they leave SA and then upon arrival to NG. an infinite loop of ridiculousness, can't make this shit up ?

— spin – logo wizrd (@rocfellah) October 4, 2019
My question is ,dis governors that follow Buhari to travel,what do they really go to do sef?do they go there for pleasure?I dont understand why dis folks keep wasting our transport,fuel money,allowance money etc.nigeria tire me..

— carlito (@carlito_b007) October 4, 2019
I still don't get the logic behind these showings too, Look at Ganduje, he looks fully ready to lick Buhari's ass if needed. These are what you do when your hands are dirty. They travel every month, but no sign of exposure in their policies.

— MrBraham? (@iam_Braham) October 4, 2019
Buhari relish in that ego-tripping display. Don't expect anything to change anytime soon.

Another one that tips me off is that Military person that stands at the back of the President, VP, Govs and DepGovs when giving speeches.

Is is that they will fall?

— Obaro© (@0bar0) October 4, 2019
This Govt is a joke but I won't blame them I once shouted Sia Baba I was Foolish and Naive look at my life now, Wish I have money to run away from this pains called Government

— King of Affidavit ? (@ThomasN25651554) October 4, 2019
Please is there any sense in this? Because is difficult for me to understand. you de inside plane with some people na dem come welcome you again, na wa oooo

— DEJI OWOEYE (@dejidrama) October 4, 2019
What's your take on this? Please drop your comments below.