The invitation of the Chairman of Lagos National Union Of Road Transport Workers, Musiliu Akinsanya, better known as Mc Oluomo, as a guest to an event at the University Of Lagos, UNILAG, has sparked twitter outrage.
After the poster of the event emerged on twitter, showing the transport worker alongside other speakers, some Nigerians expressed disappointment at the development.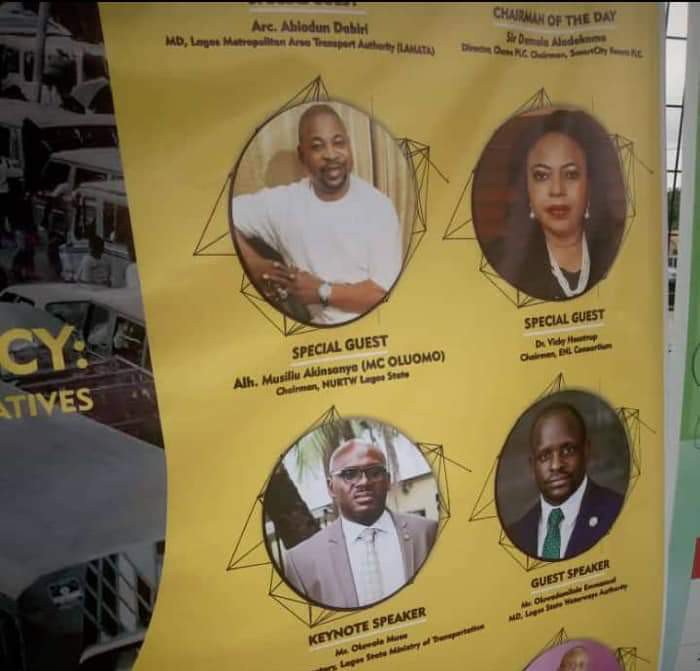 They argued that an individual who works for an establishment seen as breeding ground for thugs and street urchins should not be invited to an academic environment.
However some commentators defended the transport chief, arguing the student had a lot to learn from his expertise in the transportation industry.
See reactions below;
Unilag inviting MC OLUOMO as a special guest. ?

Will MC OLUOMO speak English or Yoruba ?

Student will start seeing MC OLUOMO as their role model. ?

It's only in Nigeria somebody who got no degree will be invited as a guest in a university to represent what ?

— QUDUS (@QdPaper) September 19, 2019
Saw MC Oluomo trending, checked and I've been laughing my ass off since.

See ehn, maybe I have lost every fight in me, but I have come to terms with the fact that everything is possible in Nigeria now.

— Cross˚ (@Elcrucifixio) September 19, 2019
MC Oluomo will give Unilag 5M
Those that invited him together with the ogas will share 3M
They will give the remaining 2M to the institution
10 students will vow to be like MC Oluomo after graduation
At least 7 will eventually be
The evil of today will produce evils tomorrow.

— Emmanuel Olabayo (@bayonuels) September 19, 2019
University of Lagos inviting a thug, MC Oluomo as a guest speaker & people are saying its cos he is knowledgeable. On what?
No wonder we call on past leaders who have looted & destroyed this country before to still lead us now cos a person's image isn't relevant in Nigeria. pic.twitter.com/eyAtS1nHVs

— ? OLUWAFIFUNMI ??? #BBNaija (@FifunmiRexx) September 19, 2019
Nothing wrong with MC Oluomo getting invited as a Guest speaker at Unilag…

He is good at whatever he is doing as NURTW Chairman….still a thing or two to learn from him.

Moreover…Unilag has a lot of potential thugs..??

So catch them Young…

— The Kingmaker? (@SmithVinci) September 19, 2019
Y'all don't even know the reason why MC Oluomo is invited to Unilag to speak, the program is on transportation and he can give an insight about Lagos state transportation systems.

But your ignorant self and clout you're chasing won't let you make findings.

— Ayoola (@i_olaelixir) September 19, 2019
What do you think about this? Drop your comments below