Nigerians have reacted with dismay to reports of authorities in South African denying a Nigerian Airline, Air Peace landing permit as it continues to evacuate Nigerians fleeing from xenophobic attacks.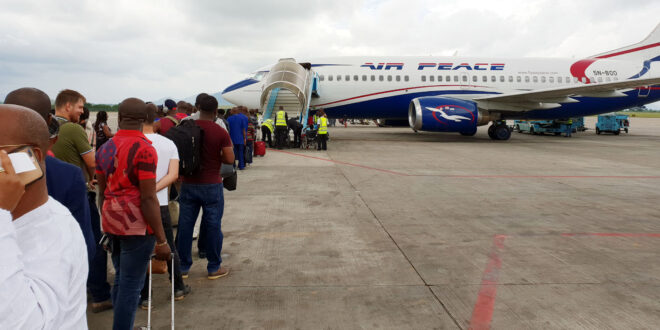 Chairman of Air Peace, Allen Onyema, who volunteered to return Nigerians resident in South Africa – who were subjected to attacks – confirmed this development to journalists in Lagos.
He said that efforts by the airline to get a permit from the South African authority failed.
"Fine, FG should deny SA airlines landing permit too. Enough of this big brother nonsense. Henceforth it should be tooth for tat." – expressed an twitter user, @y_olaitan, who was reacting to the report.
Another user, @pharm_ingawa, expressed thus: They don't want us to leave nd they don't want us to live, what kind of humans are they? Animals in human skin?
See more reactions below;
So, after begging they still wanna act funny… Their thunder is coming with cameron-pepper

— Hendrik (@Dammyselfless) September 17, 2019
Whats even wrong with DX SA people self???

— Uche (@Uche86772701) September 17, 2019
They came tendering clueless apology yesterday, unfortunately for them our govt also accepted it cluelessly.

— Prof. AyeMojuba ?? (@ayemojubar) September 17, 2019
This is like Biafra story, Nigeria attack Igbo's and don't regard them, Igbo's want Biafra to be free from Nigeria, Nigeria refused letting Igbo's go.

— ?Voice Crying Out®️ (@ogechime1) September 17, 2019
This South Africans really mean us o
Wetin dey want again

— Odeyemi Tomiwa jerryking (@Jerryking06) September 17, 2019
You no we Nigerians are kind of unconcen creature and that is mean reason why our leaders don't recognize us and respect us as a citizen
Nigerians are so good n kind SA in d past and now they pay us back my killing our people in land just bcoz of our heartless gvmt

— @correct9jaguy (@correct9jaguy) September 17, 2019
They are scared to their panties the economy of south Africa will nose dive if they allow Nigerians leave. You said the vagina of a woman stinks, yet you won't allow her to go! You said she sabi play well, well. Apology to @woye1.

— Olufaithy 3455 (@adisaomobale) September 17, 2019
South Africa high-key telling Nigeria they want all the smoke…

— modudu (@ModupeApoeso) September 17, 2019
This SA government self, I seriously don't know our president accepted their apologize.

— Eddybobo (@Eddybobo9) September 17, 2019
That is the government that claims to apologise for xenophobic attack on Foreigners. S Africa runs an unwritten constitution type of governance. I hope Nigeria government will.evolve proactive diplomacy in relating with South Africa especially the present SA administration.

— Dr. Taye Abe (@DrTayeAbe) September 17, 2019
The Federal Government of Nigeria has never looked so lame as it does in this SA xenophobia debacle…

— Adekunle Dalton-Oke (@aaadaltonoke) September 17, 2019
Then all their envoys who came to offer apology yesterday if they are still in the country should be held hostage till the landing permit is granted & Nigerians have been evacuated safely before they are released

— pat. paul (@blessedpat2018) September 17, 2019
The take is lack of diplomatic support from Nigeria to evacuate her citizens from South Africa. If it's for pilgrimage you will make air planes available. But to support your citizens zero. Nigeria must have sense by force.

— Raphael ?? (@Raphezeh) September 17, 2019
What's your take on this development? Drop your comments below.