National leader of the All Progressives Congress, APC, Asiwaju Bola Ahmed Tinubu has come under heavy criticism after photo of him appearing to be endorsing Kogi State governor, Yahaya Bello for a second term surfaced online.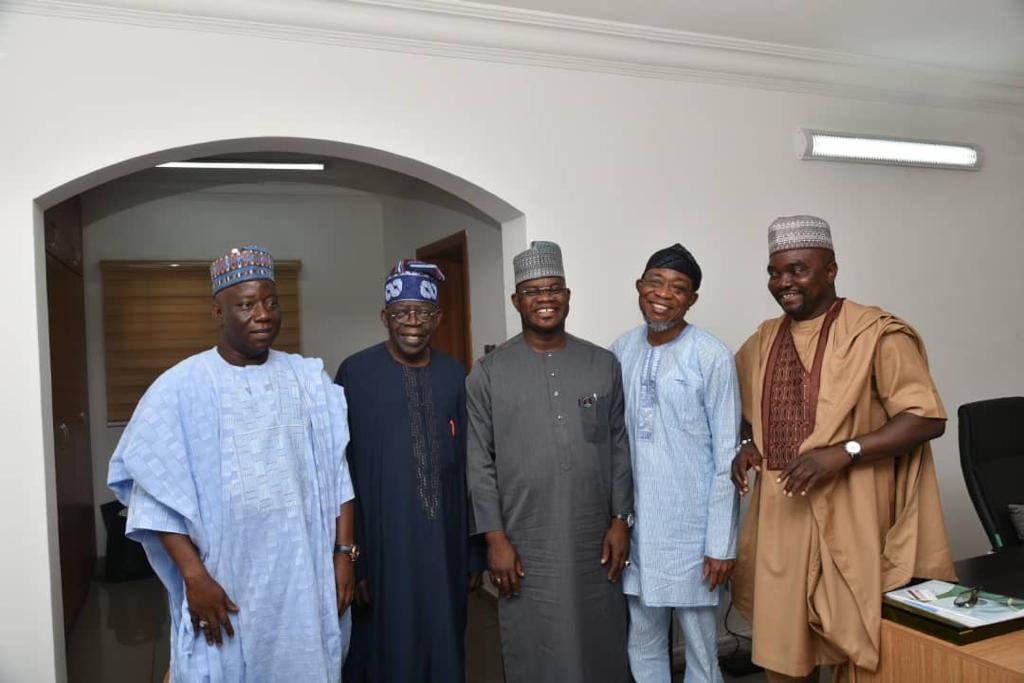 Gov. Bello is running for a second term in office, but believed to have a very low approval ratings given how poorly he is assumed to have performed in his first term.
One of the points his political opponents score against him is that of him owing the state civil servants for more that 30 months.
But despite all of these, he seemed to have found his way into the heart of Tinubu.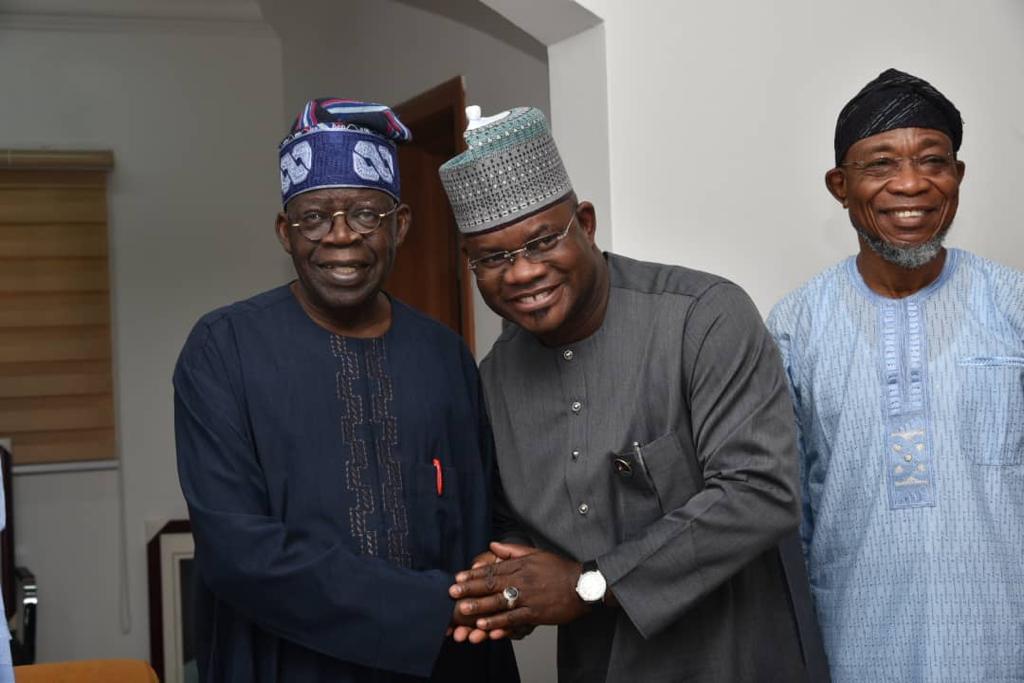 Observers now wonder why the former Lagos Governor would back a governor that is believed to have unperformed, whereas he (Tinubu) refused to back one of his successors, Akinwunmi Ambode – who is thought to have performed better than Gov. Bello – during his second term bid as Lagos Governor.
See reactions bellow;
This is madness

Tinubu ? pic.twitter.com/C4yu9mofBL

— Chidimma Greenpop (@ChidimmaGreen) September 11, 2019
Tinubu!! You worked against Ambode second term upon all what he did in Lagos state, and now u are raising ur fingers for a failed governor, a gullible governor, Yahoo Governor, greedy governor.

The God of Kogi civil servants and pensioners will help Kogi state pic.twitter.com/qlEvcJkI9U

— Usman Okai Austin (@Oma_igala1) September 10, 2019
After owing 32months salaries and poor governance.. still getting support from dignitaries like Tinubu.. that's show's u how selfish this politicians are.. gullible fellows over to you..@realFFK @renoomokri pic.twitter.com/RvzCUqmvTA

— ifediba Tobenna (@ifedibaTobenna2) September 11, 2019
After all Ambode achievement in Lagos state Tinubu work against Ambode and stop him for second team

But Tinubu is now supporting Yayabello of Kogi second team with all yayabello failure

I wants to ask the Yoruba people do still believe that Tinubu a good godfather? pic.twitter.com/Q47ujwXyRC

— the fearless (@Victorudofia12) September 11, 2019
Tinubu made it clear during Ambode's saga that it wasn't about performance but about party loyalty.That is, sharing of contracts to loyal party members. Don't be mad at him for endorsing Yahaya Bello. Tinubu doesn't care about good governance.

— Dipo Soremekun (@Dipson1) September 11, 2019
Thank you our great leader, Asiwaju Ahmed Tinubu for your eminent support and encouragement to Kogi State APC. We will uphold the winning culture of our dear party, and ensure that the Next Level Agenda of President Muhammadu Buhari becomes a reality to the good people of Kogi. pic.twitter.com/37GcieORxU

— Yahaya Bello (@GovBello) September 11, 2019
Tinubu personifies the typical contemporary Nigerian politician. Base, morally hollow, sycophantic, divisive, aggrandizement, intolerant & thuggish. In today's Nigeria, such politicians excel.

— Olaudah Equiano® (@RealOlaudah) September 11, 2019
Ambode did a multiple of 1000 of what Yahya Bello did and never did, but he was never appreciated by Tinubu.

This means a lot in Nigeria. Fail and you will be supported by godfathers. pic.twitter.com/pjCJMGp2sS

— Ọládélé Dàda (@realoladele) September 11, 2019
Why does Tinubu's support for Yahaya Bello come as a surprise to you guys? Tinubu's biggest investments is sponsoring clueless incompetent politicians that he can control

— FARMBW?Y (@themangerajake) September 11, 2019
Wonders shall never end Tinubu worked against Ambode second term upon all what he did in Lagos state, and now he's raising 8 fingers for a failed governor, a gullible governor, greedy governor Yahaya Bello.

— Adewuyi? Jr (@oluwasegun_247) September 11, 2019
What's your take on this story? Drop your comments below