Photo of Dave Umahi, governor of Ebonyi State bowing to President Muhammadu Buhari has attracted plenty of reactions on social media.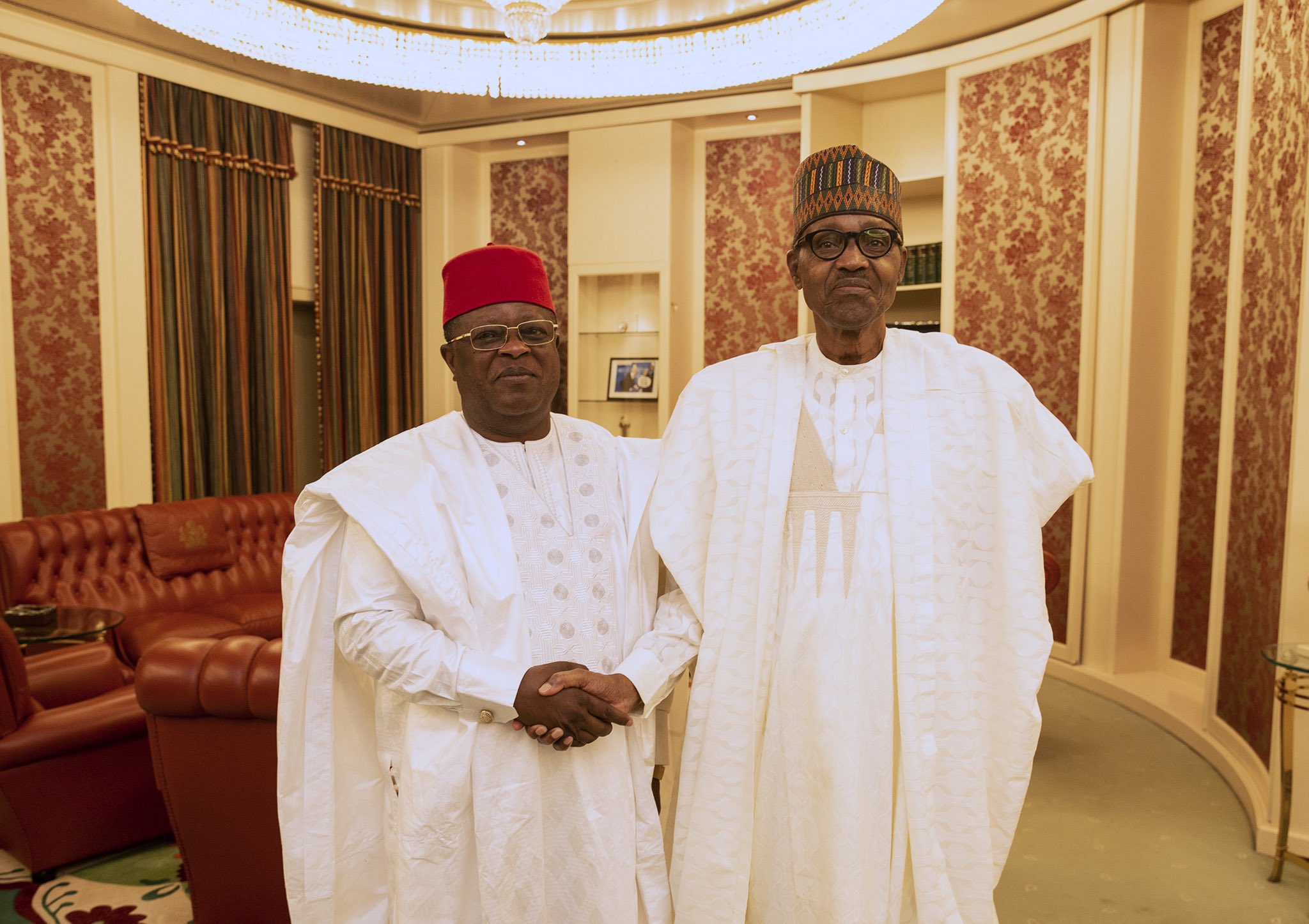 The Ebonyi number one man was said to have paid the president a visit at the Presidential Villa Thursday afternoon.
Purpose of the meeting remains unknown, but trust Nigerians to have their say, especially when there is a pictorial evidence to any event.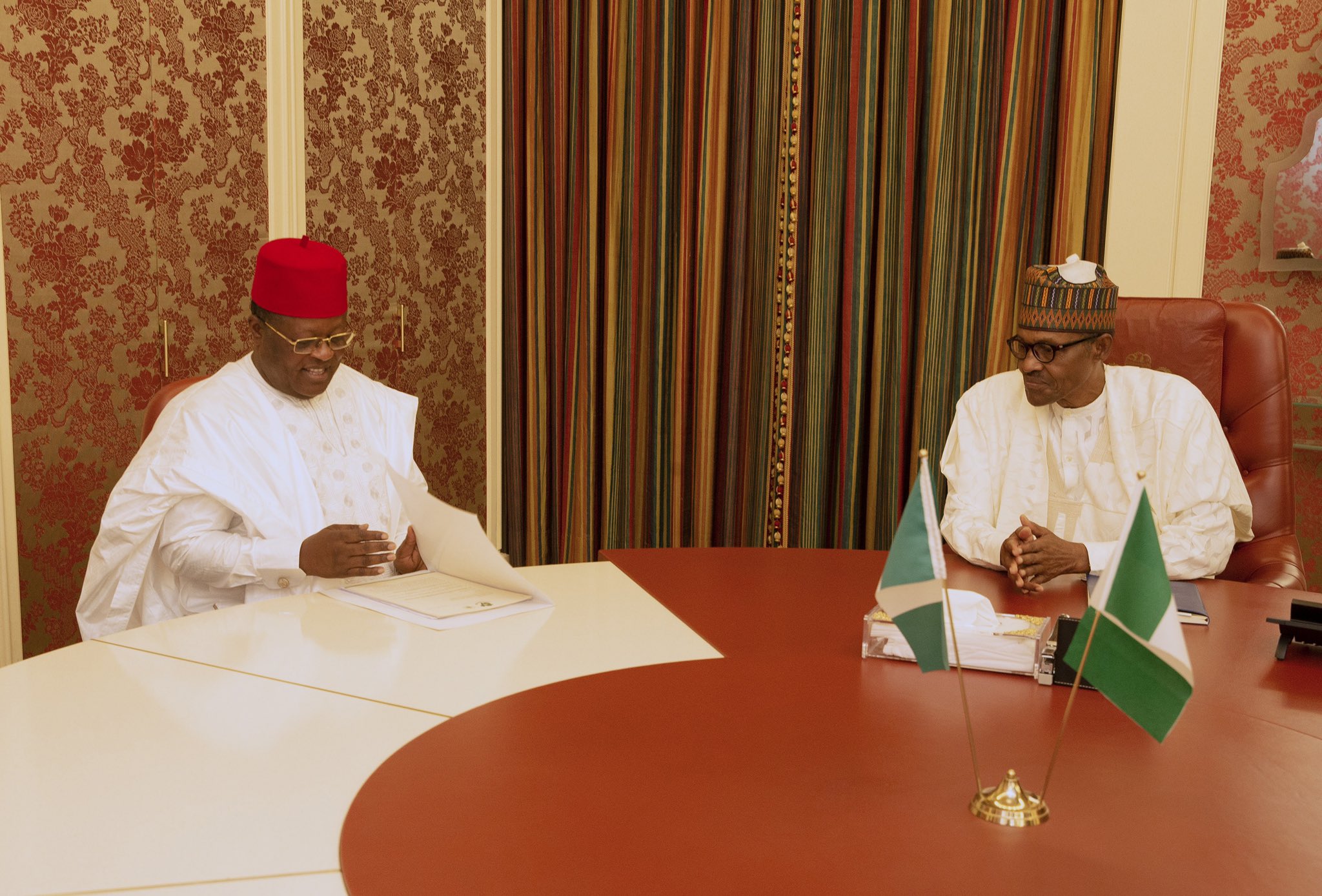 Consequently, Nigerians on social media have expressed varying opinions regarding photos emerging from the meeting – especially as the governor appeared to be bowing to the president in one of the photos.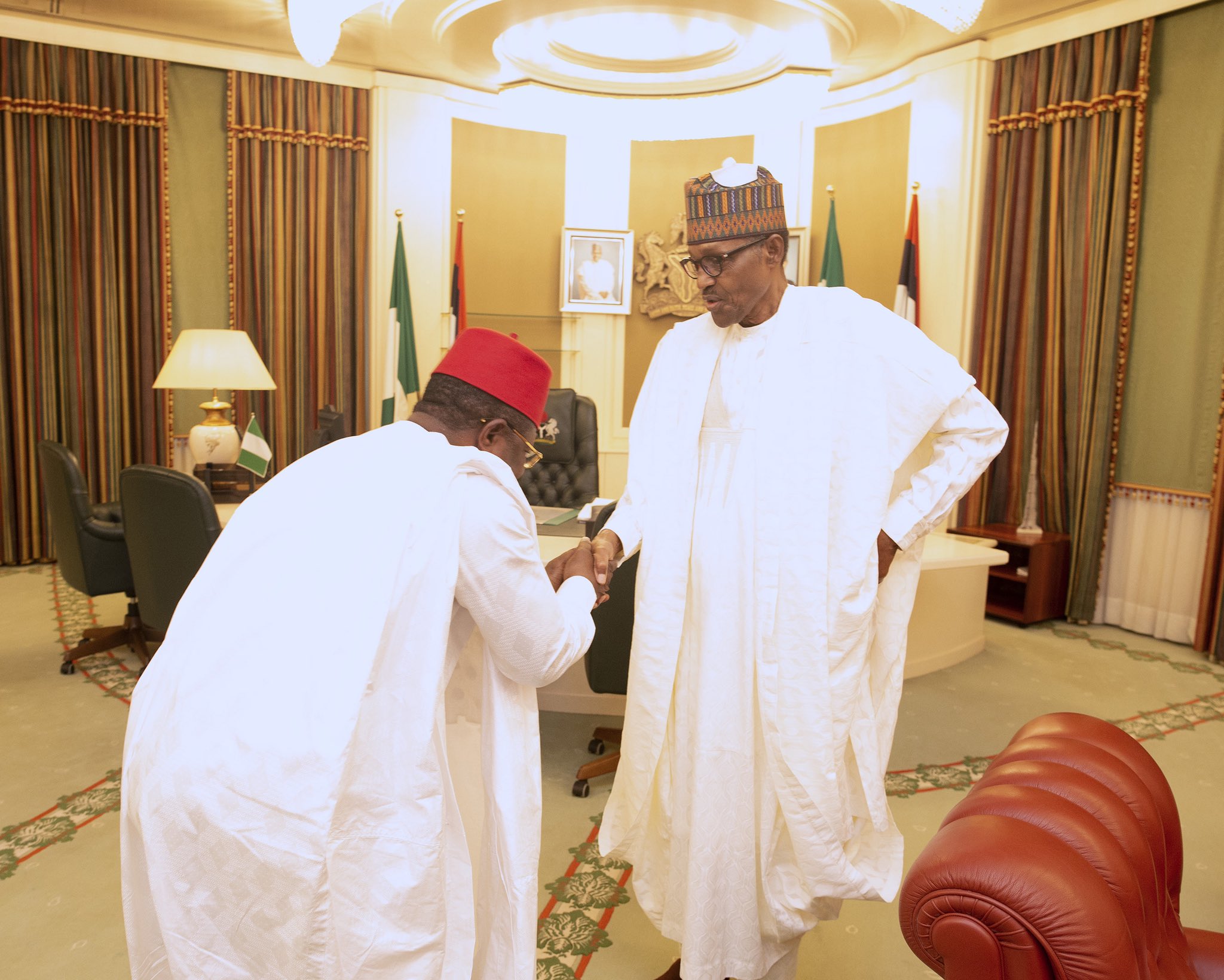 See their reactions below;
Why is he bowing in servitude like a slave who loves his chains?? .???

— Lord Wilson(B.pharm) (@ActionHealthIn1) September 5, 2019
Tell him to pay workers and pensioners in His State their last month salaries…

— FELIX NONNY (@FelixNonny) September 5, 2019
See respect Presidents Buhari has this special quality, that when you see him you bow

— delegun ajibola (@delegun) September 5, 2019
This one dresses like a Fulani/Hausa man every time.

— TruthPrevail247 (@prevail247) September 5, 2019
Why is Buhari squeezing his face like that?

— Nwachiochendo (@Nwachiochendo) September 5, 2019
This governors should stop hypocritical irritating habit of kneeling when shaking hands with the president, don't they see the United States president and the governor's shake hands and look each other eye to eye…

— Chronic (@Aka_donieBrasco) September 5, 2019
This man is a huge fan of Baba

— author specie (@007author) September 5, 2019
May his visit benefit Nigerians

— Sadiq Gwarzo GGA (@SadiqSadiqTuku1) September 5, 2019
We Nigerian want to know,
the Essence of the visited please ?

— Abdullahi Abubakar. (@Abdulla63987927) September 5, 2019
Buhari like pictures sha

— Obinna (@franklimzy) September 5, 2019
They wan send am to SA

— Nwachinemere no1 (@DChisky) September 5, 2019
Is like he wan port. ..but if he tries that he will live to regret it

— Okafor.MD (@DrOkafor1) September 5, 2019
What's your take on the picture?