Following reports that Nigeria's anti graft agency, the Economic and Financial Crimes Commission, EFCC Thursday morning raided the residence of the immediate past Governor Of Lagos State, Akinwunmi Ambode, Nigerians have reacted.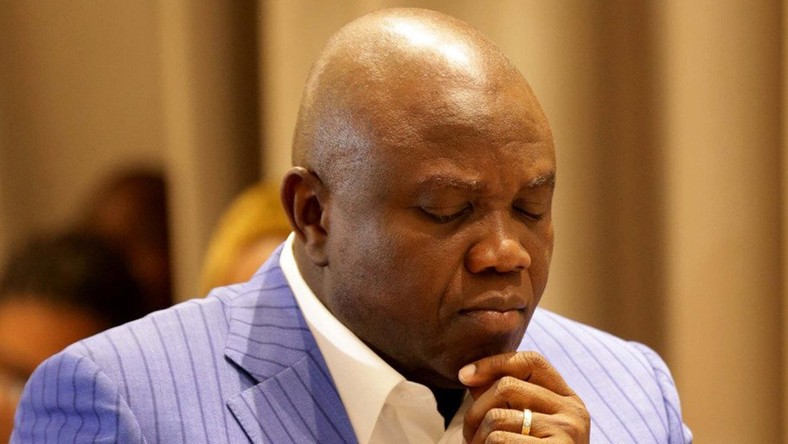 The former governor had his home in Epe and that of his then chief of staff search, as he's currently under corruption probe.
But Nigerians who are reacting to the development think there's more to it than just fighting corruption – with majority suggesting APC National Leader, Asiwaju Bola Tinubu was behind it.
One particular twitter user expressed that Tinubu, by the virtue of being Ambode's political godfather, made him and can ruin him.
Tinubu made ambode….
Tinubu will destroy ambode….

— QUDUS (@QdPaper) August 20, 2019
See more reactions below.
Thiefnubu And His Gang Want To Finish The Gutless Ambode

We warned him to fight back, but he refused….u see ur life now?

— Revolutionary Effa? (@DrEffaB) August 20, 2019
And PMB is protecting APC's members.

— Yusuff E M (@e_yusuff) August 20, 2019
I think @officialEFCC don't know Tinubu hose address or they have forgotten that Fashola have home

— @Danbaba naija (@DanbabaNaija) August 20, 2019
Someone should tell him GOOD MORNING.
When a man refuses to take a stand,people will stand on him,welcome to Nigeria,Ambode.

— Ikenna Ndukwe,Arc. (@Dniigro_1) August 20, 2019
This fight against corruption is real & the Hurricane can sweep anyone irrespective of your party affiliations.
Kudos to the EFCC.
But they should do more.
???????

— Buhari Olayinka Omo-Agege (@yinkaisola14) August 20, 2019
This whole anti-corruption fight nw looks like a tool 2 fight opposition within party&outside party

Cos its seems once a politician is in the bad book of the cabal

Next thing he/she has a case with efcc

Efcc actions ain't proactive but seems to react to pressure from cabal

— Bosses Don't Sleep (@fk149) August 20, 2019
Most governors are the reason for underdevelopment primitive accumulation of common wealth.

— Leslie Acheson Wey (@ACHILEMY1) August 20, 2019
Why are dey disturbing dis man now? This is pure wickedness. Nigerian politicans can't make heaven

— Hardey Topman (@Topman2gentle) August 20, 2019
@AkinwunmiAmbode, I told you but you didn't listen, you had a chance to take PDP ticket and fight but you refused forgetting that you are dealing with devil. Take your cross.

— Elugulu1 (@Elugulu1) August 20, 2019
D embarrassment has begun.Never trust a politician even if he swears with his wife.d guy will kill his wife to do what he wants.

— Samuel jotham Brown (@sammyjay40) August 20, 2019