The power tussle between Kogi State Governor, Yahaya Bello and his stranged deputy Simon Achuba continues as the latter in an interview revealed reasons his boss is plotting his impeachment.
In an interview published by TheCable, Mr Achuba listed at least five reasons him and his boss fell apart, a few months to the governorship election in the politically volatile state.
Both men are members of the ruling All Progressive Congress (APC), though the deputy governor had been suspended by a faction of APC in the state, which he described as a joke.
Below are the five reasons Mr Achuba listed as the offences that led to a political confrontation between him and his boss.
One, salary and pensioners'allowances. According to the deputy governor, his stance about the issue of salary and pensioners' allowances "which is not taken seriously" is one of the reasons his boss wanted him out of office.
He alleged that some civil servants in Kogi State are being owed August, September, October, November, and December 2018 salary, "they were paid 50 per cent. That has not been levelled up."
Two, Inability to complete a single project since assumption office. Mr Achuba also accused his boss of jumping from one project to the other without completing one 100% since the APC-led government assumed office more than three years ago.
He described the situation as "inability to provide good governance by doing projects that will bring relief to the people. You flag off project here today; you go to another place, you flag off again; you continue to flag off projects without anything being completed, and you get back to meet these same people," TheCable quoted him as saying.
Another reason the deputy governor said led to differences between him and Governor Bello is his (Achuba) unreadiness to continue to be part of the bad governance in the state.
He said, "…when things are going wrong and you are not correcting it, you are part of it. You are part of it."
Four, he stated that his audacity to expose the level of corruption in Yahaya Bello-led administration is one of the reasons his boss hated him.
"Because if I say somebody has (so, so) amount and that amount was enough for the man to pay salaries and have overhead and do projects even without screening, and I say with screening, you have (so, so) amount that can do projects and do all that we are crying for."
He claimed that Kogi has the financial capacity to pay workers' salaries, pensioners' allowances without bailout or the Paris-club refund.
He berated the action of the state house of assembly for serving impeachment notice on him for exposing corruption. "I thought ordinarily that being the watchdog of society (the state assembly) would investigate what I have said. And it is an irony, indeed, that, I, who is exposing corruption, is the one being served an impeachment notice."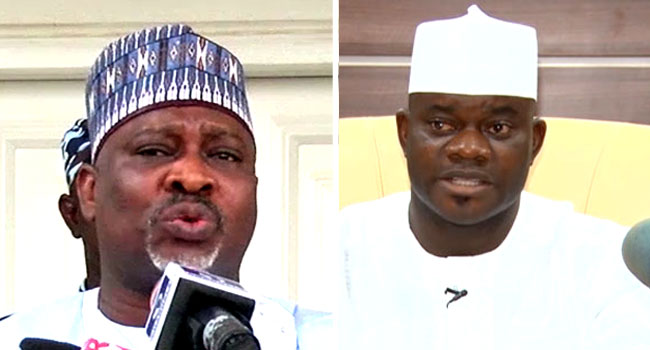 Finally, he said his boss does not deserve a second term when he was asked, "Do you think he deserves a second term?
Governorship election holds in Kogi November 16, 2019.