More than five Nigerians have expressed their willingness to offer financial support to a 70-year-old fufu seller who joined the aborted August 5 #RevolutionNow protest in Osogbo, Osun State capital.
The protest was the idea of the founder of Sahara Reporters Omoyele Sowore, but he was arrested before the D-day while some protesters who took to streets across the country were brutalised and arrested by security operatives.
One of the victims of police brutality during the protest was Mrs. Sariyu Akanmu, a fufu (cassava flour) seller, who was beaten by the police for participating in the #RevolutionNow protest.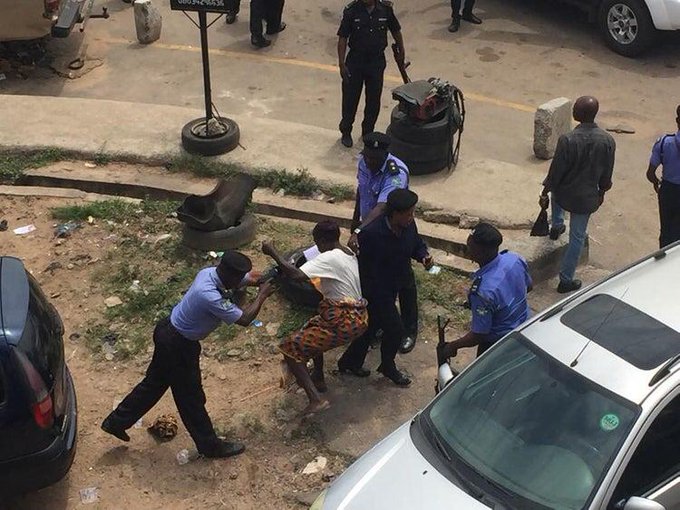 Narrating how she heard about the protest, Mrs Akanmu had said, "I was hawking fufu. I didn't know that a protest was going on around Olaiya/Fagbewesa junction.
"I just ran into the protesters. Someone was to give me money for the fufu the person bought from me in a shop around there.
"I took Fagbewesa road to collect the money and that was when I saw the group of protesters who were mainly youths.
She realised the intent of the gathering when she moved closer to the crowd, "When I moved closer to the scene, I heard the protesters saying that Nigerians were suffering. I am a Nigerian and I am suffering. I dropped my fufu tray with someone selling soft drinks and biscuits nearby and joined the protesters."
Her story touched hundreds of Nigerians due to her age and the way she was brutalised by policemen at the scene of the incidence.
Towolawi Jamiu tweeted he would like to support the old woman financially, "This old woman is the fufu seller that was brutalized by the police in Osun state for joining the 5th August #RevolutionNow protest. If you can help locate her please contact me. She needs to be rewarded for her tenacity and level of consciousness. Retweet till we find her."
His tweet had attracted more than 700 retweets at the time this report while more five Twitter users had also signified their interest to support Mrs. Akanmu in their own little way.
This old woman is the fufu seller that was brutalized by the police in osun state for joining the 5th August #RevolutionNow protest. If you can help locate her please contact me. She needs to be rewarded for her tenacity and level of consciousness. Retweet till we find her. pic.twitter.com/y40FhnggFo

— Revolutionary Towolawi Jamiu (@jharmo) August 10, 2019
If I can get her contact, I don't mind paying her a visit in Osogbo to appreciate her doggedness and commitment to draw the attention of the government to be alive to her responsibility and in-action to socio-economic issues plaguing the country.

— FOLARIN OPEYEMI JOSEPH FOJ (@opeyemifolarin1) August 11, 2019
@MobilePunch Newspaper carried a report on Saturday, maybe the reporter(Bola Bamigbola) who interviewed her can help with this. pic.twitter.com/XGmHZMzpbx

— Ifalade Oloruntoba (@IfaladeO) August 11, 2019
I will be pleased to "join in" on her rehabilitation, in my little way. ?

— ife omoAkin (@omo_akin) August 10, 2019
If u find her please let me know, I have something small for her.
Please I mean it.

— ILU-1???? (@SteptosIlu) August 11, 2019