The news about an official of the West African Examination Council, WAEC, confirming the result of President Muhammadu Buhari has sparked plenty of reactions from Nigerians on social media.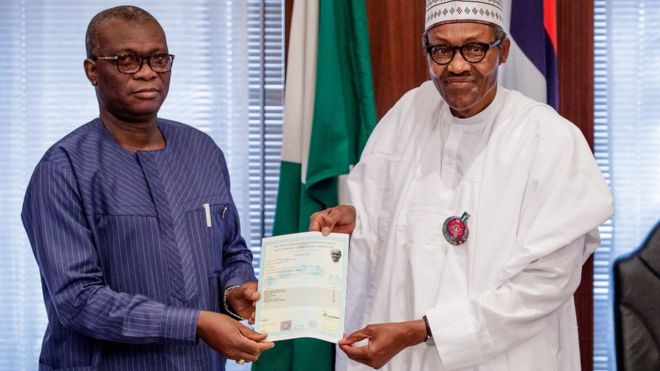 The News Agency of Nigeria, NAN had reported that Mr Henry Adewumi, who is the Deputy Registrar, in charge of School Registration of the Examinations body, had on Wednesday testified that the president obtained a Cambridge University West African Examination certificate with five credits.
He told the pannel at Presidential Election Petitions Tribunal in Abuja as the President opened his defence against the petition filed by the PDP and its candidate, Alhaji Atiku Abubakar.
Buhari's school certificate has been a subject of controversy since his first term in office.
He opponents say he didn't complete his secondary school level – which is the minimum academic requirement for the office of the presidency.
Reacting, one online user, simply expressed, "Scam of the highest order,so it took WAEC several years to confirm ordinary result?"
See more reactions below:
How come waec is confirming a result that is with the Army or are they defending the fake one given to him by them??‍♂️??‍♂️??‍♂️??‍♂️ the one he never sat for

— KingOFsParta (@o_parta) July 31, 2019
This thing is becoming messier, see desperation and corruption fighting back, Buhari and APC are doing everything to sustain their lies. I suggest that Buhari should resign so that the party will have a lifeline or else the party may loss everything.

— Victor Nwokocha (@VictorNwokocha2) July 31, 2019
2019 waec result is out…
Are you thinking what am thinking ?. Shiooor

— ECCLESIASTES ??? (@AdebukolaBOi) July 31, 2019
After how many years? Who b mumu? On top which data base? Abeg, wetin person no go see for this Naija ???

— OAP¶Tcode™ ~Your Comic Radio Voice~ (@Tcode_70) July 31, 2019
You mean the home-delivery package or this? ?pic.twitter.com/jxMqnLZXpN

— Ayemojuba ??? (@ayemojubar) July 31, 2019
????…..where did the result come from.

— Henzy. (@henzyshosho) July 31, 2019
9ja knows that its a lie #RevolutionNow @YeleSowore

— EBENEZER OLUWOLE (@eoluwole) July 31, 2019
Lies!

— Dibrownie Fossung ?? ?? (@DibrownieF) July 31, 2019
Which one we go believe. IN one tweet u claimed it disowned in another tweet, you claim he confirms. I am convulsed fused here.

— owhonda henry (@owhonda_henry) July 31, 2019
What's your take? Drop comments below and don't forget to share this article.