Reactions have trailed a recent video of President Muhammadu Buhari declaring anybody who thought they had another country asides Nigeria, was free to leave.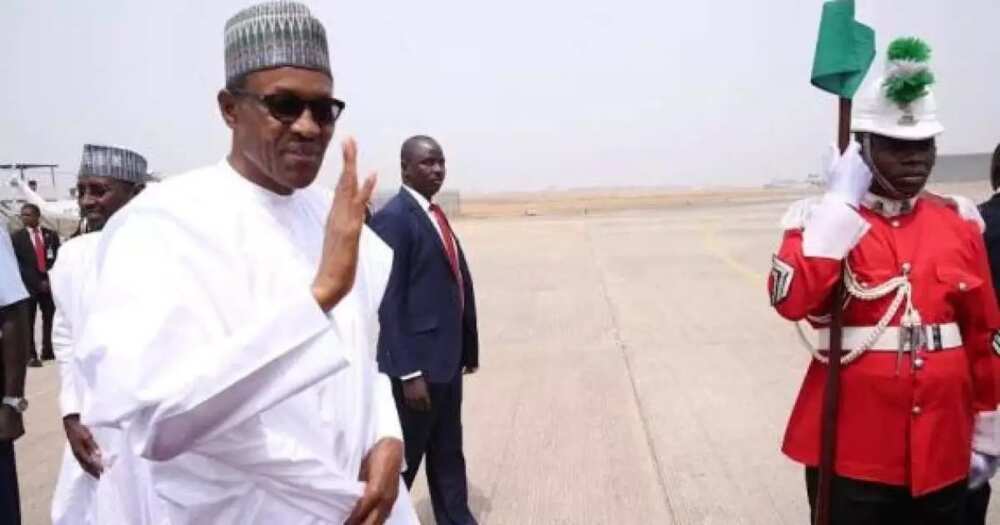 While addressing a crowd in the wake of the rampant security collapses, the president said he was dedicated to serving Nigeria and Nigerians to ensure a better country for the future generations.
"We have no other county, anybody that thinks they have another country other than Nigeria good bye"
Buhari said.
Watch Video Below
"Anybody who thought he have any other Country than Nigeria, Good bye." – President @MBuhari pic.twitter.com/J03KBOqlbO

— Saleh Shehu Ashaka (@AshakaSaleh) July 24, 2019
Reacting, a social media commentator, Gimba Kakanda, questioned the president's logic of asking people to leave if they have another country and at the same time refused to grant the request of those (Biafrans) who had asked to leave for a separate country.
But the ones who asked to leave Nigeria were forced to remain a part of Nigeria. ? https://t.co/QGfwzjhsF4

— Gimba Kakanda (@gimbakakanda) July 24, 2019
See more reactions below
Exactly, let Biafra go?

— FLOCCINAUCINIHILIPILIFICATION (@FigyTornado) July 25, 2019
Says Jubril of Sudan

— Precious Peters (@Preciou68578570) July 24, 2019
It's quite unfortunate that a man like this will rule this country in this 21st century and in this modernized age. We don't really enter bus wey space no even dey to carry person not to talk of entering one chance. No space for this bus at all

— Gen.Mike (@MickyArchi) July 24, 2019
This is what you tell millions of Nigerians trying to get free from the insurgency and economic woes your gov has unleashed on them? This is your best encourage/assurance to them? Shame!!!

— Sefiyat Sophie Musa (@CallmeGoldeneye) July 25, 2019
Don't worry sir people are leaving everyday and aren't regretting it….its d fools that have opportunity to go and stay I pity …canada is overflowing lol ppl are leaving Fulani country for Fulani

— Mister zen | naijablisstv (@real_mister_zen) July 24, 2019
Bloody hypocrite.

— thorns of ®•$£??? (@omalichaamy) July 24, 2019
But the Biafra has been refused exit by even you. This man stinks to high heaven. Hypocrisy .

— Isah Umar (@IsahUmar_) July 24, 2019
this man is a source of extreme sadness, the kind that physically hurts your heart and stomach. how in the world do we clamber out of the abyss that his presidency has thrown this country into?

— Eben (@_godfatherking) July 25, 2019
He is trying so hard to do the Donald Trump ?
Yet he refused IPOB

— BEAUtiful ? (@Daknexx) July 24, 2019
What's your take on this story? Drop your comments below.