Many observers have continued question the report that Deputy Police Commissioner, Usman Umar was shot by members of the Islamic Movement of Nigeria, Shiites during Monday's bloody clash with the Nigeria Police.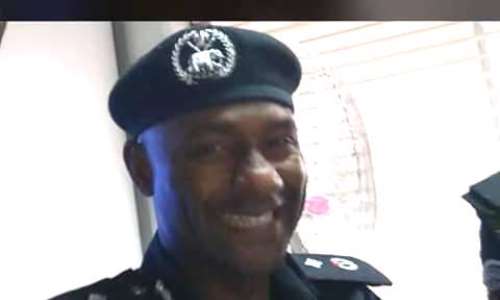 DCP Umar was confirmed dead shortly after sustaining a bullet wound during the protest that claimed many lives, including a corps member with Channels Television in Abuja, the nation's capital.
While earlier reports, corroborated with Police report had named members of the sect responsible for the death of the officer who is attached to the FCT command of the force, later reports have simply suggested otherwise.
Reacting, Africa & Middle East Public Policy and Security Expert, Mukhtar Dan'Iyan, popularly known as Aye Dee  has explained why the shooting should be blamed on "Friendly fire" rather than the handiwork of members of the shiite group.
According to him, the small entry hole in the back and a huge exit hole in the front left of DCP  Umar's skull indicated friendly fire from behind.
Not a forensic pathologist, and I've only seen ONE picture, but DCP Umar's skull seems to have a small entry hole in the back and a huge exit hole in the front left, this indicates friendly fire from behind, except his back was to the Shiites, very unlikely he was shot by IMN. pic.twitter.com/SaREYywk82

— Mr. Aye Dee (@MrAyeDee) July 22, 2019
He furthermore stated that the fact that the bullet entered at the lower part of the skull and came out from a higher point, meant the shooter was crouching.
A Friendly fire is an attack by a military force on friendly or neutral troops, while attempting to attack the enemy.