Nigerians are showing solidarity to the Edo state governor, Godwin Obaseki as the rift between him and the National leadership of the All Progressives Congress, APC, intensifies.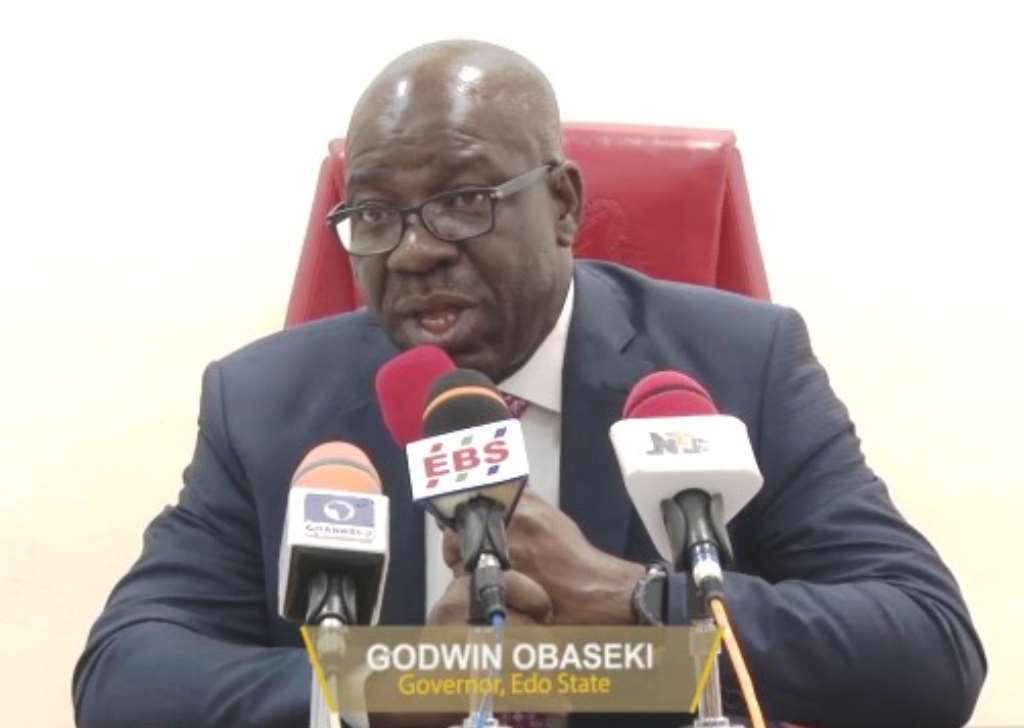 This comes as the governor, in apparent disapproval of the current national of chairman of the party, Adams Oshiomhole's system of leadership, held a press conference to announce he was not ready to be a rubber stamp governor any longer.
In a video that is in circulation currently, understood to be emanating from the presser, the governor was seen alleging he had never been consulted for anything by the party's NEC, including appointments to people of the state's origin.
watch video below
I cannot be a Governor and not be a Governor…..GOV. GODWIN OBASEKI pic.twitter.com/Z4VeDNAPNx

— Ijeoma Osamor (@IjeOsamor) July 19, 2019
Reacting, many Nigerians seem to be support of the sitting governor ahead of his predecessor.
check out reactions below:
You need to retire Oshiomole the same way he did to the godfathers of Edo politics.Those lackeys in the State Assembly should be handled by the pple, ask @GovAyoFayose for advice. Edo no be Lagos. Oshiomole will only back down at barricade level bcos of his orientation. Be guided

— Dupe Jimoh (@DupeJimoh1) July 19, 2019
Remind me what Oshiomhole said about chief Tony Anenih and PDP again? Oshiomole should not destroy the peace we're currently enjoying in Edo state. Since he left as governor the political atmosphere has been peaceful. Nor be everything be gra gra.

— Osasu Nogheghase ?? (@MrEdegbe) July 20, 2019
Very unfortunate that a man who claimed to have tamed godfatherism in politics in Edo State is the one perpetrating such practice. Is this not ironic? I have always said democracy isnt what we need in this country. It is a bad method of selecting leaders.

— ابو عبد الله (ضرائب الشيخ) (@AA_Mufty) July 20, 2019
Oshiomole, a pure native, trying to replicate what has not favoured his slave masters at the top "@BolaTinubu and @Buhari" in Edo State. Thereby stopping a governor from being a governor ????? Short Men always look for relevance aka "notice me" ?????? what a shame.

— Adisa Olanrewaju. (@drain1471) July 19, 2019
Consolidate your power and do the right thing immediately you step into office. When you are a puppet and wait till the end this it what happens. Politics 101 for Nigerian governors.

— Tempest (@i_am_Eno) July 19, 2019
The battle line is drawn; @GovernorObaseki has given the former governor, Comrade Adams Oshomhole, a political uppercut. The governor must nail political godfatherism in Edo state and celebrate its final burial ceremony, now that the last blood has been drawn.

— Ken Omoruyi (@kennethuyi17) July 19, 2019
This is what it meant be a leader and a good leader..congratulations Governor

— @sbmomoh (@SbMomoh) July 19, 2019
Boys are now growing into Men

— Sir Iyke (@iykovic) July 19, 2019
Ambode come and 'saw' governor.

Meanwhile, Oshiomole is worse than #BokoHaram. Don't ask me how.

— JustThink (@Ubanmonk) July 19, 2019
Whatever he's saying is not my business my own is him saying "even if i was the worst governor, will you not cover me" see where we'll never get it right. We should be able to call out bad leaders whether we friends with them or not. Rubbish

— Vick? (@VicqyBELLE) July 19, 2019
Obaseki is not Ambode. Edo is not Lagos. Edo is Edo. They don't take rubish or lick anybody's anus. As Tony Anenih was caged so shall Oshiomole be caged too

— Gozie nwa John (@jayjayjohnsino) July 19, 2019
What's your take, drop comments below.