Nigerians are reacting with plethora of opinions to President Muhammadu Buhari's claim he's been under pressure to name cabinet.
The president had made the comments while addressing the leadership of the National Assembly at a dinner on Thursday night at the state house, Abuja.
The president told the lawmakers, "I am very much aware about it and I am under tremendous pressure on it."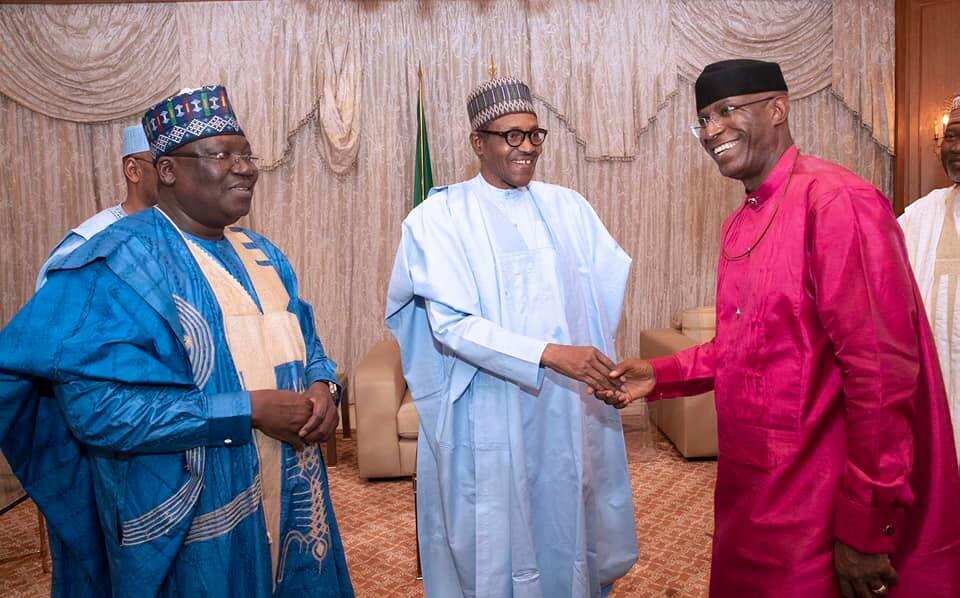 He also added that he didn't a majority of  the last cabinet he had.
"I had to accept their names and recommendation from the party. I worked with them for three and a half years." He said.
The President is expected to submit names of his second term cabinet anytime from now and has asked to be given more time to enable him select people he personally knows.
Reacting, Nigerians wondered why the president would be complaining for doing the 'only job' he's got.
see reactions below:
You are under "tremendous pressure" to do your freaking job. https://t.co/P9bBulvaSF

— Onye Nkuzi (@cchukudebelu) July 12, 2019
Nigerians who voted for him are to blame, not Buhari. It's not that Nigerians didn't know Buhari for over three decades before he asked for their votes, yet they voted a barely literate man into the highest office in the land in the 21st century. Shame on Nigerians, not on Buhari

— Chibueze Iroakazi (@ChibuezeIroakaz) July 11, 2019
Good evening His Excellency, you shouldn't be under any pressure sir, considering two factors; 1. Your Age 2. There is no third term. Kindly choose your ministerial list base on merit and those that will work with you in favour of Nigerian not for their pockets.

— Adesina Adeniyi (@_Adexnelly) July 11, 2019
Is this man really okay?? Are his brains functional? The list that took him almost 6months he still claims he didn't know most of them… Baba please take the next four years on this one..#babagoslow #whatacountry #whatapresident ????

— YourVillagePeople (@trustmike_1960) July 11, 2019
Is there any need? Why not wait for the tribunal to give verdict. Because you might be going back to school in Daura.

— Angela 2 (@Angela201045315) July 11, 2019
They said he was a "strongman". Balls of steel. Can't be given the run around. Just what the doctor ordered for Nigeria. But here we are!

— Sani® (@pdauda) July 11, 2019
Another blame game initiated he would be like"I failed again cos I appointed ministers that I don't know based on my party recommendation"???? one chance govt

— Rony (@Rony37220245) July 12, 2019
He should just take his Fulani brothers, bcos they are the only ones he knows very well. Thanks

— ZiCO (@NwaMan2) July 11, 2019
Mtchewwwww and when you worked with them for 1 year, you couldn't separate the wheat from the tares???

— BlessedBeyondMeasure (@Drmuzoic) July 11, 2019
What will @MBuhari ever know?

An old man that will never take responsibility. One of the essential quality of a good leader but he lacks it 100%

— Kingsley Onyekwele (@KingOnyekwele) July 11, 2019
"The last cabinet which I had, most of them, a majority of them I didn't know.
"I had to accept their names and recommendation from the party. I worked with them for three and a half years."@MBuhari , yet you worked with them.
Not even one cabinet reshuffle.#Shameful

— The Mastermind ? (@Uzopatriot) July 12, 2019
After nearly three months of being rigged back in! Naija, who we offend? It's not like the Ministers will be effective but let it look we have people occupying space.

After all this ineptitude, someone that claim to have sense will say this man is the answer? Shame!

— Nwoke Alexander Jr. (@alex2j2) July 11, 2019
A country that doesn't put it's president under pressure is nothing but a zoo. Stand up and do the needful without prejudice, no loopsided appointment. The country has to move forward ASAP

— Mishaelizunwa (@mishaelizunwa) July 12, 2019