Governor Babajide Sanwo-Olu of Lagos State made history when he defeated the erstwhile Governor of the State, Akinwunmi Ambode, during the governorship primaries of the All Progressives Congress (APC).
This was the first time that such a notable feat would be achieved in the state.
After this huge stride, Sanwo-Olu went on to win the gubernatorial elections as he defeated the governorship candidate of the Peoples Democratic Party (PDP) in Lagos State, Jimi Agbaje.
Since he was declared winner at the polls, Lagosians have had their eyes fixed on him, with high expectations as he had made a number of promises during his campaign to occupy the number one seat in the commercial city.
Some of the actions and alleged actions of Sanwo-Olu after he was sworn in as Governor on May 29, 2019, have however made it seem like they may just have to continue to hold on to their expectations a bit more – till at least some time hopefully in the near future.
Let us consider some of these actions below.
Weight Loss Comment and N187 Million Jeep Controversy
After his first seven days in office, Sanwo-Olu lamented that he had lost weight due to the hectic nature of the job, he had further revealed that the challenges experienced in the job was real.
In his words:
"It is not a tea party; you don't sleep and wake up and the traffic has gone down. You don't sleep and wake up and there is no rain or that you have resolved Apapa gridlock; it's real.
"So, it is something that one has to psychologically prepared for; the best thing you can do is to make sure that you are not going about looking for what the other person did.
"It is for Lagosians to see you do what you promised to do for them.
"And if you don't do it from your office; you have to do it on the road; you have to do it where the issues are so that people will truly know that you mean business.
Almost immediately after he made this statement, he was accused by the Peoples Democratic Party of buying a utility SUV for the whooping sum of N187 million as his official car.
He had however through his media aide, Gboyega Akosile, debunked the claims stating that the said vehicle was purchased before he assumed office and that it was not for N187 million as was stated by the opposition party.
Denial Of Promise To Fix Apapa Gridlock In 60 Days
Governor Sanwo-Olu had raised the hopes of Lagosians during his campaign, he had promised to fix one of the most notorious gridlocks in the state, the Apapa gridlock in 60 days if elected as Governor.
However, upon winning the election to occupy the number one seat in Lagos, Sanwo-Olu had denied making such promise. He claimed that he only promised to review the state of the gridlock and not fix it as was reported in the media.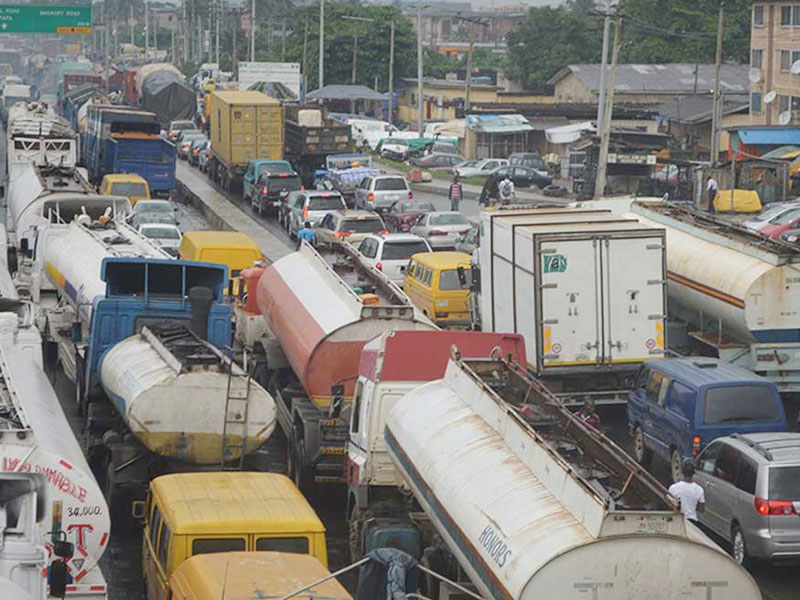 A fact check which was carried out by THE CABLE showed that the governor had actually promised to fix the situation and not review it in 60 days.
"Even the Apapa trailer issue… it's a campaign issue; it's very serious; I'm going to take it very very seriously. I believe that it is something that we are going to solve in the first 60 days of our government.
"Whatever is going to be required of us, we will take them out. I can tell you from day one, it is one of the places I have been to. Whatever it will require of us, we will take them out. We cannot continue to give excuses," he had said.
Listen to the audio of Governor Sanwo-Olu making the promise below.
Alleged Illegal Withdrawal Of Local Government Funds
The Lagos State Government under the leadership of Sanwo-Olu have been accused of deducting from the funds meant for Alimosho Local Government as was reported by SAHARA REPORTERS.
The State government was said to have deducted about N370 million from the funds allocated to the Local Government for the month of June. This deduction came one month after the National Finance Intelligence Unit (NFIU) stipulated in its guidelines that state governments should desist from touching funds allocated for Local Governments.
The Accountant-General of the state, Abimbola Umar, had made a claim that the state had received a waiver to enable it make deductions to pay the staff of local governments, but a source in the NFIU had debunked this claim, stating that there was no such waiver granted by Modibbo Hamman-Tukur, director of the NFIU.
"Please, we did not give concession to any state to do any direct deductions from JAAC and will never do so," the source quoted Hamman-Tukur saying.
If the NFIU decides to take a decision on this development, the Lagos State Governor may be blacklisted for flouting the guidelines of the NFIU.
This is not something that many Lagosians would have hoped for as having the Governor of one's state blacklisted is not in anyway a thing of pride.
Dear Governor Sanwo-Olu, Lagosians want the best for your Government and wholeheartedly wish for you to succeed. What is more? Their lives would be definitely be improved if you become a success in office.
But is it not way too early to be caught in these controversies? To whom much is given, much is expected, may you be proved worthy of your position through your works.
Best wishes and less controversies as you continue to paddle the canoe of Lagos in your first term.
Kindly leave your comments on this story in the comment section below.