The D-Day has finally come. Dr Patrick Ifeanyi Ubah becomes a public office holder for the first time in his illustrious life.
This follows today, June 11, 2019 inauguration of members of the Nigerian 9th senate – which he's a proud member, having been duly elected and trusted with the mandate by the people of Anambra South senatorial district.
For the man himself, you can bet he wouldn't necessarily find it strange when he sits in one of those magnificent offices at the National Assembly or when the microphone is before him on the floor of the Senate, owing to the fact that he has dedicated his entire adult life to the service of humanity – if that does not pass as public service, I wonder what will.
So safe to say that it's nothing new to him. He has been a public servant all the while – albeit officially, as a matter of today.
Ifeanyi Ubah shocked the entire political landscape of Anambra and indeed the entire county's when he against all odds defeated his opponents – including the famous Ubah brothers (Andy and Chris) at the February 23, 2019 polls.
On the platform of the Young Progressive Party (YPP), he emerged. There couldn't have been a better choice of a political party for someone who is young and progressive like Dr Ubah.
It was the first time his name was on the ballot since the 2013 Anambra Gubernatorial election – his first outing in the quest to lead – and it had to be this time.
As he is duly inaugurated today, it's become the case of Alea iacta est, the die is cast, time to get the ball rolling.
Too many questions popping out already with the most important one being; Is he the messiah Anambra South and indeed the Igbo Nation has been waiting for?
Let us see why the answer is YES.
There is a reason Dr Patrick Ifeanyi Ubah is called "capacity". His undying desire to uplift the standard of living of his people remains the driving force behind every move he makes – politically or otherwise.
If he could do it in his own capacity as an individual in the private sector, imagine what he'd achieve now that he's got a big say in the nation's policymaking.
Let's look at his antecedents that really prove Ubah will deliver.
Caucusing With The Majority.
As a senator-elect, the first thing he did that seemed to have cemented the trust his people reposed on him and really showed his commitment to deliver was the way he handled the rumours of defection to the ruling All Progressives Congress, APC. Many did not believe he could stand his ground but he did.
"I am still with the YPP, we do not have a crisis at my party so why would I leave the party?" He boldly told journalists despite APC chairman, Adams Oshiomhole's plot to lure him.
Many had expected him to switch side coming from the least minority party, he never did, instead, he opted for a better option.
The idea of caucusing with the majority remains one of the best decisions any lawmaker would ever make.
Caucusing has proven to be a great tool in fostering development as democracy is a game of numbers.
Olusola Abubakar Saraki, the late father of the immediate past Senate president, Bukola Saraki did wonders in the second republic senate as the leader of the upper chambers through the power of Caucusing. He is still being regarded as one of the best Senate leaders the nation has ever had.
This means for Ubah, more of his bills – which will aim at improving the lives of Ndi Anambra South and prospering the economy of the Igbo nation – will receive adequate and timely considerations.
The Ifeanyi Ubah Foundation
Since inception, the Ifeanyi Ubah Foundation has done more for humanity that one can possibly imagine. Dr Ubah's acts of charity and his philanthropy through the foundation are well documented and acknowledged everywhere.
From free medical outreach from time to time, human capital development and empowerment, helping to combat crime to the defence of Human Rights.
Millions of people have benefited from his social development initiatives over the years.
In 2013, the foundation reached out to the Nigeria police with the building of 5 transit camps for officers of the force. He also undertook the renovation of detention cells at the police headquarters in Anambra state.
In 2018 the foundation magnanimously powered Tino Foundation In Defence of Human Right and Social Care as the embark on sensitization towards decongesting of Prisons Nationwide – this kicked off at the Nnewi Prisons
In between, there have  been several other philanthropic gestures from Ubah – including but not limited to helping Anambra discover football talents through his football made in Anambra initiative.
8000 capacity church Building
Ubah, who had always maintained that wealth is useless if it's not used to propagate the gospel as well as assist the less privileged in the society to actualize their God-giving potentials, has also ensured that the house of God has its own fair share of his philanthropic gestures.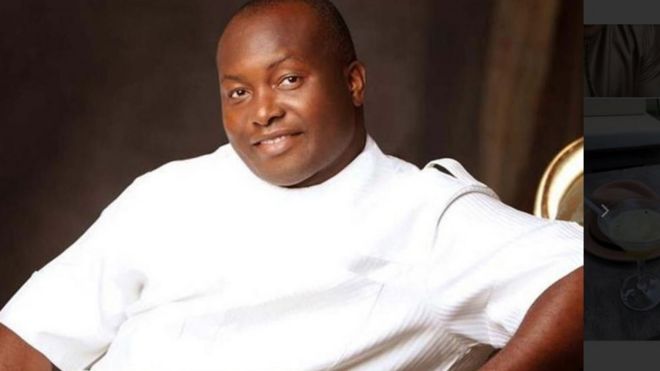 He had embarked on an 8000 capacity cathedral project for Nnewi Catholic Diocese.
The project which is unprecedented with its seating capacity equally has underground facilities for 140 tombs.
Ubah had decided to build a befitting place of worship for his people as his own social responsibility of giving back to the society without asking anyone or group to contribute toward the project.
FC Ifeanyi Ubah
In the area of football, Ubah who is an ardent football enthusiast took his midas touch to that sector too.
In 2015 He bought the defunct Gabros International FC – which now exits as football club Ifeanyi Ubah (FC Ifeanyi Ubah) and has taken it to the summit of not just Nigerian football but African football.
Prior to Ubah's take over, the club had only managed to exist and remained at best a mid-table football club without any laurels except relegations and promotions back to the elite division of the Nigerian Professional League.
As soon as Ifeanyi Ubah's touch met the club, it has cemented its place in the top flight division of Nigerian football, paraded many big name players and coaches, given Ndi Anambra a source of pride and had gone on to win the coveted Nigeria Federation Cup (2016).
The club continues to stand as a force to be reckoned with in Nigerian and African football.
Games Village
The games village -which is the extension of the football academy project (which a partnership exists between the club and prestigious English Premier League Club Westham United) – is a multipurpose centre that multipurpose centre in his home town Nnewi, that bodies commerce, sports facilities, modern engineering and craftsmanship.
When completed, it will house – among other facilities – Olympic standard swimming pools, the Olympic standard track and field, indoor Hall, Five-Star Hotel, Women and Youth Development Centre, Sports Academy, Hospital, Training Pitch, Athletes Accommodation, Industrial Technology Hub, and FC Ifeanyi Ubah International Stadium, the home turf for the football club.
Ubah proved he is a trailblazer with this project – which is set to attract foreign tourists to Nnewi if properly marketed.
It's also the permanent home of his academy football players.
Sponsoring of youths on Capacity Building Abroad
Ifeanyi Ubah has singlehandedly (without government support) sponsored trips to abroad of so many batches of Nigerian youths from all works of life for a capacity-building mission.
In 2016, Ubah took no fewer than 73 Nigerians on a tour to London, the United Kingdom capital, as part of his concerted efforts "to grow our economy through strong Football sector."
Comprising football administrators, football managers, football facility managers, journalists, marketers, engineers, crowd managers, as well as members of our supporter's club, the London visit was that beneficiaries continue to be grateful to him for as the gains have proved to be invaluable.
He had also gone to sponsor similar trips to Dubai, UAE, China, Russia (for the 2018 FIFA World Cup) and a host of other countries.
Some of the beneficiaries of this initiative have gone on to excel in their various field of endeavours.
AFA IGBO EFUNA
When Dr Ubah floated the rescue mission AFA IGBO EFUNA in 2017, he said the forum was not for a political cause but a mass movement to determine how Igbos would be "liberated from bondage" of discredited politicians.
Ubah has always treated and regarded the economy of the Igbo Nation as a regional emergency. This informed his decision to anchor his manifesto in helping a great deal in building a self-sustaining economy for the south-east -the economy that would not be entirely dependent on the FG.
Ubah is very much passionate about this mission. He has shown his resolve to make good this promise by the number of Igbo business he has supported and promoted over the years and investments he has attracted (directly or indirectly) to the region.
If Dr Patrick Ifeanyi Ubah could do all these as an individual in private sector – without the help or support of any government – there is no doubt that he is the Messiah Anambra south, and Indeed the Igbo Nation has been waiting for.