Many Nigerians have reacted angrily to the emergence of the son of former Abia Governor, Theodore Orji, Hon.  Chinedum Orji as the speaker of the State house of Assembly.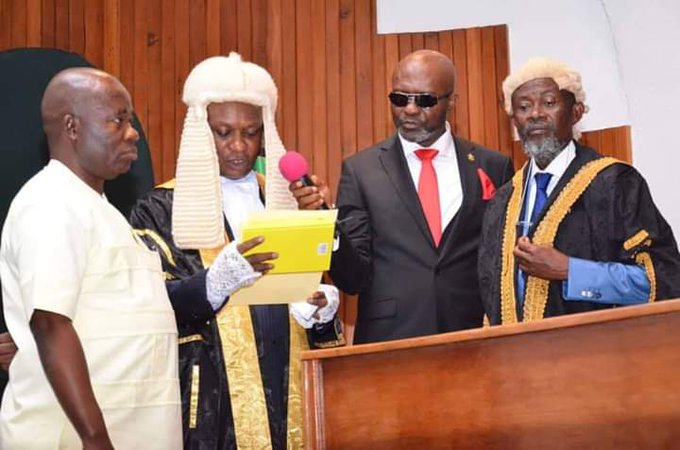 Decrying the new height of godfatherism in the state, some are of the Opinion that this is a joke taken too far, considering his Hon. Orji's father, Theodore is currently a senator of the Federal Republic of Nigeria; the fact that Nigerians have in the past frowned at those who attempted installing their family members in elective position – most recently former Imo State governor tried to foist his son-in-law, Uche Nwosu on the people and imolites thwarted the move by rejecting him at the polls.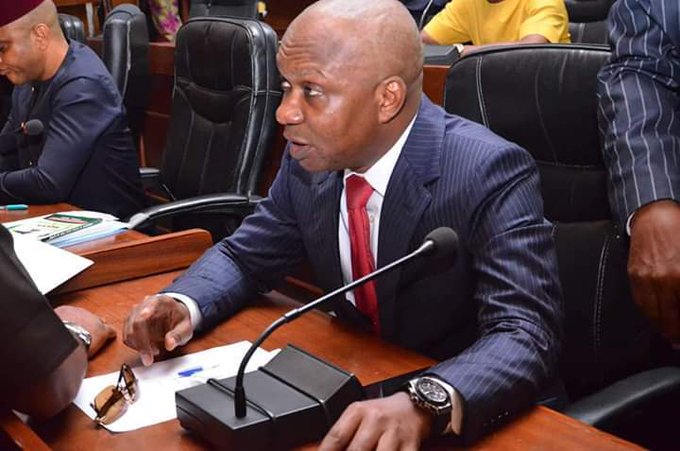 Hon, Orji, the first son of the ex-governor was elected today as the Speaker of the 7th Abia State House of Assembly after being nominated by Hon. Munachim Alozie and seconded by Hon. Ginger Onwusibe.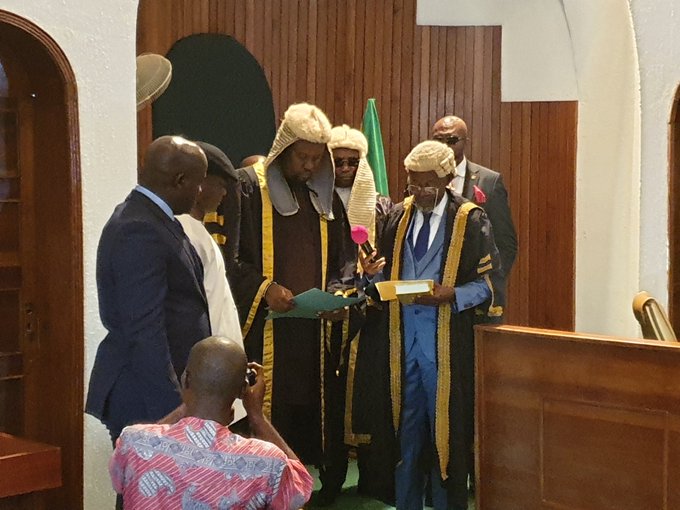 Chinedum Orji (Abia central) of the Peoples Democratic Party (PDP) – who was until today, the Majority leader of the Abia State house of Assembly – has been in the house since 2015.
Reacting, Nigerians wonder why the likes of Former Lagos Governor Tinubu – who was notorious for godfatherism – will be constantly vilified for the same sin and here goes Theodore and his son and no one bats an eyelid.
According to @azeez_ibrahim11 on Twitter, "Theodore Orji is a senator and his son is now d speaker of d Abia State House of Assembly. Imagine Tinubu being a senator and his son now the speaker of d Lagos State House of Assembly? Democracy would have been in danger"
Theodore Orji  is a retired permanent secretary in Abia state  civil service, Former Abia state Chief of Staff (1999-2007) Former Governor Abia state (2007-2015). Serving senator (2015 till date) His son, Chinedum Orji  has been Abia state HoA member (2015 till date) and now current Speaker Abia state house of Ass).
See more reactions below
If na Jagaban or El-Rufai try this one now Twitter for don shutdown ?

But in this case democracy is not in danger, and the people of Abia are not slaves of one man god forbid IJN https://t.co/7soVcPGetn

— tolu ogunlesi (@toluogunlesi) June 10, 2019
Looks like former Governor TA Orji's son is the new Abia State HOA Speaker. My sauces told me a few years ago he was going to be Speaker first, then Governor. https://t.co/x2QLdsLuN8

— Akin Oyebode (@AO1379) June 10, 2019
T. A Orji left Abia state in a terrible state and he is adjudged to be the worst Governor the state ever had. Today his son Hon. Chinedum Orji was sworn in as Speaker, Abia State House of Assembly.

— Emeka Nnadozie (@ChNnadozie) June 10, 2019
In your state Abia, father was a Gov for 8yrs now a Senator and they elected his son as the current Speaker of the House of Assembly but you carried your stupidity to our Lagos shouting "O to ge"
CHARITY BEGINS AT HOME, GO BACK TO YOUR STATE, ABIA AND ORGANISE YOUR "O TO GE"

— Ashola Ilie (@adex0057) June 10, 2019
ABIA STATE is cursed.
A very useless State since 1999 till date.

— Engr. Kalu Emeka (@kaluemeka89) June 10, 2019
Ndi Abia, behold your new speaker. Ikpeazu will surely be at his worse because he Will be well policed . Ikuku will be warming up as the next Governor of Abia come 2023.

I think at this stage I should conclude that Abia LEADERSHIP is cursed.

— Buchy Strategy (@Buchyogba) June 10, 2019
Look at Abia State. Such a mess.

Two useless past governors are in the Senate. Another unproductive deputy governor too.

The son of a useless former governor is also the Speaker.

Abia State citizens should never mention Lagos or anywhere else again. Your state is a mess.

— Oba (@OlaseniOladejo) June 10, 2019
The Orjis are quietly building a family a political fiefdom in Abia.

Father transfered from a governor to a senator. Now the son has been elected the Speaker of the state's House of Assembly.

Charming!

— Nicholas Ibekwe (@nicholasibekwe) June 10, 2019
All this is happening in Abia state whilst they stay online daily discussing Tinubu, Lagos, El Rufai, Kaduna, Buhari and Aso Rock

But this will not trend because Buhari cannot be linked by the committee of gOoD gOveRnAnCe advocates https://t.co/a39hramu6Q

— SoulJah (@jeffphilips1) June 10, 2019
Father senator, son speaker.

Okorocha no do reach dis one, dem wan crucify am.

Why are you people mute? https://t.co/PUnJf4M58D

— Dr. Guendouzi (Yaro mai Lokachi ) (@fimiletoks) June 10, 2019
Son of Former Governor and Abia State PDP Godfather and A Serving Senator, Theodore Orji, is the Speaker of Abia State House of Assembly.

Buhari and his Nepotism ? pic.twitter.com/SjoWGQTRwb

— Ayekooto (@DeeOneAyekooto) June 10, 2019
Retired as perm Sec, civil servant.

Former Abia state Chief of Staff (1999-2007)

Former Governor Abia state (2007-2015).

Serving senator (2015 till date)

His son, Abia state HoA member (2015 till date)

Current Speaker Abia state house of Ass).

Imagine if it's Tinubu's Son. pic.twitter.com/nMkPkH4mjK

— Honour (@azeez_ibrahim11) June 10, 2019
Abia is the only South East state in bondage.

Abia people need to wake up from their slumber and free themselves from the shackles of godfatherism, bad governance.

Ndi Anambra did it. Ala Imo did it.

Wake up, ndi Abia

— IKECHUKWU (@iykimo) June 10, 2019
Theodore Orji is a senator and his son is now d speaker of d Abia State House of Assembly.

Imagine Tinubu being a senator and his son now the speaker of d Lagos State House of Assembly?

Democracy would have been in danger.

— Honour (@azeez_ibrahim11) June 10, 2019
What are your thoughts, Please drop your comments below