Nigerians have reacted to viral pictures of a media aide to former Ekiti governor, Ayodele Fayose, excitedly posing for a photograph with the current governor of the state, Kayode Fayemi – a political rival to Fayose.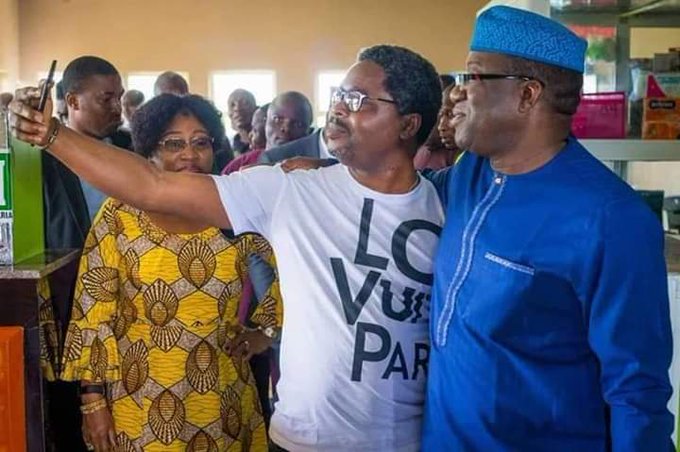 Lere Olayinka, who has been found in the past making derogatory against Fayemi, while supporting his principal, former governor Fayose, was seen posting for selfie with the governor at an event.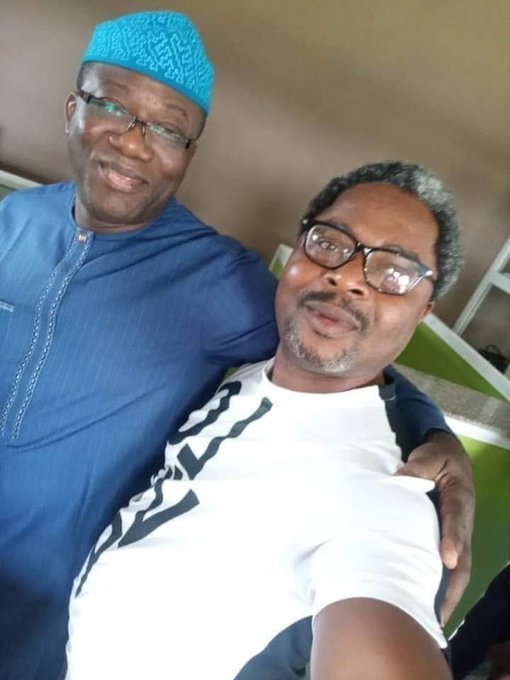 Recall that a panel had, shortly after Fayemi took over, summoned the former Special Assistant to then governor Fayose on Public Communication and New Media, Lere Olayinka, who also headed the State's Broadcasting Service (BSES) between October 2014 and July 2018, to shed light on how the station was run in the period under review.
The corporation was shut by the National Broadcasting Commission (NBC) over alleged serial breach of broadcasting code.
Since then the relationship between the duo has been far from cordial.
Reacting to the emergence of the photographs, which have shocked many, a social commentator, Japhet Omojuwa suggested Lere buried differences eith the governor to take those pictures in order to secure a favour from him.
He simply dropped this message to the post "Man must wack"
Man must wack! https://t.co/aUlpdeSVdy

— JJ. Omojuwa (@Omojuwa) May 30, 2019
see more reactions below:
Hard time really, Lere's account is not smiling again.

— Olayemi (@YemOlayemi) May 30, 2019
Why am I not surprised? Lere has always been a political jobber who tilts towards crumbs from politicians. Alainitiju Alainironu Ara Galatians

— Omogoriola Gen. Katayeyanjue (@waspery4love) May 30, 2019
In street football, we call it 'anywhere belle face?

— Stonecold??? (@sebastineadele1) May 31, 2019
Don't be fool, they are never enemy to each other its state craft

— His Grace (@abidecwale4real) May 31, 2019
as much as I am concern there is no permanent friend or enemy in politics, it is a game of intrest at every point in time. Hosanna today crucify him tomorrow that is politics for u. lere….a smart guy

— @the Pundit (@thePundit10) May 31, 2019
Awon boys they look for where to chop again. They never stand on any principle it's all about Naira and kobo. QED

— Feyisetan Odunayo (@temodent) May 31, 2019
Good product market self without advertisement. Lere know d diff btw Fayemi and his boss.

— Kenny Bakare (@KennyBakare4) May 31, 2019
What happens to all those hate tweet about Fayemi and APC? @OlayinkaLere

— TMT Orijajoogun (@BolaMurtala) May 30, 2019
No loyalty at all. There loyalty is with where there next meal tickets can come from.

— Wole A (@nvwole) May 30, 2019
When there is no more credit alerts from Fayose and IroLere must eat

— Eniwealth? (@aarinola_eniola) May 30, 2019
Omolomo……school fees will pay itself now

— Oluseyi (@SO_Akins) May 30, 2019
By their lies with grey hair we shall know them. They only want attention, they don't really mean what they tweet

— Nwanyi oma (@chideart) May 30, 2019
what's your take on this story? drop your comments below