The recent outburst of Mrs Aisha Buhari about the implementation of the Social Investment Programmes (SIP) in the North has shown that the outspoken Wife of the President is more enlightened about APC's programmes than President Muhammadu Buhari.
SIP is one of the cardinal manifestos of the APC-led government which is aimed at reducing the level of poverty in Nigeria. It has under it N-Power (for unemployed university graduates and NCE holders ), Conditional Cash Transfer (to assist less-privileged Nigerians), Home Grown School Feeding (primary school pupils) and Tradermoni to assist petty traders among others.
Mrs Buhari has been one of the critics of her husband's policies since 2015, though President Buhari on assumption of office said there won't be an official office for First Lady.
The position of Buhari was that Nigeria's constitution does not create an office for the country's First Lady, but Mrs Buhari continued in her usual way until the president was forced to say his wife belonged to his living room and other room during an interview with the BBC in 2016 during a state visit to Germany.
My wife "belongs to my kitchen", says Nigerian President @MBuhari after first lady criticises his leadership https://t.co/FP49H1q5qo pic.twitter.com/8fkthOu8hV

— BBC News Africa (@BBCAfrica) October 14, 2016
Buhari had accused her husband of appointing those he didn't know "The President does not know 45 out of 50, for example, of the people he appointed and I don't know them either, despite being his wife of 27 years.
"Some people are sitting down in their homes folding their arms, only for them to be called to come and head an agency or a ministerial position."
Reacting, President Buhari laughed it off and said: "I don't know which party my wife belongs to, but she belongs to my kitchen and my living room and the other room."
Fast forward after the 2019 polls, Mrs Buhari has shown that her roles are not limited to Buhari's kitchen or his bedroom by demanding explanations on how huge sums have been spent on eradicating mosquitoes while the effect has not been felt in the North and other parts of the country.
"I have heard about mosquito nets, Nigeria paid its counterpart fund N5,760,000,000 ($16m). I asked them to give my own share of the net to send it to my village people. I didn't get it.
"They have spent, $16m on buying mosquito nets, I did not get it, maybe some people have gotten it. But I feel that that's my personal opinion, $16m is enough to fumigate mosquitoes in Nigeria. That's my opinion," she said.
Not just that, wife of the president has also accused the management of the SIP on how N500 billion were spent while her state of Adamawa was technically left out, saying it failed woefully in the North.
"I don't know where is the social investment… Maybe, it worked out in some states. In my own state, only a local government benefited out of the 22. I didn't ask what happened and I don't want to know, but it failed woefully in Kano, it's not a good sign and it's not a good thing," She said neglecting her inner room role.
Can Mrs Buhari be confined to the kitchen or inner room within the Aso Rock?
In July 2017, a public commentator Simon Abah shed light on the roles of Nigeria's First Lady in the Guardian Newspapers.
By virtue of her position, Mrs Buhari has proven that the roles of women shouldn't be confined to the living room or other room as Buhari jokingly said in Germany in 2016.
There has never been a first lady who doesn't have an issue while in "office," hers isn't an exception. It's going to be on record that she publicly rubbished some of the policies of her husband. The good part is that she's been doing so constructively.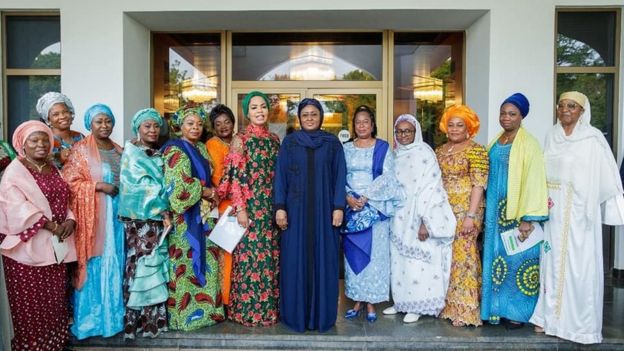 Before the 2019 presidential election, she threatened not to canvass votes for the ruling party if things didn't change.
But then, Mrs Buhari is heard for the right reasons and seen for the right reasons, unlike some of her successors in the same capacity.
Her latest outcry about SIP has shown that the wife of the president isn't done exposing some of the anomalies of the APC-led government which the Information Minister Mr Lai Muhammed and the President's spokesman Femi Adesina have covered over the years.
Femi Adesina thinking of Words to put together, preparing to defend the FG over Aisha Buhari's claim of FG's social investment scheme being a failure: pic.twitter.com/woYYgrv0Jp

— Brother Parody (@BrotherParody) May 26, 2019
While cabinet ministers of Buhari are appointees of the ruling government, meaning they'are restricted by the loyalty principle, Aisha's office isn't recognised by the constitution and seems she is playing the role of the voice of the voiceless in its fullest.
If President Buhari is yet to realise that a woman who has been an advocate of women's rights and children rights can't be confined to the inner room, it's time he takes more time to study Aisha critically because Nigerians may see more of the downsides of the ruling party as the government prepares its NextLevel cabinet.
Mrs Buhari has, on several occasions, emphasized the need for young girls to get primary and secondary school education before getting married, saying that she believes no girl should get married before the age of 17 as against common practices in the North where cases of underage marriages are common occurrences.
She was one of the powerful voices in May 2015 at the Global Women Conference held in Buenos Aires, Argentina, where she stressed the need for Nigerian laws that will protect women from forced early marriages, sex trafficking and other issues. She proposed legislation against early marriage.
Her pet project, Future Assured, has contributed to the acceleration of efforts to End Preventable Maternal, Newborn and Child deaths through advocacy and the strengthening of accountability mechanisms in order to enhance the peace and development of Nigeria.
With the aforementioned, the President has more to contend with from his wife than the opposition Peoples' Democratic Party (PDP). Well, PDP has always hailed her for speaking up.
Welcome to the world of a woman whose roles are beyond the inner room.