Nigerians have reacted on Social media to news that Rochas Okorocha, the Imo State Governor, accused Adams Oshiomhole, the National Chairman of the ruling All Progressives Congress (APC) and other party leaders of trying to get the Economic and Financial Crimes Commission and other law enforcement agencies to arrest and detain him
.
Punch reports that the outgoing Governor claims to have gotten no less than twenty-five invitations from the anti-corruption and law enforcement agencies because they want to investigate projects executed during his administration
.
He has since said he was innocent and that neither he nor his family deserved to
be threatened
with arrest and detention
.
Nigerians have since reacted on Twitter and here are some of them:
That is an act of Iberiberism.

— LAWAL AZEEZ (@a6ee6) May 16, 2019
Go on exile on May 28. They can't touch you in Moscow.

— Jonas EZEANYA (@Dr_Clandestine) May 16, 2019
To be fair, you should've willingly submitted yourself to EFCC as soon as you left office. You don't get to build statues and mess up an entire state and not expect to get punished.

— Sani® (@pdauda) May 16, 2019
This is just the beginning no one trades Biafra struggle and go Scott free @mygovernormygovernor

— Egbuchulam Chukwuemeka Emmanuel (@EEgbuchulam) May 16, 2019
I think both of them deserve to be arrested. period.

— CC.Okorie (@ChristianChik15) May 16, 2019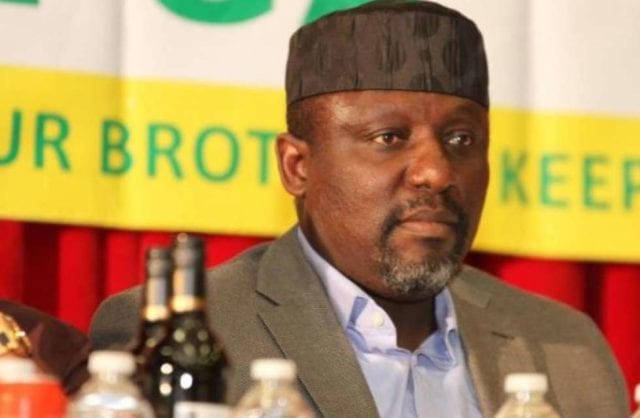 It's a case one riding on the back of a Lion. You enjoyed it while it lasted. Now is the pay back time.

— Ibeh Ignatius (@ignatius_ibeh) May 16, 2019
Lol… make we do wetin? pic.twitter.com/CXKGCZSgJX

— Mr. Matthew (@MattRaul_LFC) May 16, 2019
Greedy man crying in the wilderness ( part 1)

— Johnson Kolinson (@JohnsonKolins) May 16, 2019
Oga carry your cross.

— Atiku's Boy. (@village_james) May 16, 2019
This isn't so good, though you have your weaknesses. May God help you.

— iheanyichukwu Okocha (@OkochaOcenuno) May 16, 2019
You need it mr okoroawusa.

— Henry (@UgoHenry) May 16, 2019
Allow @officialEFCC to arrest you nau. After all, you joined APC because you supported the ideology of "fighting corruption". So be selfless and allow the "hands" of the "law" to have a firm grip on you, okay?

— This is it (@W3times1) May 16, 2019
I hope the governor of Ebony state and Anambra umehi and obiano ares seeing this for foolishly supporting direction less government , if they can do this Rochas

— Chinedu Emmanuel (@Chinedu54549769) May 16, 2019
Proof yourself to them that you have nothing to hide from the public.

— Babatunde (@Babatun42604276) May 16, 2019
Go and shake hands with @MBuhari besides your sins are already forgiven as an @OfficialAPCNg member

— GCE (@GidEme04) May 16, 2019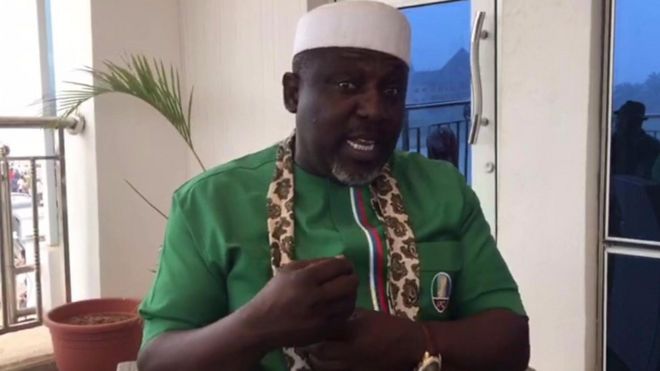 Did you steal? If yes there is nothing wrong in Abacha's ghost instigating efcc to arrest you.

— DoeSir (@dosbeldot) May 16, 2019
The chicken has come home to roast the hunter is now the hunted okoroawusa suffer ur handiwork.

— alexander (@Allexy_123) May 16, 2019
You're long over due, please get him arrested. Rubbish!!

— Financengr (@Financengr2) May 16, 2019
EFCC fear God ooo. The corruption you're fighting Na for some people abi, d main thief's we never see dem for ur probe. Las las the life na vanity make una remember.

— Paul Chi (@Otuyapaul) May 16, 2019
Wetin concern us? You've been used n now that u don't have a political relevance, you've dumped and the worst part of it is that you've hurt a lot of people and they're gonna serve u back. Purge what you've swallowed.

— Oyeleke (@Oyeleke4) May 16, 2019
Abeg build one more statue before you leave. May be Satan statue will be fine. Ibeririberism.

— Mayor of Delta (@dexto1) May 16, 2019
Drama every time….
Apc pls leave this mam alone.

U have done enough

— Kris (@Kris50197176) May 16, 2019
Oga governor iberberism efcc won't detained nor prosecute you if you have not corruptly enrich yourself and members of your family with IMO state funds no matter who sent petition to efcc to investigate you.

— Donalddon (@Donaldd15427160) May 16, 2019
A clear conscience fear no accusations. A welcome development anyway.
Just go and prove your innocence.

— valmekus@gmail.com (@valmekus) May 16, 2019
Nonsense! Why would the EFCC arrest you if you have no skeleton in your cupboard even if Oshiomole and APC are instigating the agency? Your past coming to hunt you does not count as witch-hunting!

— O J Ebuddy?? (@EbuddyO) May 16, 2019
What are your thoughts? Let us know in the comments.