In January, 2019, President Obasanjo burst again on the political scene in Nigeria with a16-page broadside which he entitled: "Points for Concern and Action."  In this, he alleged that the upcoming 2019 presidential election was already shaping out to be nothing more than a self-succession project for President Buhari: "They have started recruiting collation officers who are already awarding results based on their projects to actualise the perpetuation agenda in which the people will not matter and the votes will not count."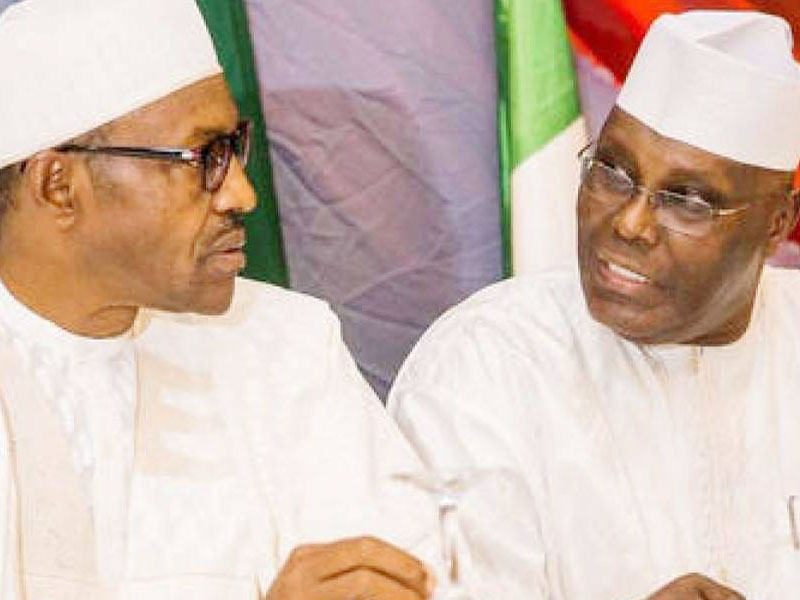 He noted further that the president's henchmen: "are working round the clock in cahoots with security and election officials to perfect their plan by computing results right from the ward to local government, state and national levels to allot him what will look like a landslide victory irrespective of the true situation."
Only God knows where and how Obasanjo got this information.  However, it has since been confirmed by what actually transpired during the 2019 elections.  Altogether, the elections were one big sham.  No Nigerian needs to be told that they were characterized by massive voter fraud, voter-suppression, ballot-snatching and crude falsification of the results.  By design, victors were vanquished and losers declared winners.
The most glaring of this falsehood was the declaration of President Buhari not only as the winner of that election but, as Obasanjo warned, as the winner by an even bigger majority than he had when he was so much more popular in 2015.  Between 2015 and 2019, President Buhari and the APC had become a major embarrassment and disappointment.  Obasanjo himself was one of their chief supporters in 2015.  But Buhari's dismal performance in office had led him and many others to the conclusion that Nigeria would be far better off without him.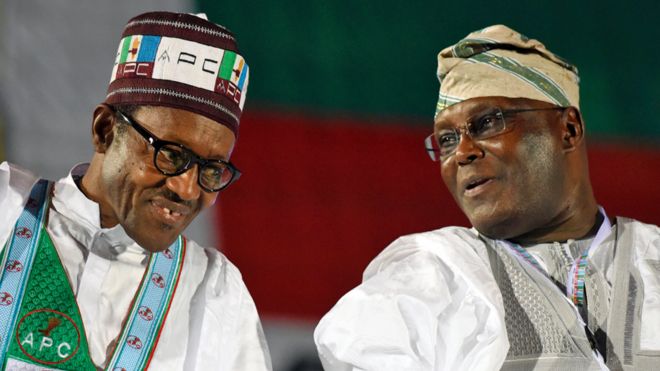 Under the circumstances, I, for one, predicted time and again that the only way President Buhari could win in 2019 was by massively rigging the vote.  Let's face it, the wheel of politics cannot be re-invented in Nigeria.  A bad government can only expect to get a comeuppance at the polls.  Bad governments don't get re-elected in free and fair elections.  That magic only takes place when the votes are rigged.
Implausible re-election
You don't get re-elected after presiding over Nigeria becoming the poverty capital of the world, with over 90 million of our citizens declared as hungry-poor.  You don't get re-elected when, instead of creating jobs, as you promised grandiloquently in 2015, you oversee the losing of jobs by the millions over the last four years.  You don't get re-elected by presiding over the breakdown of law and order in the North, with the rampant incidence of banditry, killings and kidnappings.
You don't get re-elected by fiddling while Rome burnt; watching the naira plummet from 198 to over 500 to the dollar, before finally resting at 360; when your promise to Nigerians was that you would perform the abracadabra of making the naira equal to the dollar.  You don't get re-elected by promising to kill corruption before it kills Nigeria, but then achieve the contradiction of making Nigeria even more corrupt than your predecessors; according to the unassailable corruption index of Transparency International.
You don't get re-elected by demoting Nigeria to high-debtor status; ballooning the country's debt to a problematic $23 billion in three short years, with little or nothing to show for it; with the result that the IMF is now wondering if we will be able to repay the loans.  You don't get re-elected by running the 21st biggest economy in the world with mere body language.  You don't get re-elected by being nicknamed "Baba Go-slow" when we are in a brave new world of high-speed planes, trains and the world-wide-web.
You don't get re-elected when you fail to mount an effective campaign, merely making one-stop visits to a few cities with rented crowds bolstered with imported foreign guests.
Imagine our surprise then when it was declared, not only that President Buhari won re-election, but with an even bigger majority.  As I said, this kind of magic just does not happen where elections are free and fair.
Reno Omokri's expose
The rigging of the election itself was not done with intelligence but with impunity.  The riggers were either convinced that Nigerians are stupid, or that there is nothing we can do to right the wrongs.
Reno Omokri demonstrated conclusively that the figures declared by INEC did not make any sense: "Turnout was down nationally, but up in insecure states. Borno had 39% turnout. Yobe had 40%. Whereas Abia had 16% turnout and turnout in Akwa-Ibom dropped by 18%. These are statistical impossibility."
"In Akwa-Ibom, where voter turnout was down 18% (compared to 2015), Buhari managed to increase his share of the votes by 34% (compared to his 2015 share). How can turnout be down in Akwa-Ibom and up in Borno/Yobe? It is a statistical impossibility."
"In Lagos and Kano, which are peaceful, fewer people voted. But Yobe saw a REMARKABLE increase in turnout. 76,000 more people voted in Yobe this year than in 2015. Are people migrating from peaceful Lagos/Kano to war-torn Yobe? Statistical impossibility."
"Turnout in Kano was down 11% from 2015. INEC has more presence in Kano than Yobe and Borno. Even the Governor of Borno is not safe despite the army that moves with him. Yet, turnout dropped in Kano and rose dramatically in Borno. Statistically impossible."
"In Lagos, turnout was down 28% from 2015. PDP's vote down by 180k. Yet, there was high anticipation for this election in Lagos on both sides. Meanwhile, Zamfara's voter turnout is higher than Lagos. Is banditry conducive to high voter turnout?"
"The SE is another matter. Whereas voter turnout was DOWN in the SE, APC share was UP. Abia had 16% turnout, yet Buhari increased his share of Abia vote from 3% to 28%. This is mirrored in other SE states. Not impossible, but very doubtful."
"Kogi, where herdsmen have made life hell for the people saw a voter turnout increase of 22% from 2015. Their turnout increase is even higher than Katsina (7%) where Buhari comes from. They did not even use intelligence. Not impossible, but very doubtful."
Salvation from the courts
The plot thickened when every attempt was made to dissuade Atiku from contesting this tissue of lies in the courts.  On three occasions, Buhari lost presidential elections.  On all three occasions, he took the matter to the courts.  But suddenly, a number of Nigerians were being sponsored to plead with Atiku not to challenge the results of the 2019 election in the courts.
There was even a report in one of the major dailies that one of the APC support organisations had written to the American, British and European Union governments to prevail on Atiku not to embarrass Nigeria by challenging the results in the courts.
But thank God, Atiku refused to be dissuaded or intimidated.  Thank God because allowing an election of such fraudulent magnitude to stand would effectively spell the end of democracy in Nigeria.  If Buhari and the APC are allowed to get away with this kind of daylight robbery, then every future election in Nigeria will be decided by daylight robberies.  What Atiku did, therefore, was to provide some forlorn hope for democracy to survive in Nigeria by resorting to the courts.
I am of the opinion that no election in Nigeria has been as fraudulent as the one we just witnessed.  Fortunately, no stolen mandate has also been so conclusively documented as this one.  Obviously, Atiku took Obasanjo warning seriously, and he anticipated that the government would manipulate the result.  Therefore, he took appropriate steps to police the collation of the results.  The upshot of this is that Atiku was able to retrieve the true election results from the INEC back server.
This shows that, contrary to the fabricated INEC result that Buhari defeated Atiku by a plurality of some 3 million votes, Atiku actually defeated Buhari with more than 1.6 million votes.  This total excludes the votes of Rivers which were not yet on the server when the result was downloaded.  In any case, Rivers is a PDP state.  So, should Rivers votes be added, Atiku's plurality over Buhari can only increase as opposed to decrease, propelling his advantage to over 2 million votes.
INEC's sleight of hand
In state after state, INEC declared publicly results fundamentally different from those posted on its official server.  For example, in Niger, the INEC back server shows Atiku won the state with 576,308 votes to Buhari's 504,218 votes.  However, INEC announced that Buhari won the state with 612,371 votes to Atiku's 218,052 votes.  In Kogi, the INEC back server shows Atiku won with 504,308 votes to Buhari's 431,479 votes. But the fake result announced by INEC says Buhari won with 285,894 votes to Atiku's 218,207 votes.
In Gombe, the INEC back server shows Atiku won by a whopping 684,077 votes to Buhari's 115,225 votes.  However, INEC announced a fake result that Buhari won with 402,961 votes to Atiku's 138,484 votes.  In Kaduna, the INEC back server shows Atiku won by 961,143 votes to Buhari's 469,002 votes.  However, INEC announced a fake result declaring Buhari the winner by 993,445 votes to Atiku's 649,612 votes.
In Benue, INEC back server shows Atiku floored Buhari with 529,970 votes to Buhari's 140,282 votes.  However, INEC announced a fake result saying Atiku won by only 356,817 votes to Buhari's 347, 668 votes. And in Adamawa, INEC's back server shows Atiku thumped Buhari as can be expected in his home state with 646,080 votes to Buhari's 169,600 votes.  However, INEC depressed Atiku's victory to 410,266 votes while increasing Buhari's vote to 378,078 votes.
Redemption by the courts
Therefore, the courts need to realise that the future of Nigerian democracy rests squarely on their shoulders.  They have a sacred duty to recover Atiku's stolen mandate from Buhari and the APC.  I don't even agree that the 2019 presidential election should be nullified and a new election conducted.  Those who rig elections should not be given second chances but should be disqualified.
In any case, INEC, the electoral umpire that was complicit in the first fraud, cannot be relied on to be honest in the second.  It is abundantly clear that INEC, under Mahmood Yakubu, can no longer be trusted to be an honest broker in elections in Nigeria.  A new INEC is imperative under a new leadership.  That new INEC cannot be the handwork of President Buhari.
Therefore, the courts should have the courage to throw President Buhari out of office and declare Atiku Abubakar outright as Nigeria's president–elect.
By Femi Aribisala