If all you've ever been told about Senator Iyiola Omisore is: "He's an Engineer" then there are lots of other interesting aspects you are missing. In this article, we'll tell you everything we know about Otunba Iyiola Omisore, the Oracle of Ile-Ife politics.
His political boundary doesn't end in the ancient city of Ile-Ife, he's also one of the most powerful figures in Osun politics.
Life before politics
Before Omisore ventured into politics, he had been a successful businessman. His wealth of experience as a businessman and owner of a corporate body, where he has had to manage both human and material resources,  is the secret of his leadership quality as a politician of repute.
He started his early professional life with the firm of Drake and Gordham in the United Kingdom in the early 1980s.  He received on-the-job training and rose to top management positions.
The same firm Drake and Scull (Nig. ) Limited took him back to Nigeria, where he worked on major engineering projects.
It's on record that he supervised the construction of 19 airfields including the Makurdi Air Force Base and other projects like the Sokoto and Makurdi Rice Mills, Taraku Oil Mill, Sokoto University Teaching Hospital, Onitsha Flour Mills, Bank of The North (Now Unity Bank) Building, World Bank Assisted Health Projects for Plateau, Benue and Nasarawa States and the Imiringi Rural Electrification project in Bayelsa State.
He later established his own engineering firms, Mechelec Consultants, an engineering consultancy outfit and Chrisore Engr. Limited, an electrical engineering firm.
Academic qualifications
The people of Osun were amazed when his posters for the governorship election first flooded the state in 2014 and saw his many academic qualifications.
Only a few people knew that the prince had actually upgraded. Many of his critics thought he was just a Diploma holder.
Omisore holds two engineering degrees and a postgraduate certificate from Brunel University Uxbridge, as well as a Ph.D in Infrastructure Finance from the International School of Management, Paris, France.
He is a Fellow of the Institution of Mechanical Engineers, England and Wales, he has undergone several courses in different high profile institutions including Georgetown University, Washington DC, USA; ABS Academy, Athens, Greece; University of Carolina; West London College; Harvard University and the Internationale Weiterbildung und Entwicklungg GmbH, Germany.
In January 2013, he completed and was awarded a Doctorate Degree by the International School of Management in Paris.
Political experience
Born on September 15, 1957, Iyiola Omisore joined the Alliance for Democracy (AD) ahead of 1999 general elections. The party had its dominance rooted in the South West geopolitical zone.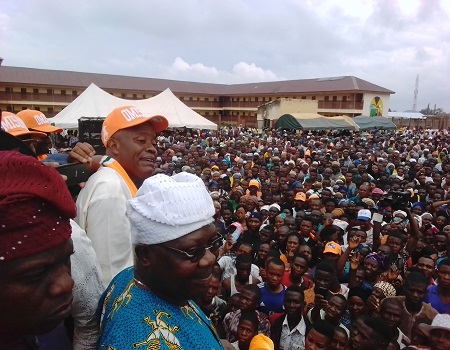 Considering his success in business, he had the money, which he invested heavily on the success of the party in the governorship election that followed.
On how AD was formed he told TheCable in 2016 that the party was formed in his suite in Abuja with other influential Yoruba leaders.
"We started AD. I was one of the persons funding AD in 1998. The party was formed in my suite at Nicon Hilton, Abuja. There is hardly any politician in the south-west that brought resources to politics than I did. I came into politics with my resources, wealth of experience, everything I had.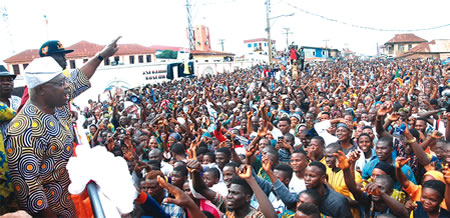 "Omisore is more of a professional engineer, a technocrat. I have made more impact in engineering than any politician you can think of in this country today. I stand to be corrected. They want to kill that aspect of my life and play up politics."
"Omisore's political adventure follows a tradition that goes back to his background.
"We are the main Afenifere. We go to Owo every month. I am a man of history. My grandfather was part of Egbe Omo Oduduwa in 1941.
"So I am a part of that history. We were traditionally UPN (Unity Party of Nigeria) in the family. When it came to the time of AD, we were the ones doing Afenifere and AD together. It was Kofo Bucknor Akerele and I that gave it AD.
"We left PDP, that we were not joining them, to register another party. By the time we got to the INEC office, they had taken all the AAs. We wanted to have AA, AB, or AC. We wanted our name in front on the ballot. We wanted to tell voters, 'Vote for number one.' That was the idea behind AD.
"Chief Bola Ige, Baba Adesanya, and others said we should go and collect form. By the time we got there, the names given to us had already been taken. We said, let us take AD then, and we brought it back to them."
He was the running mate to Chief Bisi Akande. The AD won the election and he became the Deputy Governor of Osun State from 1999–2002.
Before the end of 2003, things fell apart between him and his boss. The internal rancour within the AD culminated to the downfall of the party in the state. PDP won with a landslide margin.
Indictment about the killing of Chief Bola Ige
Chief Bola Ige, former Attorney General of the Federation and Minister of Justice, was assassinated by gunmen at his residence in Ibadan on December 23, 2001.
Omisore was accused of having hands in the killing of Ige as a result of the internal crisis within the party before Ige was murdered.
His impeachment
As a result of his many troubles, in November 2002, 17 of the 26 members of the Osun State House of Assembly on November 12 endorsed the impeachment of Omisore as the Deputy Governor. Dr. Mojeed Alabi was the speaker of the house at the time.
His sins:
Omisore was accused of breach of oath of office and conflict of interest with the state government.
For divulging an official secret of the State Executive Council
Also, for dragging the state government to court over a 1.5 million dollars water chemical contract.
Winning election in the police cell
A few days after his impeachment, Omisore was arrested by heavily armed policemen. He was in police cell when the sales of forms for various policial offices started.
His troubles with the party he helped formed had kicked him out of the party technically, it was time to seek another political adventure.
He decamped to the Peoples' Democratic Party (PDP)  even while his trail was going on, he bought Osun East Senatorial District form ahead of the 2003 general elections.
It was time to put his political popularity to test. He would be contesting against an incumbent Senator Mojisoluwa O Akinfenwa.
Surprisingly, he defeated Akinfenwa. What made the election very interesting was the fact that while Akinfenwa was able to move from town to town to campaign for reelection, Omisore was in police cell.
He played prominent roles while in the National Assembly.
Corruption allegations
Several corruption allegations had been levelled against him before helping APC to win Osun governorship election in 2018.
In July 2016, the Economic and Financial Crimes Commission (EFCC) said a document showing how N60billion was voted for extraneous overhead expenses for some senators and members of the House of Representatives in the Sixth Assembly.
Omisore was the chairman of the Senate Appropriation Committee between 2007 and 2011.
A source said operatives stumbled on the "budget padding" document in Omisore's bedroom and the former deputy governor of Osun asked EFCC operatives why they were interested in the document.
"In the course of searching Omisore's residence at 1, Kainji Crescent in Maitama, Abuja, we stumbled on a document on budget padding worth about N60 billion for some Senators and House of Representatives," The Nation quoted a source as saying.
There was also an allegation of the Osun prince receiving N2.5billion from the National Assembly.
Governorship ambition
For two consecutive time, he contested and lost the governorship election in Osun. Considering his political influence in Ife in the last election, powerful APC members stormed his residence to persuade him to work with the party, which he did. APC needed his support to win a rerun.
Since then corruption allegation against him has been dropped, technically, he's a member of the ruling All Progressive Congress (APC).
His political future is unknown right now until Osun is due for another governorship election.
READ ALSO: How James Ibori, former Delta governor, who allegedly embezzled over N90 billion almost became Nigerian President
Share your views with us by using the comment box below.