The Ogun State Government has concluded plans to obtain N350 million loan from the World Bank.
Governor of the state, Senator Ibikunle Amosun disclosed this when he received a delegation of the World Bank in government house, Abeokuta, the Ogun State capital.
Furthermore, here are some reactions on social media:
Amosun is enjoying himself in Lagos … He looks sooo happy

— Jubril A. Gawat (@Mr_JAGs) April 24, 2019
I hear gov amosun is about to be given a 350 million dollars loan form world bank! I hope d people of ogun state are not sleeping? They must make sure he does not get that loan o! 2 weeks to d end of his tenure he wants to collect loan? For what? Hian! Smh

— ogie (@marythesa) May 5, 2019
"Barely a month to the end of his administration, the outgoing governor of Ogun State, Ibikunle Amosun, has appointed over 1,000 workers into the state's civil service.

He also promoted 5,000 government workers." https://t.co/DkDwgTeO6c

— Adeola Mary Slessor (@Adeola0503) April 30, 2019
Amosun how will Buhari commission these projects still under construction before May 29th? I am sure you want to clear out some funds. No way these projects can be completed by May end.

— BringBackOurGirls (@amenahuruemu) May 4, 2019
You may recall that DailyAdvent had earlier reported that Amosun had, similarly, appointed over 1,000 workers into the state's Civil Service and promoted 5,000 others barely a month to the end of his tenure.
The loan, according to Amosun, would help create a system-driven environment for business, needed for better welfare of citizens and good governance.
He said his administration would do everything possible to secure the loan, saying the incoming administration already had the support needed to enhance good governance.
He urged the bank's team to fast-track the process for its final approval.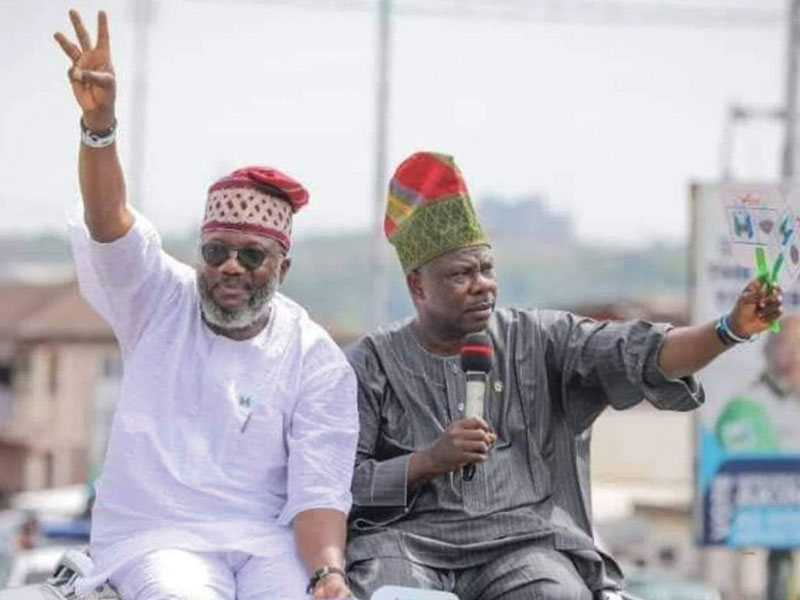 In a related development, Amosun has also directed the full payment of the workers' salary for the month of April 2019 which he said runs to over N20. 2 billions without any deduction.
The governor made the announcement while delivering his speech at the year 2019 Workers' Day celebration held at the M.K.O Abiola International Stadium, Abeokuta, the state capital.
He explained that decision for the approval of the payment was in consonant with his earlier promise that his administration will not leave the state without paying all the workers' salary deductions which included cooperatives, check-off dues, Christmas and "Ileya shillings".
Amosun assured that members of the state workforce would by today (Thursday), begin to receive bank alerts confirming payments of the money, while their statutory leave balance would follow latest seven days after, while gratuity will be paid up till year 2018.
He also hinted that he has given approval for the release of the workers' promotion from year 2015 till year 2017.
Amosun explained that the delay experienced in the release and payments of the deductions and allowances was as a result of the need to also pay the pensioners their entitlements on monthly basis.
The governor however, told the workers not to expect settlements of their contributory pensions, stressing that it was beyond him.
Speaking earlier, chairman of the Trade Union Congress (TUC), Comrade Olubunmi Fajobi pleaded with the governor to evolve a system that would allow workers in the state who, in the course of service, obtained additional professional qualification to enjoy career growth beyond Grade Level 14.
He will hand over to Dapo Abiodun, the governor-elect, on May 29.
Source: Native Reporters