Nigerians have reacted to the recent news that a chieftain of the Peoples Democratic Party (PDP), Senator Adeseye Ogunlewe defected from the party to the ruling All Progressives Congress (APC)
.
News Agency of Nigeria reports that Ogunlewe, a former Minister of Works, confirmed the development in an interview with a political correspondent
.
Here are some of the reactions:
Does he have electoral value again? Can he walk the streets of Ikorodu which he failed to construct when he was Works Min?
Hungry man

— GANTE (@Gante26576479) May 3, 2019
The money he stole has finished, he needs to Join the ruling government before hunger go expose him

— Ejianya George (@EjianyaGeorge) May 3, 2019
This name is not familiar, is he an important person in the party? He may not be missed. The pasture may soon become greener where he has left.

— PottersGate. (@iykenorahs) May 3, 2019
Its about time. lol. now young Ogunlewe can get a political office. Koro style.

— AbdulGaniyy O.M. (@MOBBwc) May 3, 2019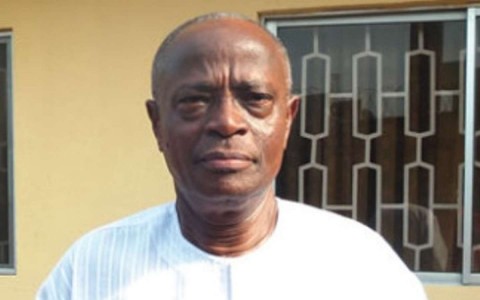 This old fools are busy cross carpeting from one party to another, my observation: they don't give a hood rat about the well being of an average Nigerian. Imagine common Tanzania recently took the Giant of Africa out from their visa on arrival? What are the diplomats doing? ?

— Jedidiah (@toomuchjay) May 3, 2019
All bcos his son has a political ambition which he thinks can only be achieved in Apc esp in lagos…foolish & weak people

— Nuh (@noaholatunde) May 3, 2019
This is no news. The only news is, he was an ex-minister. Joining a party is a survival mode in ??. Do you want him to go hungry? The only person in ?? that may not join winning party is perhaps Thiefnubu because he's still enjoying Lagos. Every other politician will join.

— Mr Right (@OtunMuri) May 3, 2019
Now the hen has come home to roost,just imagine how Adesewa Ogunlewe will be able to face Tinubu considering the way he has been casting aspersion on Jagaban in the past,what a Politics without ideology

— Ayodele Ebenezer (@summitdeetee35) May 3, 2019
He does not want to be probed for corruption welcome to the party that hide criminals

— Godwin peter (@davidpet74) May 3, 2019
Nigeria is just a joke

Not surprising

Won't be surprised either if both Buhari and Jonathan swap party later in future date

— Abu Mannan AoA (@ahmededat) May 3, 2019
Democracy in Nigeria is not all about the people, but about how much I can grab for myself, my family and sometimes relatives. It is a shame that we are not moving forward as a nation. God help us!

— Bidemi Motojesi (@motojesi1110) May 3, 2019
He needs money. For long he has not received any gratification what do you expect from a man who is out of power for such a long time

— Nnaji (@NnajiTheophilu2) May 3, 2019
He is broke, the same man who campaigned for Atiku now cross carpets to APC. These people have no love for the masses they're thieves.

— Steve Oladeji (@cappodefamilia) May 3, 2019
Politicians wont die well, after too much noise that the APC is a bad party and the rest, so he his coming back to join bad party, I dont know weather this people are human.

— Aborisade Peter (@AborisadePeter1) May 3, 2019
He might be broke..APC is the latest shortcut to making money. He will say rubbish twice and his account will be credited.

— Faleye Adebayo (@AdebayoFaleye) May 3, 2019
And some unfortunate individual would have died in the past fighting for these politrician when he was in the opposition. Don't die for these guys I am insistent

— Mike Olusegun Fawole (@olusegun_mike) May 3, 2019
Their trademark these are fair weather politicians, AGP, Any Government in Power
Enemies of the people
Enemies of politics
Enemies of democracy

— nwagaiiy (@rowlxdee) May 3, 2019
Good riddance for bad rubbish. Is only looking for soft landing: Sagamu to Ikorodu road scam on my mind.

— Peace Adedeji (@Peace25273377) May 3, 2019
This is very good for Lagos PDP, they need to get rid of this old idiots and bring in fresh brains, Hope the likes of Bode George and other old PDP members defects to Apc

— Oja Daddi (@RockUnder2) May 3, 2019
We aren't surprised as making them an ally will always be disastrous as they are never stable, speaks from both sides of the mouth and are mostly cowards

— Black Igbo God (@kingikemefuna66) May 3, 2019
He needs an appointment.Selfish politicians.When PDP takes over he will decamp back ,shameless things

— Rony (@Rony37220245) May 3, 2019
What are your thoughts? Let us know in the comments.