The reason God allowed Muhammadu Buhari to emerge as president the second time has been revealed.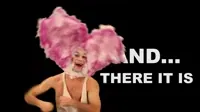 The revelation comes from the Lamido of Adamawa, Alhaji Muhammad Barkindo
Barkindo said that Buhari's re-election was an act of God that would enable the President to complete the anti-corruption war he started when he was the country's military leader.
watch Buhari deny being a clone
The monarch spoke on Sunday when he received members of Wadata Communication Nigeria Ltd, led by the company's Project Manager, Alhaji Zubair Idris in his palace.
"President Muhammadu Buhari's re- election is a will of Almighty God that will enable him complete the good works he started when he was a military ruler, especially the fight against corruption.
"I hope Nigerians will understand the good intention he has for the country, " Lamido said.
The Royal Father narrated how he, who was then the Commissioner of Finance in Gov. Barde's administration, was arrested after the 1983 military coup.
"After my arrest and investigation, they found out that I had not stolen any money and was not involved in any corrupt practices, as such, I was released.
"I want President Muhammadu Buhari to continue with the fight against corruption and may Almighty God guide and protect him," he said.
According to the traditional ruler, any person that has never engaged in shady economic deals should have nothing to fear.
Meanwhile, The Peoples Democratic Party on Sunday alleged that N14tn had been stolen under the All Progressives Congress-led Presidency.
It said the party and President Muhammadu Buhari were desperate to remain in power in order to prevent investigations into the matter.
The PDP National Publicity Secretary, Mr Kola Ologbondiyan, made the allegations in a statement made available to journalists in Abuja.
Ologbondiyan alleged that the stolen money included the N9tn allegedly stolen from the Ministry of Petroleum Resources, as detailed in the leaked Nigerian National Petroleum Corporation's memo; the over N1.4tn alleged oil subsidy sleaze and the N1.1tn worth of crude allegedly diverted using 18 unregistered companies.
He listed others to include the N33bn National Emergency Management Agency fund, and the over N18bn allegedly stolen out of the N48bn approved by the National Assembly in the 2017 budget for the rehabilitation of internally displaced persons in the North-East among others.