Although, the drivers of the recent protests in Africa, and what  their nature is might be unclear; With unending questions like to what extent are these protests providing a meaningful account of socio-economic and political challenges faced by ordinary peoples in the continent? Who and what are behind these protests? And what meaningful political changes, if any, have they brought, subsequent to their 'uprising'?
In this Light, here are some African Leaders that have been forced to step down after spending more 5 years in power and performing below expectations:
Hosni Mubarak
Mubarak stepped down after 18 days of demonstrations during the Egyptian Revolution of 2011. On 11 February 2011, Vice President Omar Suleiman announced that Mubarak had resigned as president and transferred authority to the Supreme Council of the Armed Forces.
Burkina Faso — President Blaise Compaore stepped down Friday after 27 years in power following a wave of protests against his rule.
Burkina Faso Blaise Compaore
For months, an opposition coalition has been urging Compaore not to seek re-election next year, in what would have been his fifth term in power. But Compaore and his ruling party looked set to push a bill through parliament on Thursday that would have allowed him to run again.
South Africa Thabo Mbeki
Is a South African politician who served as the second post-Apartheid President of South Africa from 14 June 1999 to 24 September 2008. On 20 September 2008, with about nine months left in his second term, Mbeki announced his resignation after being recalled by the National Executive Committee of the ANC, following a conclusion by judge C. R. Nicholson of improper interference in the National Prosecuting Authority (NPA), including the prosecution of Jacob Zuma for corruption.
South Africa JACOB ZUMA
Jacob Gedleyihlekisa Zuma is a South African politician who served as the fourth President of South Africa from the 2009 general election until his resignation on 14 February 2018.
On 18 December 2017, Cyril Ramaphosa was elected to succeed Zuma as President of the ANC at the ANC Conference at Nasrec, Johannesburg. Subsequent months saw growing pressure on Zuma to resign as President of South Africa, culminating in the ANC "recalling" him as President of South Africa. Facing a motion of no confidence in parliament, Zuma announced his resignation on 14 February 2018,  and was succeeded by Ramaphosa the next day.
Algeria Abdelaziz Bouteflika
Algeria's ailing president Abdelaziz Bouteflika is finally set to step down from office after 20 years, following several weeks of unprecedented national protests.
Bouteflika, 82, will resign before the end of his tenure—his fourth term —on April 28, according to an official statement by Algeria's state broadcaster.
Amid the protests, Bouteflika's ailing health (he has been confined to a wheelchair since suffering a stroke in 2013) has often been cited because many Algerians believe a cabal of unelected elites close to the president are running the country while he remains largely incapacitated.
Sudan Omar Hassan al-Bashir
The 75-year-old leader has stepped down, according to Reuters, which also reported that consultations were underway to set up a transitional council. Al-Bashir's resignation follows reports from state-controlled television on Thursday (Apr. 10) that said the army would soon make an "important announcement."
Reports have also noted that current and former officials were arrested, that military officers surrounded the presidential palace, that the army had taken over the state TV and radio, and that the main airport in the capital was shut down.
Since coming to power in 1989, the strongman, who is wanted by the International Criminal Court on genocide charges in connection with atrocities in the western Darfur region, has ruled Sudan longer than any other leader since the country gained independence in 1956.
JOSEPH KABILA
After years of uncertainty, president Joseph Kabila of the Democratic Republic of Congo will not run for re-election.
The government announced former interior minister Emmanuel Ramazani Shadary will be the nominee for the ruling coalition's party in the upcoming December polls.
It ends speculation over whether Kabila would run again or who would replace him as leader of the central African nation if he stepped down.
Libya Muammar Gaddafi
Muammar Mohammed Abu Minyar Gaddafi (1942 – 20 October 2011), commonly known as Colonel Gaddafi, was a Libyan revolutionary, politician, and political theorist.
He governed Libya as Revolutionary Chairman of the Libyan Arab Republic from 1969 to 1977, and then as the "Brotherly Leader" of the Great Socialist People's Libyan Arab Jamahiriya from 1977 to 2011.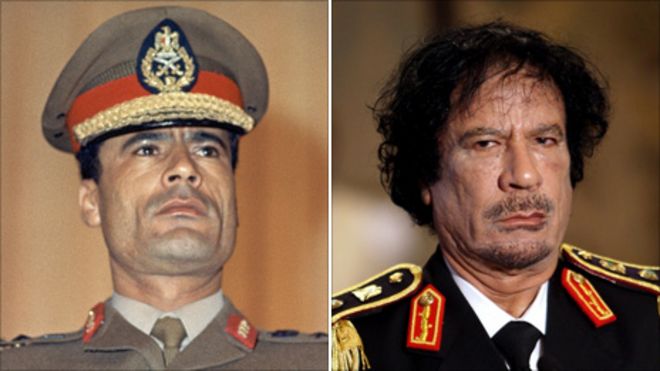 He was initially ideologically committed to Arab nationalism and Arab socialism but later ruled according to his own Third International Theory.
Nigeria Military President (Muhammadu Buhari)
Muhammadu Buhari GCFR (born 17 December 1942) is a Nigerian politician currently serving as the President of Nigeria, in office since 2015. He is a retired major general in the Nigerian Army and previously served as the nation's head of state from 31 December 1983 to 27 August 1985, after taking power in a military coup d'état. The term Buharism is ascribed to the Buhari military government.
In August 1985, Major General Buhari was overthrown in a coup led by General Ibrahim Babangida and other members of the ruling Supreme Military Council (SMC).Babangida brought many of Buhari's most vocal critics into his administration, including Fela Kuti's brother Olikoye Ransome-Kuti, a doctor who had led a strike against Buhari to protest declining health care services. Buhari was then detained in Benin City until 1988.
Source: Wikipedia