Although the revenue potential in mining is huge, federal government's  oversight has been weak and international support is not clear. There have been calls for More transparency in the sector, so that the mistakes made in the Niger Delta are not repeated in Zamfara.
Those saying Zamfara people deserve what they are getting because they voted Buhari do not care for humanity or any collective progress. It is the height of evil to suggest people deserve to die because they voted differently from you. Not to mention those who voted your choice.

— JJ. Omojuwa (@Omojuwa) April 7, 2019
READ ALSO: APGA National Leader Bares It All, Reveals The Only Way Igbos Could Have Won Hearts Of Buhari And Nigerians
Moreover, Bandits have been attacking villages in Zamfara for almost two years now Hundreds have been killed while several others have been kidnapped for ransom. The bandits also often destroy houses and properties of villagers.
Nigerians staged protest marches in Abuja and other cities on Saturday demanding urgent action to end killings by the bandits.
Credit to @KadariaAhmed and Co for calling attention to the Zamfara killings not just trending on Twitter but forcing the authorities on their toes. Whoever cares for anything other than for the killings to stop is an enemy of humanity!

— JJ. Omojuwa (@Omojuwa) April 7, 2019
Following the protests, President Muhammadu Buhari said ending banditry remains a priority of his administration and he would do whatever it takes to save lives.
He, however, called on Nigerians not to politicise the matter.
Nigerians like conspiracy theories. Some people now want to reduce the violence in Zamfara to "gold mining." This simplistic explanation ignores the high rate of poverty and many years of bad governance in the state. Gold mining might be a factor, but there are other factors too.

— Dr. Aminu Gamawa (@aminugamawa) April 7, 2019
"The decision to ban mining and sack foreigners from sites was revealed by the acting Inspector General of Police (IGP), Mohammed Adamu, on Sunday while briefing State House correspondents in Abuja."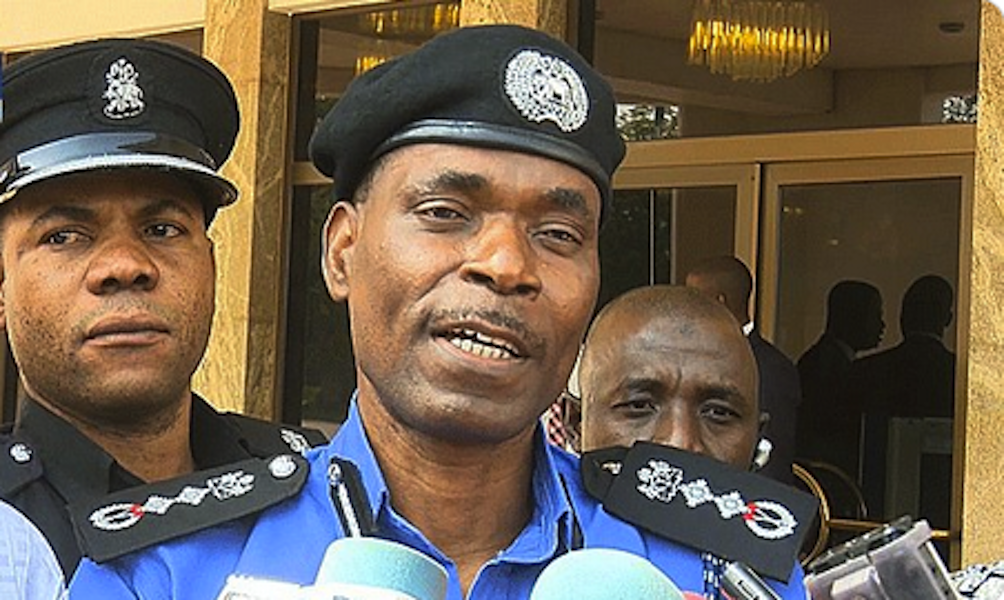 Mr Adamu said the government took the measure because intelligence reports "clearly established a strong and glaring nexus between the activities of armed bandits and illicit miners -with both mutually re-enforcing each other".
Announcing that mining activities in Zamfara and other affected states are suspended with immediate effect, the IGP said: "any mining operator who engages in mining activities in the affected locations henceforth will have his licence revoked".
He also said: " all foreigners operating in the mining fields should close and leave within 48hours".
The Police boss assure the general public, especially in the affected areas, that the security services are doing their best to address the situation.
Ending banditry
Mr Mohammed said as part of "sustained efforts to flush out, and permanently put an end to armed banditry and criminality in Zamfara State" in particular and the North West in general, the Nigeria Police in collaboration with the Nigerian Military and other Security Services have commenced "Operation PUFF- ADDER", which, he said, is a full-scale security offensive against the bandits.
He said the operation is aimed at reclaiming every public space under the control of the bandits and to arrest and bring to book all perpetrators of violence in the area and their collaborators.
The IGP said the operation also aims to achieve "total destruction of all criminal camps and hideouts, mop up all illicit weapons fueling the violence and attain a full restoration of law and order in the affected communities".
"Our commitment at protecting the sanctity of life and property is irrevocable, and we will not scale-down the pressure on the armed bandits until they are totally flushed-out," he said.
The Police boss appealed for the cooperation of local communities, especially the traditional and religious leaders within such communities.