UNKNOWN to many, the Speaker of the House of Representatives, Yakubu Dogara, had set for himself a political Everest to climb. He is nursing the ambition of retaining his current position in the 9th Assembly in spite of the dismal performance of his party, the PDP in the National Assembly election.  How he intends to accomplish this remains a mystery, considering that the Peoples Democratic Party (PDP), on whose platform he has won a return ticket to the House, is clearly outnumbered by members of the House elected on the platform of the All Progressives Congress (APC).
Dogara had emerged as the Speaker of the Eighth Assembly in 2015 against Hon. Femi Gbajabiamila, the preferred candidate of the APC, the party to which Dogara also belonged. He had achieved the feat by enlisting the support of the 123 members from the Peoples Democratic Party (PDP) and some lawmakers from APC and other parties to beat Gbajabiamila with eight votes. Dogara scored 182 votes while Ggajabiamila polled 174.
But the odds would seem to stark against Dogara more now than they did in 2015, considering the wide margin between the number of APC lawmakers and that of PDP in the House. But the optimist that he is, Dogara believes he can still pull through. He can still count on the support of Alhaji Atiku Abubakar and Governor Aminu Tambuwal who both rallied support for him in 2015 as fellow APC members and are incidentally in PDP with Dogara now.
Already, the PDP has declared that there is nothing that stops them from presenting a candidate for the Speaker's seat. Their plan, like in 2015, is to woo over some members of APC in the House. How they intend to do that this time around, no one knows.
A PDP insider says "when the come comes to become," apologies to the late K.O Mbadiwe, money will play a major role. Another PDP top shot quipped: "We saw the power of money at the PDP presidential primaries in Port Harcourt last year, the power is still there."
Reminded that the APC could match them Naira for Naira, he quoted Senator Godswill Akpabio: "What money cannot get, more money will get."
Asked if we are to watch out for Naira rain, he said "anything can happen."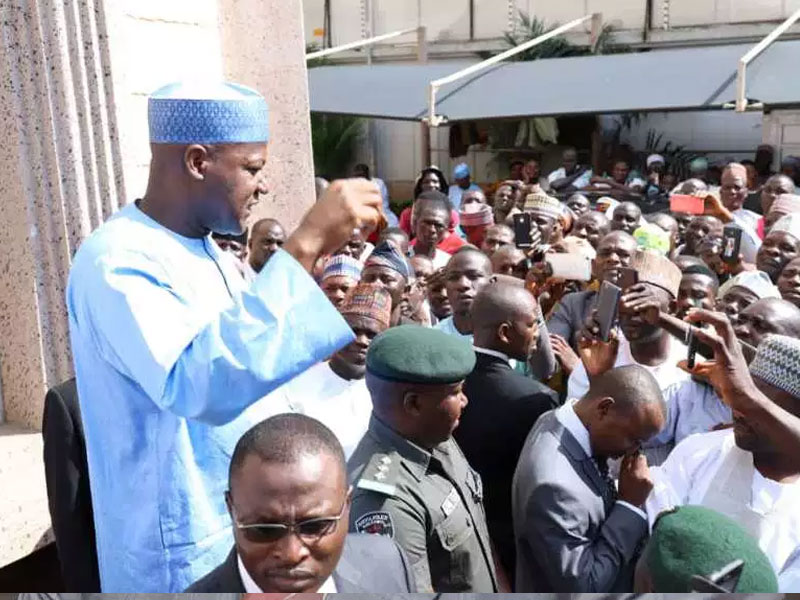 "With money, anybody can climb to the top of any political Everest," he added.
What an interesting race it promises to be.