The Adamawa State chapter of the All Progressives Congress (APC) has pulled back from its decision and has set out to take part in Thursday's supplementary governorship elections in the state.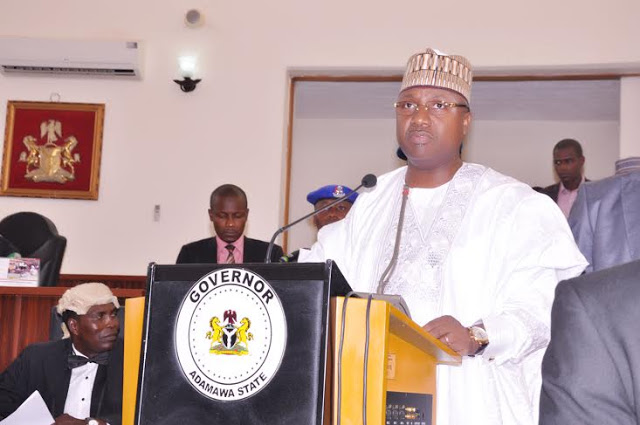 APC lost four states; Bauchi, Adamawa, Oyo and Imo while PDP lost only two states, Gombe and Kwara.

Some still believe PMB is using federal might

Some people need brain resting

— Hassan (@DaddyteeHassan) March 25, 2019
APC had, through the state Organizing Secretary, Alhaji Ahmed Lawan, took steps to blacklist the March 28 elections asserting that the party was not consulted before another date was fixed for the poll.
READ ALSO: 9th Senate Saga: Orji Kalu Bares It All In Fresh Interview, Reveals His Edgy Position As APC Bigwigs Pull Weight Behind Lawan
Moreover, it stated that the date fixed by the Independent National Electoral Commission (INEC) being a working day may disappoint laborers and students.
Now that @APCNigeria has lost Sokoto, Bauchi, Benue, Oyo, Imo, Adamawa HOA, almost lost Zamfara, had to rob Kano (TEMPORARILY), it may locate who its true lovers are: those saying "Hey! Retrace your steps" or those who blinded-folded it and hailed it to walk into the ??

— Audu Bulama Bukarti (@bulamabukarti) March 26, 2019
However, in another unforeseen development, the state Publicity Secretary of the party , Mohammed Abubakar, told newsmen on Wednesday in Yola that the party has formally held up an objection over the planning of the decision and has set out to participate.
Going ahead to call Adamawa for PDP, it means PDP retrieved 6 States that the APC won in 2015

Adamawa
Bauchi
Benue
Oyo
Imo
Sokoto

APC retieved 1 State that PDP won in 2015

Gombe.

Kwara was APC in 2015. Remains APC in 2019. Doesn't count.

— Sam Hart (@hartng) March 26, 2019
"We have lodge our complain and whatever the outcome we will participate," Abubakar said.
He reiterated the commitment of the party to peaceful election and urged party supporters to turn out massively and vote for its candidate.
INEC said Adamawa rerun is on 28/3/2019. Hope @PoliceNG,APC & INEC will not dispatch some DIGs to stage a Kano style show.

— John Danfulani (@john_danfulani) March 26, 2019
The supplementary election will hold in 44 polling units in 14 Local Governments Areas (LGAs) across the state.
All eyes today on Adamawa State where PDP is in the lead electorally but the shenanigans of INEC and APC is yet a problem, this time aided by an unforeseen problem of the omission of MRDD and its gubernatorial candidate, Rev. Eric Theman from the ballot – valid, but not for now.

— Demola Olarewaju (@DemolaRewaju) March 26, 2019
The state governorship election was declared inconclusive and the supplementary poll could not hold on March 23, due to a court order that was vacated on Tuesday.