On Monday night, anti-riot policemen stormed he venue of the results collation for the re-run elections which took place in Tafawa Balewa Local Government Area of Bauchi and unleashed teargas canisters on party agents and journalists causing panic and confusion
.
As at the time of this report, the reason for the action by the policemen which affect staff of the Independent National Electoral Commission (INEC), remains clear but it had fuelled suspicion as agents of the two leading political parties, journalists and INEC personnel discussed the issue amidst cursing and jeers
.
Recall that the European Union Election Observation Mission (EU EOM) released a statement raising concerns over cases of violence in the
just
concluded supplementary elections in parts of Kano, Bauchi and Benue States
.
According to Daily Post, its press officer, Sarah Fradgley, released the statement which said there was violence and intimidation of voters during Saturday's rerun
.
Part of the statement read:
"In Nasarawa local government area in Kano, which accounted for approximately one-third of all registered voters for the supplementary governorship election, EU observers

witnessed

organised intimidation of voters

.

For example, groups of youths with clubs and machetes patrolled the streets, and people with party agent tags harassed voters

.

During collation in Kano, EU observers saw that several INEC polling staff had

been attacked

. Large groups of men with weapons were not contained by the police.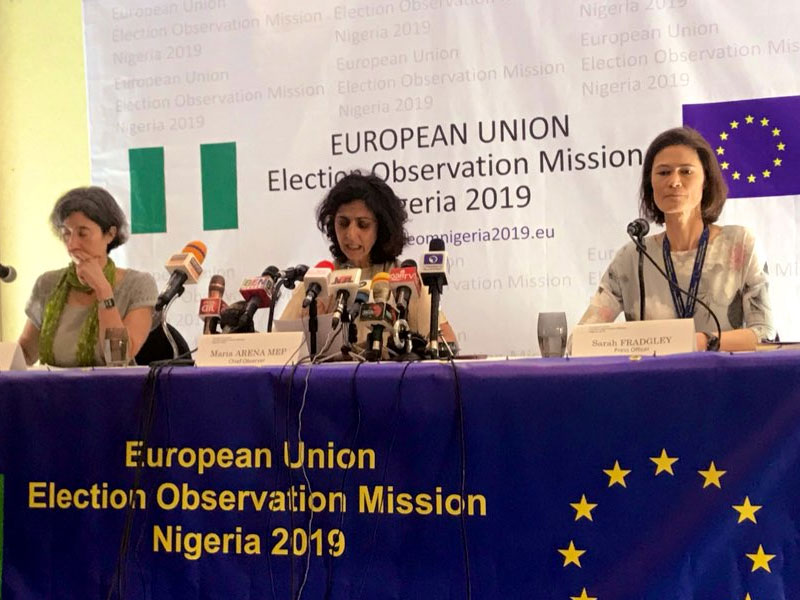 "Due to intimidating crowds and disturbances, EU observers in Kano could not access or continue observation in polling units in Dala and Nasarawa LGAs

.

The electoral process in Kano was further compromised by the harassment and obstruction of citizen observers, and journalists from BBC Hausa, the Nigerian Television Authority (NTA), and TVC

.

This compromised scrutiny of both polling and collation of results in the affected areas

. Isolated violent incidents also disrupted voting and counting in other states.

In Bauchi, EU observers

witnessed

around 50 people with clubs disrupting counting in one polling unit

.
"In Benue, election materials were burnt, resulting in the cancellation of polling affecting 13,000 registered voters, and a collation officer carrying result sheets

was shot

in the leg

. Party agents

were seen

to interfere more in the process than on the previous two election days. Some polling units in Kano

were dominated by

controlling party agents and supporters.

Of the 40 polling units that EU teams could

fully

observe, agents were present in all and in five cases

were seen

interfering in the work of polling officials, in Benue, Plateau and Sokoto

.

EU observers in all five states also saw party agents trying to influence voters, assisting voters or voting on their behalf

. 
Supporters and agents were sometimes present in polling units in excessive numbers, resulting in overcrowding

.

EU observers also saw vote-buying in Sokoto by both the leading parties, and indications of vote-buying in Kano

.

Citizen observers also reported party agents involved in vote-buying, and bribery of polling staff and police

."
What are your thoughts? Let us know in the comments.