Members of a group known as Occupy Nigeria yesterday protested at the Unity Fountain, Abuja. They demanded that the Independent National Electoral Commission (INEC) reverse the issuance of a certificate of return to President Muhammadu Buhari who was declared the winner of the recent presidential election.
"What happened during this election has never happened in the history of this country. They are celebrating criminality, they are celebrating evil. Our leaders are not talking and if you don't speak against evil, it will consume everybody. The National Peace Committee is not saying anything."INEC and its ad-hoc staff were intimidated and everyone is quiet. If nothing is done, we will nosedive and go deeper and deeper in this situation we have found ourselves.
"No matter the propaganda of APC, we will seek justice till the last drop of our blood. We believe justice will be done and God almighty will give justice," the PDP chairman said.
Those in attendance at the PDP's expanded caucus meeting included Atiku; Deputy Senate President, Ike Ekweremadu; Senator Dino Melaye; Senator Philip Aduda; former deputy Senate president, Ibrahim Mantu; PDP Board of Trustees chairman, Wali Jibril; former governor of Kogi State, Idris Wada and other members of the PDP national working committee.
The Senate President, Dr. Bukola Saraki; Speaker of the House of Representatives, Yakubu Dogara; running mate to Atiku, Peter Obi and all the governors of the PDP-controlled states were absent . Meanwhile, President Buhari has decried what he considered as the robbery of the votes of Akwa Ibom people during the presidential and National Assembly elections, assuring his supporters that they would be reclaimed.He made the claim yesterday in Uyo, Akwa Ibom State during a town hall meeting to thank the people for casting their votes for the APC.
Buhari, who was represented by Vice President Yemi Osinbajo, encouraged the people to defend their votes during the governorship and House of Assembly elections.He stated that it was not possible for Senator Godswill Akpabio to have lost the elections, alleging that INEC robbed him and his party of victory, and that all the wrongs that were allegedly done during the elections would be addressed.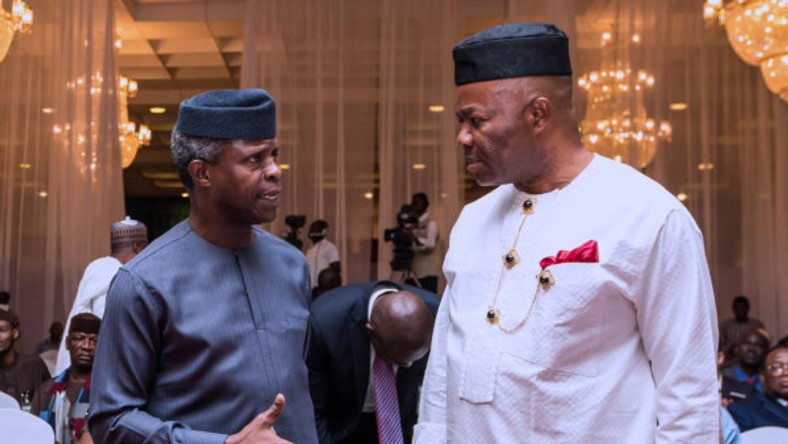 "What happened on the 23rd of February was robbery. The votes of the people were stolen but we are not deterred. The president sent me to thank you today. We are going to make sure that everything that was stolen on the 23rd February is restored.
"It is not possible that Akpabio lost. We are in no doubt that Akpabio is the elected senator of Akwa Ibom North West senatorial district. I and Adams Oshiomhole, the National Chairman of APC have been in the opposition for long and we cannot be defeated anymore.
Source:Guardian