All Progressives Congress (APC) national leader, Bola Tinubu, has said the second term of President Muhammadu Buhari would be dedicated to changing the structure of the economy for the better. The APC chief also said the objective of the ruling party was to remake Nigeria into a great nation. "We must amend our national economic architecture to unlock the full potentials of our people and our land. To me, this is the core mandate of government for and of the people," Tinubu said.
"Throughout the campaign, we have talked about taking Nigeria to the Next Level. To me, this Next Level is informed by forging a new partnership between government and the governed to create a more just and prosperous economy for all. The beginning of this new partnership is already taking shape. As stated before, we have initiated a first phase of social welfare programmes," he added. "Our vision is the opposite of theirs, Unlike the PDP, we, the APC, are anchored to the proposition that every Nigerian is entitled to equal access and sufficient economic opportunity so that he may use his talents, skills and committed exertion to carve for himself and his loved ones the decent and good life every human being seeks. The ordinary person is not to be shortchanged of the fair dividends of his honest sweat and diligent labour simply because he may be poor or because the powerful and wealthy want more," Tinubu said.
The former Lagos State governor also urged the people of South West to join APC in implementing the Next Level agenda. "The South West has always been at the vanguard of progressive governance in Nigeria. Today should be no exception to this historic role we have played. I ask the people of the South West to join the APC so that we attain the Next Level by implementing this bold and good new partnership built on the following pillars: power, infrastructure, housing, industrialisation, agriculture and social security," he said.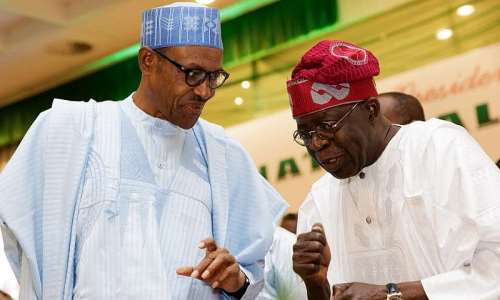 Tinubu also said the coming elections were a choice between progress and retreat. "The future is uncertain until we enter it. Feb. 16 is Election Day and on that day Nigeria shall step into its future. How you vote on that day will determine whether we walk into the future in a manner that guides our subsequent steps toward the national greatness that calls to us or will we walk into it backwards as if feebly trying to reinvent the past. One road leads to a certain replay of the economic injustices of the past. It is a road well-worn with familiar pitfalls and setbacks built into the very nature of it. The other road provides the truest, brightest chance for us to enter into our hopeful future but only if we are brave enough to believe in our capacity to improve our nation," he said. (NAN)