A securities filing has shown that Brazil's Embraer SA and partner firm of Sierra Nevada Corp have received an order for 12 A-29 Super Tucano military aircraft from the Nigerian Air Force (NAF).
The filing revealed that the NAF will use the airplanes in tactical operations, especially in the Boko Haram insurgent areas.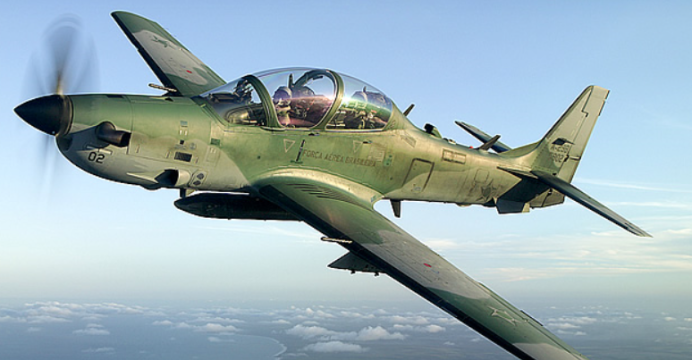 According to Reuters, the planes will be manufactured by Embraer in Jacksonville, Florida, and customized by Sierra Nevada at its Centennial plant in Colorado.
Meanwhile, the Chief of Air Staff, Air Marshal Sadique Abubakar, disclosed yesterday that the NAF recently acquired 22 new aircraft to support various ongoing military operations across the country.
Abubakar made this disclosure while declaring open the NAF Finance Training Workshop with the theme 'Strengthening the NAF Finance Specialty for Efficient Service Delivery in Support of NAF Operations', at the NAF Headquarters, Abuja.
He said that as at July 2015, the aircraft serviceability status of the Nigerian Air Force was below 60 percent, but as at date, the aircraft serviceability status has improved beyond 80 percent.
The Air Chief, who was represented by the Chief of Policy and Plans, AVM Mohammad Mohammad, said the NAF was able to deploy its platforms in support of military operations through prudent management of resources.
He said that NAF was not only striving to improve on the present status, but has complied with measures put in place by the present administration of President Muhammadu Buhari to ensure transparency and accountability in governance.
According to him, in line with the anti-corruption drive of Mr. President, Commander-in-Chief, the NAF has complied with measures put in place by the Federal Government to aid transparency in government's financial transactions.
"This measure include the Treasury Single Account, Government Integrated Financial Management Information System, and the ongoing biometric data capture for the Integrated Personnel and Payroll Information System, just to mention a few. The recent feats achieved by the service cost a lot of money. For the government to continue providing the necessary funds to support Nigerian Air Force operations, it behooves on you to continue to maintain high level of integrity as finance personnel in the management of these public funds."
Feel free to leave your comment on the story