Recently, the Presidential candidate of the Peoples Democratic Party (PDP), Atiku Abubakar has was swamped by a wave of endorsement by several groups across the country. Nearly every major socio-cultural, socio-political group in the country decided to pitch their tent with the former Vice President's ambition to replace Buhari as Commander in Chief.
Reacting to the news, an emotional Atiku stated that he was moved to tears by the gesture of the groups, he promised not to disappoint them if e manage to secure the presidency.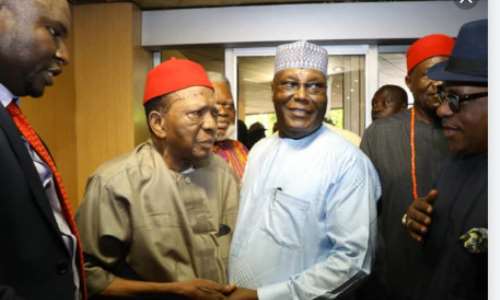 "I am moved to tears that in the midst of deep divisions and deliberate use of instrumentalities of state to set our people against themselves in the last three and a half years, responsible and respected leaders across Nigeria have agreed to come together for the purpose of endorsing my candidature for the February 16, 2019 presidential election.
"I profusely thank our leaders across the country who have created this wonderful moment for us to come to the table of brotherhood. Once again, and in the words of our old National Anthem, we can proudly sing: 'Though tribes and tongues may differ, in brotherhood we stand.'
"This has buoyed me to lead a Pan-Nigerian team that will give a practical interpretation to what has been done by the time I take leadership of our country, by the grace of Allah, on May 29, 2019," Atiku said.
However, Atiku seems not to have everything inside the bag yet. The former Vice President particularly has issues with members of a particular Niger Delta group that endorsed him. Members of the Pan Niger Delta Forum (PANDEF), one of the groups whose name was also included amont those to that endorse Atiku is currently experiencing internal rancour due to the decision.
Members and youth of the group have accused some elders in their midst of jumping to the side of the PDP candidate due to financial inducement. They claim that no consultation was made before the declaration of support for Atiku and it is obvious that the move was geared towards favouring some individuals, those they claim to belong to a dying generation.
Speaking on the matter, PANDEF Chief Sara-Igbe Anabs, said:
"The leader can say anything, but it should be on record that PANDEF has not met to take any such decision. As far as I am concerned, we have not met as a body and besides, the constitution of PANDEF bans the forum from being partisan."
The leaders of PANDEF youth wing also insists that Atiku's endorsement cannot stand and he will not get the full support of the group come Febrary 16. The Youth Cordinators, General' Don Ben and Abule Ateh, said in a statement that the body was not political, the statement reads:
"PANDEF never endorsed Atiku, because what you saw is a bunch of old dying generation elders that lack integrity. PANDEF is a well organized body, made up of a very well enlightened people cut across the whole of Niger Delta states.
"PANDEF has a constitution. We are apolitical; it's just a bunch of old men who collected money from Atiku and Obi, trying to fill their pockets, even when they are dying.
"PANDEF never had any meeting, or Congress, where we agreed to endorse any political party. What they did, was just some few greedy old dying men lack integrity; that's what happened.
"It's very very clear. I am an APC member, but I've never used PANDEF at any point, because we know that the constitution says that we should be apolitical. We have the rights to support whatever political party, but to not to endorse any person or candidate.
"The few people you saw there are just bunch of like minds. Chief E.K. Clark, the chairman of PANDEF, some other PDP members who are there, who feel that they are losing the election, felt they wanted to use regional bodies to advocate for votes, but they will fail.
"PANDEF has not met. We never had a congress at any time to decide such endorsement. It was a bunch of greedy old people."
"They are aware that they have disgraced themselves, and as far as I am concerned, they can never gather in any place. This bunch of elders; they can never gather, and they don't have what it takes to gather.
"Every time they are in government, they want to eat from government money freely. That's why our state governors cannot even develop our states, because when they just give these few elderly people some money, then they (elders) go to the press, and make statements in support of such government.
"That is why the Niger Delta region is still lagging behind in development. They are gullible elders without any self dignity."
Please share your views in the comment section.