All Progressives Congress (APC) on Tuesday said the former Kano state governor Rabiu Kwankwaso and opposition People's Democratic Party (PDP) cannot affect the chances of president Muhammadu Buhari's re-election in the 2019 presidential election
.
The ruling party also berated Kwankwaso, the immediate past governor of the state who is currently in the opposition party, PDP
.
Kwankwaso, a grassroots politician in Kano, was a factor in Buhari
being elected
president in 2015 but has left the APC for the PDP
.
The northwest region of Nigeria had the highest number of votes – over 7 million for president Buhari in 2015
.
Kano state out of six other state Zamfara, Kebbi, Katsina, Sokoto, Kaduna, Jigawa in the region polled close to 2 million votes for the president in 2015
.
Currently, Kwankwaso is supporting a former vice president and PDP presidential candidate, Atiku Abubakar against Buhari
. But the APC believes it would not affect Buhari's chance in next year's election.
Despite losing some key members of the party in the major Northwest state, Issa-Onilu said: "the Northwest is safe, and we are so certain that more than 2015, we are going to pull more votes for Buhari
."
"He (Kwankwaso) is a diminishing factor, he is continuing to lose relevance in Kano. Kano is our very stronghold.
And one of our major constituencies and we are certain we are gonna pull more votes than in 2015 in Kano," APC spokesman Lanre Issa-Onilu said in an interview on Arise TV
.
Issa-Onilu said, "It is much obvious that besides the fact that president Buhari is much loved in that state, the present APC government there has done so well
. The ordinary people there (in Kano) cannot
be deceived
."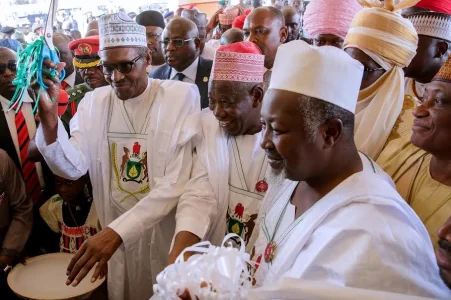 Although current Kano state governor Umar Ganduje is facing allegations of corruption after he was allegedly caught on camera taking a bribe in dollars from a contractor, Issa-Onilu said Ganduje's performance would guarantee votes for Buhari
.
"When need to be careful when talking about the video, because this is in court. What people know is that the APC governor in Kano has done so well," Issa-Onilu said.
What are your thoughts on this story?