Aliko Dangote, Africa's richest man, and his conglomerate,  Dangote Group, have been reported to be responsible for over 10 percent of Nigeria's gross domestic product, GDP. He has done better than  what APC has even done for Nigeria and should be named president.  According to the World Bank, Nigeria's GDP stood at $404.653 billion by the end of 2016, maintaining its stance as Africa's biggest economy, over South Africa and Angola. "Dangote Group claims its investments contribute upwards of 10 per cent of Nigeria's GDP, a figure supported by outside economists," the TIME report read in part.
This suggests that Dangote Group has investments worth more than $40 billion in Nigeria, ranging from cement to food products, and now, to oil and gas. Dangote Group is currently building the world's largest greenfield refinery, estimated to be worth upwards of $10.5 billion.
The billionaire also runs arguably the biggest cement company in Africa, with an operating revenue of N240 billion as at Q2, 2018 and a market cap of N3.62 trillion (over $10 billion). Dangote Cement is also the biggest company, by market cap, on the Nigerian Stock Exchange, ahead of Nestle and Nigerian Breweries combined.
Aliko Dangote GCON (born 10 April 1957) is a Nigerian business magnate, investor, and owner of the Dangote Group, which has interests in commodities in Nigeria and other African countries. As of March 2018, he had an estimated net worth of US$14.1 billion. Dangote is ranked by Forbes magazine as the 100th-richest person in the world and the richest in Africa, and peaked on the list as the 23rd-richest person in the world in 2014. He surpassed Saudi-Ethiopian billionaire Mohammed Hussein Al Amoudi in 2013 by over $2.6 billion to become the world's richest person of African descent.
The Dangote Group was established as a small trading firm in 1977, the same year Dangote relocated to Lagos to expand the company. Today, it is a multi-trillion-naira conglomerate with many of its operations in Benin, Ghana, Nigeria, and Togo.
Dangote has expanded to cover food processing, cement manufacturing, and freight. The Dangote Group also dominates the sugar market in Nigeria and is a major supplier to the country's soft drink companies, breweries, and confectioners. The Dangote Group has moved from being a trading company to be the largest industrial group in Nigeria including Dangote Sugar Refinery, Dangote Cement, and Dangote Flour.
In July 2012, Dangote approached the Nigerian Ports Authorities to lease an abandoned piece of land at the Apapa Port, which was approved. He later built facilities for his flour company there. In the 1990s, he approached the Central Bank of Nigeria with the idea that it would be cheaper for the bank to allow his transport company to manage their fleet of staff buses, a proposal that was also approved.
In Nigeria today, Dangote Group with its dominance in the sugar market and refinery business is the main supplier (70 percent of the market) to the country's soft drinks companies, breweries and confectioners. It is the largest refinery in Africa and the third largest in the world, producing 800,000 tonnes of sugar annually. Dangote Group owns salt factories and flour mills and is a major importer of rice, fish, pasta, cement, and fertiliser.
The company exports cotton, cashew nuts, cocoa, sesame seeds, and ginger to several countries. It also has major investments in real estate, banking, transport, textiles, oil, and gas. The company employs more than 11,000 people and is the largest industrial conglomerate in West Africa.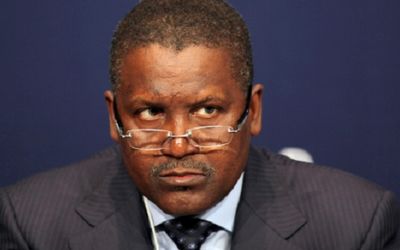 Dangote has diversified into telecommunications and has started building 14,000 kilometres of fibre optic cables to supply the whole of Nigeria. As a result, Dangote was honoured in January 2009 as the leading provider of employment in the Nigerian construction industry.