On Monday, another devastating violence
was wreaked
out in Karu, one of the
densely
populated suburbs of the capital city of Nigeria, Abuja
.
Witnesses revealed that at least 16 people have
been killed
and scores wounded, after Shiite protesters attempted to break a barricade of the Nigerian Soldiers, around the flyover, in Karu
.
While some of the deceased died after
being rammed by
cars driven by panic drivers, most of them
were hit by
Nigerian Soldiers' bullets, allegedly, which they reportedly rained on the protesters and passersby
indiscriminately
, some witnesses said
.
"They have killed about 16 to 22 people", a witness in the neighbourhood disclosed, on Monday night.
"Bodies are everywhere, they are everywhere, without anyone even attempting to evacuate them."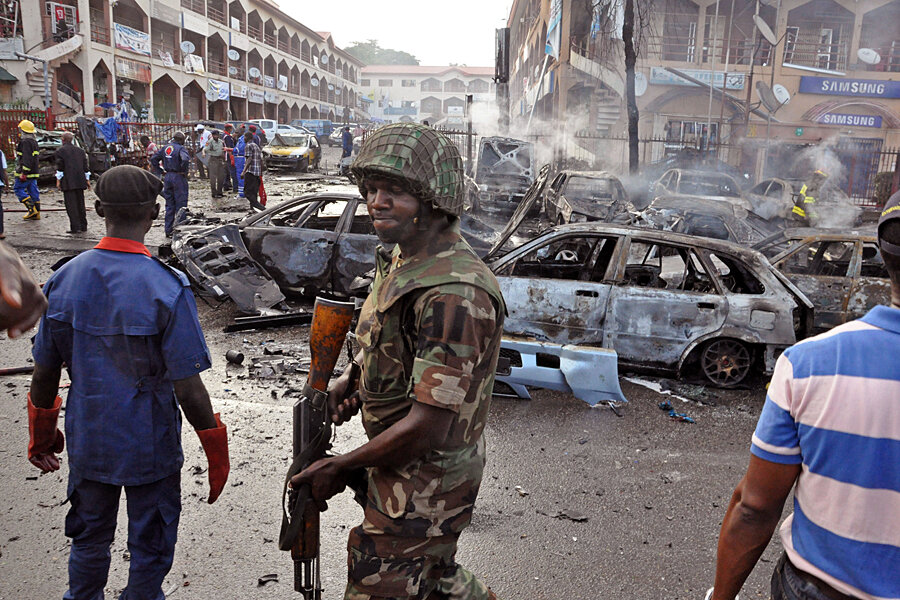 A witness stated that the Soldiers are responsible for most of the deaths, attributing only about four to persons rammed by speeding vehicles, or an elderly woman who fell and hit her head against the median, while scampering for safety
.
"Yes, the Soldiers were killing the people, they said they wanted to break their barricade near the overhead bridge in Karu", another witness said
separately
.
"I cannot say how many people
were killed
, but they are so many dead bodies still on the main road and streets."
The witness also said that the protesters were not armed with guns and live ammunition, stating that, "only the Soldiers were carrying guns
."
The first witness pointed out that about 3 dead bodies that
were taken
to a Muslim burial ground in Karu,
were rejected
, because they
were suspected
as being Shiite members
.
"They
were taken
there to bury as Muslims, but the people in charge said they cannot
be buried
, because they were not Muslims, they were Shiites", the witness said
.
Other witnesses stated that the entire Karu axis has been on lock down after the violence broke out.
Residents in the area are now finding it difficult to return home after closing from their workplaces in downtown, Abuja
.
It remained unclear
however
, when normalcy would return to the area.