More facts have emerged of how the deadliest terrorist organisation in Nigeria Boko Haram broke into at least six factions.
One of such factions is the Islamic State in West Africa (ISWAP). The dreaded groups operate majorly in the Northeast, Nigeria, and also active in Chad and northern Cameroon.
In an exclusive interview with our correspondents, the founder of Al'amin Foundation for Peace and Development Hajia Hamsatu Al'amin revealed that different ideologies within the deadly group led to factions.
In the explosive interview, she narrated how the crisis started within the dreaded Boko Haram group, "When Boko Haram emerge, these boys can recite the Quran, they impress the common man because they have the Quran in their head so they can preach and speak Arabic, people see them as people who know the Quran but then, went against the Quran instead and start calling other Muslims infidels.
"One of the leaders of the factions released two audiotapes in Kanuri which highlights why they decided to break away from Boko Haram."
Hajia Allamin said Boko Haram is regarded as Awari, "the Awari are the first decedents, the first rebels against the religion of Islam even during the time of the prophet."
Hajia Al'amin who is the winner of the 2016 Joan B. Kroc Institute for Peace and Justice's Women Peacemakers stated that a faction of the group began to see fellow Muslims as infidels "as log you don't agree with their ideology" saying they see infidels as those they could kill and take their property.
According to her, ideology differences made some of the members to disagree with what Abubakar Shekau does, "insisting it is against Islam to call fellow Muslims Infidels, killing people indiscriminately and then introducing a system that is contrary to what the religion preaches.
"So they broke away as a result of that, after breaking away from Shekau, they adopted a liberal faction."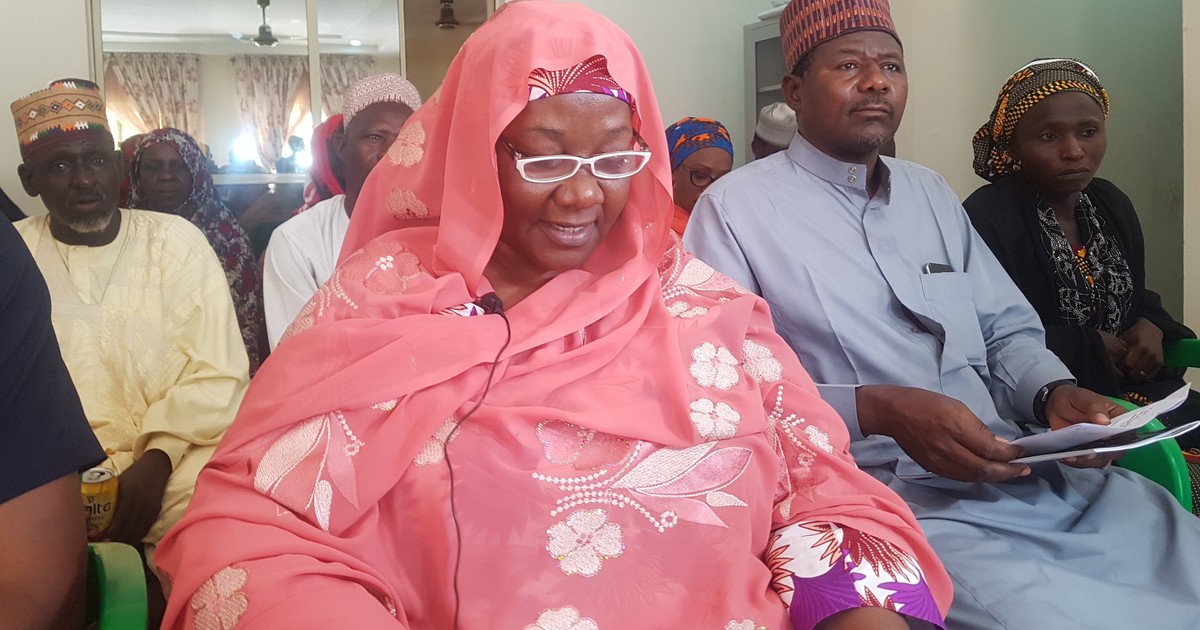 Today, those who are not well informed about the activities of Boko Haram may find it extremely difficult to differentiate between factions in the terrorist group, but Hajia Allamin pointed out that those who disagree with Shekau relocated to the Lake Chad area.
"This faction moved from the Sambisa Forest to the Lake Chad region, they created their own community within the Lake Chad area, they occupy the area and called it Daula, Daula mean empire in Arabic."
Pathetically, there was another misunderstanding within the new faction, Al'amin revealed that the leader of the new faction who was seen as being too liberal was eliminated by his followers.
"The leader of the faction who is seen to be liberal, who had negotiated with the government for the release of the Dapchi girls was maybe seen to be too liberal and he was eventually eliminated."
Contrary to several reports that the ISWAP members are the ones wreaking havoc on the North-Eastern states, Hajia Al'amin said, "ISWAP doesn't seem to be in control, because when they were in control, they only attack the military, they did not touch civilians, but these boys now go after civilians raping girls and stealing animals."
She called on President Muhammadu Buhari and the APC-led government to salvage the situation because "it is the ordinary people that are suffering, I get pictures of women with their ears cut off, people are crying for help and this is not being reported."