Again, Tinubu jets out of Nigeria weeks after returning from Europe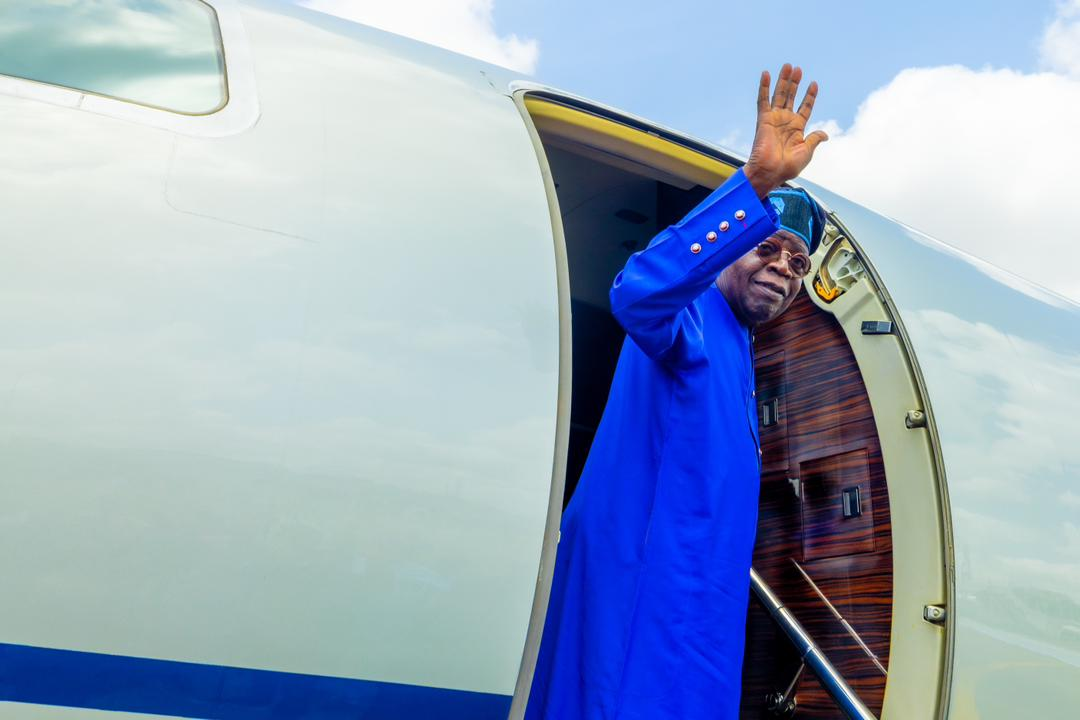 Two weeks after he returned to the country from a trip which saw him visiting London, Saudi Arabia and Paris, President-elect, Bola Tinubu on Wednesday afternoon left Nigeria for Europe. The visit, Vanguard gathered, is part of his efforts to fine-tune the transition plans and programmes, and his policy options with some of his key aides.
According to a statement from the Office of the President-elect signed by Tunde Rahman, the trip became necessary to allow Tinubu carry out some tasks without unnecessary pressure and distractions. "He will use the opportunity of the trip to finetune the transition plans and programmes, and his policy options with some of his key aides without unnecessary pressures and distractions.
"During the visit, the President-elect will engage with investors and other key allies with the goal of marketing investment opportunities in the country and his administration's readiness to enable a business-friendly climate through policies and regulations", he stated. The statement noted that already, meetings with multi-sectoral actors in Europe's business community including manufacturing, agriculture, tech and energy have been lined up.
"Asíwájú Tinubu hopes to convince them of Nigeria's readiness to do business under his leadership through mutually-beneficial partnerships premised on jobs creation and skills acquisition. "Reviving the country's economy forms a major plank of Tinubu's Renewed Hope agenda and the meeting is part of his efforts to re-establish Nigeria's importance in the global economic chain and create empowering opportunities for the country's huge youth population.
"The President-elect has hitherto promised to hit the ground running and the visit is reflective of his commitment to the promise as he has already begun talks with global actors in the important areas of the economy and security. "Before he left the country, Asíwájú Tinubu met with the House of Representatives candidates for Speaker and Deputy Speaker endorsed by his party, the All Progressives Congress, Hon. Tajudeen Abbas and Hon. Benjamin Kalu, who were presented to him by Joint Task Team of the House.
"He is scheduled to return shortly for preparations towards his official swearing in as the 16th President of the country on May 29, 2023", Rahman added.
Source: Vanguard
Rock icon Rita Lee dies aged 75

Renowned Brazilian rock singer and songwriter Rita Lee, an icon of the Tropicalia artistic movement, has died after a two-year battle with lung cancer, her family said. She was 75.
"We announce the death of Rita Lee at her home in Sao Paulo late last night, surrounded by all the love of her family, as she always wanted," a statement posted on the singer's Instagram account said, inviting the public to her wake on Wednesday.
Her death brought an outpouring of tributes from artists, politicians and celebrities who cheered her trailblazing role in Brazilian rock. President Luiz Inacio Lula da Silva called her "an artist ahead of her time" and "one of the greatest and most brilliant names in Brazilian music".
Rita Lee Jones de Carvalho was born on December 31, 1947, in Sao Paulo, to a dentist of United States descent and a Brazilian pianist with Italian ancestry. She was central to Brazil's politically charged Tropicalia movement, which emerged in defiance of a military dictatorship starting in 1964, and her work at the time was often censored.
Source: Aljazeera