Hirelings, opponents desperate to derail our pursuit of justice – Obi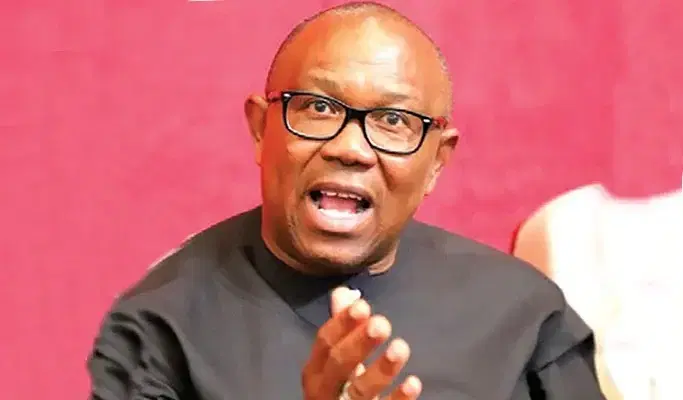 The Presidential Candidate of the Labour Party, Peter Obi has alerted Nigerians about the activities of persons he described as hirlings who he said were desperate to derail the quest by the Labour Party to reclaim its stolen Presidential mandate. He explained that these individuals were behind attempts to destabilise the party as well as cast him and his running mate, Dr. Yusuf Datti Baba-Ahmed in a bad light for the sole purpose of frustrating the ongoing judicial process.
Obi described the activities of these persons as the height of rascality. The LP Candidate said this on an Arise live Television program held late on Monday. He used the occasion to answer a barrage of questions over a number of controversies ranging from his leaked telephone conversation with the Presiding Bishop of the Living Faith Church Worldwide, Bishop David Oyedepo, to the recent trending photograph alleging that he paid a visit to President-Elect, Asiwaju Ahmed Tinubu.
Obi noted that he was being targeted by opponents to distract him from focusing on his desire to push for a new Nigeria. He insisted that the new Nigeria which he and other Obidients seek was one that can only be built on a transparent process noting that, "If you want to become His Excellency, you must come through an Excellent process" While responding to the allegation of treason leveled against him by the Minister of Information and Culture, Lai Mohammad, Obi said, "That is the height of rascality. It was even announced in Washington. I committed a treasonable offense and I'm in Onitsha, and my minister went to announce it in Washington. This is the waste in governance we are talking about and people don't want to understand.
"The amount it cost Nigeria for him to go and announce that in Washington can build a block of six classrooms in a primary school. I'm sure if you go to his village there are so many places where children don't even have desks or classrooms to go to school. "Instead of using that money for this purpose, he went to Washington to announce treason against someone in Onitsha. He doesn't need to do that. From there he went to London, announcing the same thing when I'm in Nigeria. He should have come to see me or invited me and tell me my offense,"
Responding to internal wranglings within the Labour Party, the Presidential standard bearer explained that there were no issues in the party. He said, "In the Labour Party, we have no issue. Bar Julius Abure is our chairman and those things you're seeing are just the handiwork of paid agents who are trying to create confusion," On the report bearing a picture of him visiting the President-elect, the former Anambra state Governor said he never visited the President-elect, Bola Tinubu, as was being speculated on social media.
He explained that the rumours and accompanying photoshopped pictures being shared on social media platforms are part of moves by the opposition to derail his objective. Obi said, "I never visited him (Tinubu). I didn't. These are some of the things I have been telling you. They have turned the whole thing upside down and into a joke. "So, what they (the opposition) do now is think about what they are going to do to cause issues and what they are going to do to label him (Obi) this or that.
"If it is not labeling him (Obi) tribal bigot, or religious bigot when he is not speaking, they will find his family and check whether he has a lovechild and all sorts of things, including misrepresented identity among others, I didn't visit anybody," the former governor stressed. He maintained that despite all these he was committed to the course of justice and was ready to pursue the case before the Presidential Election Petition Tribunal to its logical conclusion.
Source: Vanguard
Southern Kaduna: 518 killed, 18 villages razed in 6yrs

The people of Southern Kaduna, under the aegis of Atyap Community Development Association, ACDA, have, again, expressed deep worry over the persistent attacks and killings in Atyapland in the Zangon Kataff Local Government Area of Kaduna State. They also faulted the recent security report presented by the sector commander of Operation Safe Haven in the area.
Speaking at a briefing in Samaru Kataf, yesterday, after a peaceful protest, the President of ACDA, Samuel Achi, said the persistent attacks on his people had led to the death of many kinsmen and women, while even children were not spared by the suspected killer herdsmen. He said: "It is with regret that we are addressing Nigerians and the international community at large, on the persistent and recurring attacks and killings in some communities of Atyapland in Zangon Kataf Local Government of Kaduna State by suspected armed Fulani herdsmen, who have enjoyed decades of peaceful coexistence with our communities but have now set out on a mission to displace these communities and take over our lands.
"It is regrettable to state for the records that defenceless communities in Atyapland have been suffering selective killings since 2017, before the sustained attacks by suspected armed Fulani herdsmen in 2020. "Recently, Atyapland has dominated the headlines for the wrong reasons, following renewed attacks in Ungwan Wakili, Lagson, Atakjei and Runji, where 70 people have been killed, including a five-year-old boy, who was beheaded. "
At the last count, 20 villages have been ransacked, 18 villages burnt down, while 518 people have been killed, with thousands of victims who have taken refuge across many communities from 2017 till date.
"The military personnel drafted to provide security in the area are not helping matters. Instead of performing their primary assignment of securing the lives and property of the communities, they are selective by taking sides with the suspected herdsmen.
"This is evident in the 2023 first quarter security report presented to the Kaduna State government by the Sector Commander, Operation Safe Haven in Southern Kaduna, Brigadier General Timothy Opurum, on the recent killings in Atyap land. "In his doctored submission, the sector commander gave an unbalanced, lopsided report and was very economical with facts which prompted the governor to note with concern the continued failure of the traditional and community leaders in Zangon Kataf chiefdom to prevent the mayhem and resort to self-help by recalcitrant youths.
"For the avoidance of doubt and to put things in proper perspectives, we hereby straighten the records on some of the issues he raised. "The Sector Commander, Brig Gen. Opurum, deliberately failed, neglected and refused to highlight the contributions of the traditional council in Atyap land towards maintaining peace in the chiefdom, which facts are known to him and other security agencies in the area. "The report did not convey the positive role played so far by the traditional council and other community leaders in checkmating the conflicts."
"These contributions include visiting all homes of victims of attacks and killings in Atyap land, sponsoring conferences, workshops on peaceful co-existence for Atyap, Hausa and Fulani youth, women and security operatives in Atyap land with the Kaduna State Commissioner for Internal Security and Home Affairs, international and national peace advocates like Dr Salim Musa, Barr. Pricilla Ankut to mention but a few, is in full attendance.
"Others include co-operation with Kaduna State Peace Commission on several peace advocacy missions to Atyap, Hausa and Fulani youth and women groups in Atyap land, ensuring the permanent removal of all roadblocks by youth in Atyap land; the setting up and funding of the Atyap Chiefdom Peace, Security and Partnership Committee made up of Atyap, Hausa and Fulani youth and women; provision of logistic and human support to operatives of Operation Safe Havens, Police and State Security Service etc.
Source: Vanguard
Edo APC Suspends Ex-Attorney General, Idahagbon, Over Anti-Party

The gale of suspension in Edo State of the All Progressives Congress (APC) continued as the party in Egor Local Government Area suspended former attorney general and commissioner for Justice, Henry Idahagbon, over alleged anti-party activities.
The party leadership said the decision to suspend him was reached after the submission of a report by the disciplinary committee set up to investigate the activities of the former commissioner in accordance with Article 21 (B) of the APC constitution (March 2022) as amended.
The suspension letter which was endorsed by the chairman of the party in Egor, Chief Emmanuel Iyase, Osaro Osa Eribo, (Vice Chairman), Hon Joshua Uwagboe, (Secretary), and 17 others was addressed to the State chairman of the party, Col David Imuse (rtd), Engr Lawrence Okah, and copied former Governor Adams Oshiomhole. But the APC chieftain, when contacted to react to his suspension, said there is nothing to it adding that "It is just an April Fool joke coming at the end of April.
Portion of the suspension notices reads, "That Subject to the hallowed provisions of our party's constitution and the right to fair hearing Barr. Henty Idahagbon was invited severally by the Local Government disciplinary Committee but blatantly refused to honor the invitation thereby flouting rules, regulation and decisions of the party (see article 21: vii of APC Constitution).
"That Barr Henry Idahagbon encouraged sponsored and openly aided aspirants against the party and devoted his chambers to challenge and file an action in court against the party which said case in suit no. FHC/13/CO/52/21 against the party without first exhausting all avenues for redress as enshrined in the hallowed provisions of our party's constitution. This of course is in contravention of article 21. xi of APC Constitution.
"That we have irrefutable facts, that Barr Henry Idahagbon did not vote in the last Electons. This fact was further re-echoed by his ward chairman Mr Nosa Oviarobo at an enlarged meeting of APC Egor, LGA. Instead he was busy hob-nobbling with PDP leaders whom he severally mingled with and was seen in a political meeting at the GRA residence of the Esama of Benin
Source: Leadership