2023: G5 Gov, Ortom inaugurates Peter Obi campaign team in Benue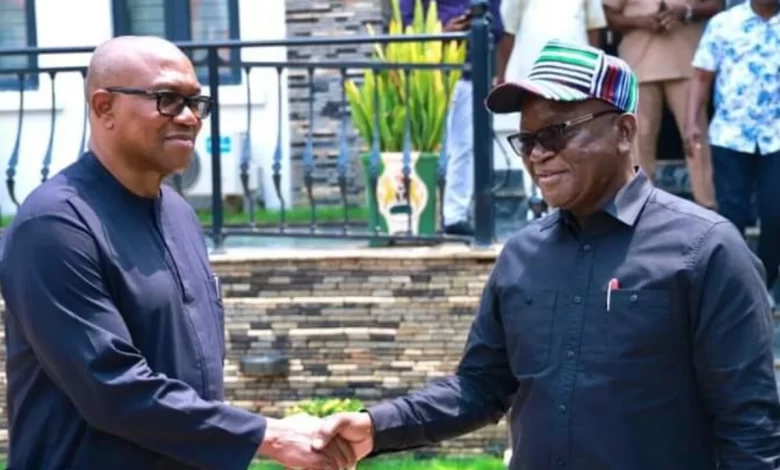 Ahead of the 2023 election, Benue State governor, Samuel Ortom, has reportedly inaugurated a campaign team for the presidential candidate of the Labour Party, Peter Obi, in Benue. POLITICS NIGERIA reports that according to an associate of the governor, who pleaded anonymity, while Ortom had not openly endorsed a particular candidate, he had called on his foot soldiers to embrace Obi.
"Governor Ortom has already inaugurated an Obi team using his most trusted aides and allies," Punch quotes the source as saying. "Former governorship aspirant, Professor Dennis Tyavyar, is Chairman of the group. He was Commissioner for Education under Ortom before he stepped down to contest the governorship election."
The G5: Governors Ortom, Nyesom Wike, Okezie Ikpeazu, Ifeanyi Ugwuanyi and Seyi Makinde of Benue, Rivers, Abia, Enugu, Oyo states respectively, had renounced their membership of the Peoples Democratic Party (PDP) Presidential Campaign Council in September 2022, demanding, among others, the resignation of the party's National Chairman, Iyorchia Ayu, to pave the way for a southern successor.
Source: Politics Nigeria
Northern Elders Warn Against Plot To Stop 2023 Elections

The Northern Elders Forum (NEF) yesterday said it had reviewed the difficult conditions under which northerners and fellow Nigerians live, as well as concerns over the security of this year's elections.
In a statement by its director of publicity and advocacy Dr Hakeem Baba-Ahmed made available to LEADERSHIP in Abuja yesterday, the forum noted that there were unhealthy murmurs which hint at the possibility that the elections may not hold, and some kind of unconstitutional contraption may be forced on Nigerians after May this year. He said those who peddle those rumors point to the near-desperate circumstances under which Nigerians live.
"They suggest that difficulties simultaneously imposed by insecurity, crushing inflation, fuel scarcity, exchange of old for new currency notes and others which affect particularly poor Nigerians are deliberately contrived to inflame passions and trigger unrest which may poison the election environment or threaten its conduct," he said.
He added however that the forum had no basis to support those conjectures, but warned against any attempt to interfere with the conduct of credible elections and a peaceful transition to a new administration. He said the severe economic and social difficulties under which Nigerians live were indeed threats to peace and security and that solution must be found to improve security.
Source: Leadership